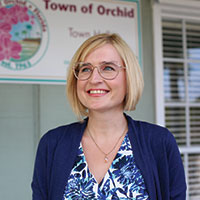 Orchid Town Council may move its town hall
STORY BY SAM ROHLFING BAITA (Week of March 3, 2022)
Photo of Orchid Town Manager Cherry Stowe.

The Orchid Town Council is exploring new locations for its town hall, including a planned DiVosta Homes development on the west side of the Wabasso Causeway about a mile and a half from the Orchid Island Golf and Beach Club's south entrance.
At the  Feb. 15 Town Council meeting, Town Manager Cherry Stowe said she'd been in touch with the developer who, at the time,  was in the early stages of planning Bridge Marketplace, the commercial component of the residential development Harbor Isles.
Stowe said the developer was "intrigued by the town's interest in a new town hall facility on the property."
The current Orchid town hall location is in Wabasso almost 4.5 miles from the barrier island community across the intracoastal.
The town hall occupies a 1,450-square-foot office in Proctor Plaza on U.S. 1,  from which the town manager and town clerk have  conducted Orchid's administrative operations since 2013.
"The size of our present town hall is adequate for our current needs," Stowe said. But having a location closer to the town itself, she notes, "would be advantageous to our residents as well as the contractors for whom we process building permit applications.
"With the Florida Department of Transportation's  plans to widen the busy thoroughfare (U.S. 1) along which Town Hall is currently located," said Stowe, "the Town Council is eager to consider a move to a location more easily accessible."
The Town Council is interested in exploring other nearby options also, including rental properties to which the town hall might be relocated.