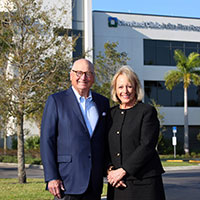 Ron and Nancy Rosner donate $10 million to hospital
STORY BY LISA ZAHNER (Week of March 24, 2022)
Photo: Ron and Nancy Rosner made a $10 million multi-year pledge to the Cleveland Clinic Indian River Hospital's Health and Wellness Center.

Philanthropy is a deeply ingrained Rosner family value. Giving back. Paying it forward. It's how longtime John's Island residents Ron and Nancy Rosner show gratitude for their success, and compassion for those in need.
From children's literacy to college scholarships, programs to help homeless women and children, free medical clinics and the YMCA, the Rosners have generously contributed to causes and charities from Virginia to Vero Beach.
So it was natural that when the family was reeling from a heartbreaking loss, instead of turning inward, the Rosners stretched out their arms to help others in a big way.
Their grandson Evan was a stellar student and a heavily recruited baseball player, a left-handed pitcher. A caring and selfless young man, Evan called his grandparents frequently and always asked about their lives before sharing his own news. Evan and his brothers were "The Three Musketeers" until, in a tragic moment on March 17, 2021, there were only two.
Well-educated, widely traveled and involved in their community, the Rosners knew nothing of the powerful and potentially lethal opioid drug fentanyl.  But their Evan took a Xanax pill that was laced with fentanyl, and died.
"It (fentanyl) seemed to be something we were not aware of. We became aware of it in an unfortunate way," Ron Rosner said of the drug, that's said to be 100 times more potent than morphine.
On the one-year anniversary of Evan's death, Cleveland Clinic Indian River Hospital announced that the Rosner Family had made a $10 million gift to the hospital. It's the second largest gift ever, right behind the $12 million donated to establish the Scully-Welsh Cancer Center.
The Rosners became supporters of the hospital shortly after moving to the area, joining the ranks of the Golden Eagle Society. "It's so important to have quality healthcare in Vero Beach," Nancy Rosner said.
Though the $10 million gift is unrestricted, Ron Rosner said he hopes the money will help raise awareness about the dangers of fentanyl so no family has to go through a similar loss. "We really need this education for the community," he said. "If just one life can be saved, it will have been worth it."
The hospital, in a statement, said: "The Rosners' gift will fund several initiatives, including educating physicians, increasing healthcare access for residents in the community and providing caregivers with resources to enhance patient care for decades to come."
Emphasizing that the education offered would be "inclusive and extensive," the hospital said the transformational gift from the Rosners would help fund "the addition of outpatient behavioral health services for children, teens, adults and seniors, including funding for education programs focused on drug use among teens, and young adults."
Nancy Rosner said she hopes the donation provides services to make young people more resilient to life's challenges, and to educate parents and grandparents on how to support their young people through better awareness. She has a great deal of compassion for people who have hit a rough patch in life.
"When there are the bumps along the way – hopefully not the devastating one we felt losing our grandson – whether the loss is losing a job or some other kind of loss along the way, you have something and you lose it, and you grieve, and hopefully in the end it makes you stronger.
"You never know the lives you might touch," Nancy Rosner said of the donation to the hospital, and all the people who will benefit.
The Rosners already have a YMCA and a college athletic stadium named after them in Virginia in recognition of their philanthropy and joining those will be the Rosner Family Health and Wellness Center on the Vero Cleveland Clinic Indian River hospital campus.
The Health and Wellness Center currently houses the offices of more than 50 hospital physicians, including experts in such specialties as cardiology and cardiovascular surgery, neurology, infectious disease, orthopedics, urology, rheumatology, pulmonary medicine, primary care and endocrinology.
Established and highly respected members of the John's Island community, the Rosners bought their first home in Vero Beach in 2003, relocating from West Palm Beach.
He grew up in Queens, N.Y., and she in McLain, Va., but they met at a golf tournament at Doral National Golf Club in the 1980s. Now they are looking forward to their 33rd wedding anniversary in May.
Philanthropy was always something they agreed would be a priority as they settled down and started a family.
Nancy describes growing up in a devout Christian home and learning that charitable work and giving were a way to live out God's command to "do unto others as you would have them do unto you." Ron learned how blessed he was during an eye-opening two years serving as a Peace Corps volunteer in Quito, Ecuador, where among other things, he coached basketball.
"It was a far cry from New York City," he said. When Rosner returned stateside, his outlook on life changed and as his career in the automotive industry advanced, he established a pattern of giving to worthy causes.
Now as chairman of Rosner Motorsports, Rosner said he surrounds himself with community-minded people to exchange ideas. Through those social contacts he learns about organizations with great outcomes like the Learning Alliance literacy program, which he admired so much that he donated seed money to replicate it in Virginia, and the Boys and Girls Clubs here locally.
The Rosners have traveled extensively, and that's helped them keep life in perspective. "Our quality of life here in Vero Beach is phenomenal, and it's something we don't take for granted," Nancy Rosner said.