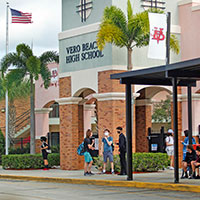 Some parents knew in advance of February 16 brawl at Vero High
STORY BY RAY MCNULTY (Week of March 3, 2022)

Some parents had been aware that a fight was going to take place in advance of the Feb. 16 brawl at Vero Beach High School's Freshman Learning Center, School Superintendent David Moore has discovered.
"School administrators who reached out to parents learned that parents knew it was going to happen," Moore said. "The whole thing could've been avoided, but nobody said anything. Unfortunately, that's too often the case."
While Moore said there were no fights on-campus anywhere in the county last week, 358 students have been combatants in on-campus fights this school year, according to the school district.
Of that number, 56 were referred to law enforcement, a spokesman said.
Neither the district nor the Sheriff's Office tracks how many of those fights prompted a School Resource Officer to respond.
In addition, Moore said the 358 included some repeat offenders, but he didn't know how many.
"Sometimes, good kids make bad decisions and get into fights," Moore said. "An A-B student, in heat of the moment, can make a bad decision. They're not the problem.  It's usually the continually disruptive and disconnected kid that ends up in a lot of these fights."
Moore said some troubled students aren't capable of functioning in a normal school setting and might be better suited for the more-structured environment of the district's Alternative Center for Education, or even virtual schooling.
The "alternative school," as it's commonly known, is designed to allow troubled students in grades 6 to 12 – including those who've been expelled – to continue their education.
Moore said the "alternative school" currently has 65 to 70 students, but the enrollment can approach 100.
"It's a great program that offers a lot of support to the kids who go there," Moore said. "The goal is to get them there, give them an opportunity to learn from the experience, and then get them back."
Meanwhile, Moore continued his see-something, say-something campaign during a visit last week to the Freshman Learning Center, where he told students that fighting won't be tolerated.
He said he was aware that some of the on-campus fights at district schools were planned in advance, even orchestrated by students who record them on videos to be shared on social media outlets.
"It's simple: When you get caught fighting on school grounds, you're going to pay the price," Moore said.
"And if you're doing this for 'likes' and 'shares' on social media, you need to know that once I've got the video, I've got you."