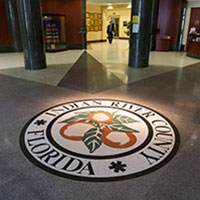 State Attorney's Office rolls with changes in Vero
STORY BY LISA ZAHNER (Week of March 10, 2022)

At a time when the State Attorney's Office is losing some of the most senior members of its prosecuting team, long-time Assistant State Attorney Chris Taylor is out on leave, creating a void in leadership of operations at the Indian River County Courthouse.
It's unclear if 60-year-old Taylor will return to work full time, but in his 30-year career, Taylor has been the go-to prosecutor in first-degree murder cases punishable by the death penalty. He also handled most every Indian River County felony case as it came in, managing attorney assignments and scheduling.
Despite his 30 years of experience as a prosecutor of every type of felony crime, and high level of knowledge of the legal process – or maybe because of it – Taylor is able to explain complex and even arcane technicalities of the law in layman's terms, and he never dodged a question.
Soon after Taylor and Assistant State Attorney Bill Long tried the Andrew Coffee case in November, Long began making court appearances for Taylor and on Dec. 10 it was clear that something was very wrong. Taylor was deactivated from prosecuting former South Beach resident Asbury Lee Perkins for first-degree murder. Long, a lawyer since 2008, was assigned to the case that Taylor had worked on since 2015.
"All I can say is that for now I've taken over all of Chris' cases," Long said after his name started popping up every time Taylor was deactivated. Murder cases, armed robberies, major drug cases. Long estimated he's got more than 400 cases on his plate now, but said, under the circumstances, he's more than willing to help out.
Due to privacy concerns, State Attorney Tom Bakkedahl could not confirm the explanation that's going around the courthouse that Taylor is fighting back from heart problems. Taylor was hospitalized in June 2021 with complications of COVID-19, but he worked from his hospital bed setting up depositions, fielding questions and trying to get the Perkins murder case on track for trial.
"I can confirm that Bill, at the present time, is the acting attorney-in-charge of the Indian River County Office.  Bill has done a fantastic job filing in for Chris during his absence," Bakkedahl said.
Realizing the caseload this places on one of his best remaining attorneys, Bakkedahl said last week, "I have transferred an attorney from our Okeechobee office on temporary duty assignment to assist in managing the case load.  He is in a murder trial in Okeechobee this week and will report to IRC on Monday," he said. "This will alleviate some of the burden placed on Bill."
"The entire Indian River County office has stepped up during this time to ensure that we continue to execute our duties in a manner which prioritizes public safety." With regard to Taylor's absence as a vital part of the agency, plus a dear friend and almost family to many, "We are all keeping Chris in our thoughts and prayers."
Taylor grew up in Kissimmee and attended the Cumberland School of Law in Birmingham, Ala.
In addition to his legal duties, Taylor for decades preached Sunday sermons, or served as a pastor at his church, and as the patriarch of his family. Married to wife Sheri, a teacher and educational consultant, for 33 years, the Taylors have four grown children – three of whom are adopted – plus grandchildren.