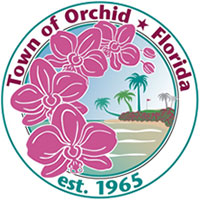 The Orchid Town Council nixes Children's Trust
STORY BY SAM ROHLFING BAITA (Week of March 3, 2022)

The Orchid Town Council at its February meeting voted down a resolution that would have included the small oceanside community in the proposed Indian River County Children's Tax District referendum,
By a vote of four to one, the Orchid council joined the only other barrier island municipality, Indian River Shores, in opting out.
The referendum, planned for the November ballot, would create a special tax district to fund The Children's Trust of Indian River County – creating a dedicated revenue stream to invest in a variety of programs and services including early child care, mental health, afterschool recreation and athletic programs, and others.
Last year, the Vero Beach, Sebastian and Fellsmere city councils voted to be included in the proposed new tax district, and the county commission was unanimous in directing County Attorney Dylan Reingold to plan a November referendum.
But with the loss of the county's only two barrier island municipalities, the proposed new tax district's available revenues would be significantly cut.
Additionally, as County Commission Chair Peter O'Bryan has noted, the loss of the island towns could make the initiative difficult to pass.
Orchid residents opposed to the new fund said they  already generously donate to many county organizations supporting children's needs. Some raised concerns about where and how the money will be spent, and about the accountability of the Trust's board.
Following the nay vote, Michael Kint, Children's Trust tax district steering committee member and former United Way of Indian River County CEO, said: "We were certainly disappointed by the Orchid council's vote, but it wasn't unexpected (and) we continue to believe that the solution needs to be a county/community-wide engagement on behalf of our children."
Kint said that while the Orchid and Indian River Shores town councils feel philanthropy is the solution, "it is clear to many  Children's Trust supporters that philanthropy alone will not provide the needed funding. We absolutely believe that the solution is a public/private partnership."