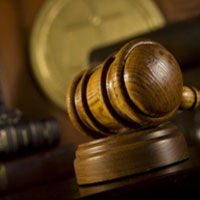 Trial begins of civil suit against deputy in fatal shooting of wife of Dr. Dudley Teel
STORY BY RAY MCNULTY (Week of March 3, 2022)

More than 4 ½ years after his wife was fatally shot by a sheriff's deputy, Vero Beach doctor Dudley Teel entered the U.S. District Courthouse in Fort Pierce on Monday for the long-awaited start of a trial that will determine the fate of his $10 million civil-rights lawsuit.
As jury selection began, however, Indian River County Sheriff's Deputy Jonathan Lozada was the lone defendant.
According to Todd Norbraten, who is serving as co-counsel to lead attorney Guy Rubin as a member of the Stuart-based Rubin & Rubin law firm representing Teel, a wrongful-death claim against the Sheriff's Office was dismissed.
"No matter what happens at trial, we still have an appellate right to claims against the agency," Norbraten said. "But we can't file that appeal until after the trial is over."
Instead, Teel's legal team is focusing on Lozada, who they claim panicked and needlessly shot Susan Teel on July 26, 2017, after he responded to a 911 call at the family's home where the petite, 62-year-old woman attempted to commit suicide by slashing her wrists.
In January 2018, a grand jury declined to indict Lozada on criminal charges. Dr. Teel filed his lawsuit, which produced testimony that called into question Lozada's actions and his account of the shooting.
Lozada, who had been a deputy for five years at the time of the incident, wrote in his report that he pulled his handgun as he climbed the stairs and confronted Mrs. Teel in a second-floor bedroom, where she lunged at him with a knife.
Court records, however, revealed that Lozada stated under oath Mrs. Teel was 6 to 10 feet away and moving toward him slowly – not lunging – when the deputy fired.
U.S. District Judge Donald Middlebrooks, who is presiding over the trial, initially dismissed the case, saying the shooting was justified. Dr. Teel then appealed to the U.S. 11th Circuit Court of Appeals, where a three-judge panel issued a strongly worded, 22-page opinion reinstating the lawsuit and describing Lozada's lethal actions as "wholly unnecessary."
In April, the attorney representing Lozada filed a 33-page petition asking the U.S. Supreme Court to review the 11th Circuit's ruling, but the justices declined, sending the case back to Middlebrooks.
"There are only two people who know what happened after the deputy went upstairs – Deputy Lozada and Mrs. Teel – and she's dead," Norbraten said. "His own testimony proves he violated her constitutional rights."
Norbraten said a six-person federal court jury will answer the question at the heart of Dr. Teel's case: What would a reasonable, objective law enforcement officer do under those circumstances?
"Their side is arguing that the officer would've responded the same way Deputy Lozada did," he said. "We disagree."
Lozada is being represented by Summer Barranco, a Fort Lauderdale-based attorney Norbraten said was hired by the Florida Sheriff's Association.
Norbraten said he expected to have a jury selected, get through opening statements and seat the first witness – probably Dr. Teel – on Monday, with Lozada likely to take the stand Tuesday.
He said there were 12 names on the plaintiff's witness list and fewer on the defense's list, and attorneys for both sides expected the trial to be concluded this week.
Norbraten said a decision to pursue an appellate claim against the Sheriff's Office likely would depend on the outcome of this trial.