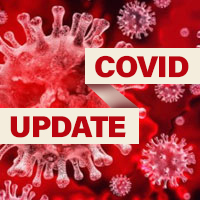 Vero finally in 'Green Zone' for COVID-19
STORY BY LISA ZAHNER (Week of March 3, 2022)

Most of Florida has stayed in the public health 'Red Zone' throughout the Omicron surge this winter, but as our community enters March, new federal criteria has finally moved Indian River County into the 'Green Zone.'
The number of new infections dropped another 47 percent with 151 new cases this past week – down from 286 the previous week. That's still about 21 new cases per day, three times the infection rate here during the lull between the Delta and Omicron surges.
From the standpoint of new COVID-19 infections reported to the Florida Department of Health, Indian River County has made big progress from our record week of 2,225 new cases.  But on this basis, we still would have been in the 'Orange Zone.'
But the CDC is now focusing on hospital capacity, and Indian River County's weekly hospitalization rate also has been steadily declining, with only 10 new admissions in the past seven days.
On Monday, Cleveland Clinic Indian River Hospital reported only six covid-positive patients in its facility. That number is down drastically from 20 patients the previous week, and 41 patients the week before that.
What all this means is that our county is now in the new 'Green Zone,' and  indoor masking is optional, unless someone is knowingly at risk of spreading the virus. "People may choose to mask at any time. People with symptoms, a positive test or exposure to someone with COVID-19 should wear a mask."
A rural county with a small, ill-equipped hospital or lack of doctors might have had the same numbers and been placed in a category of higher risk.
But Indian River County has a substantial hospital – part of a highly regarded hospital group – with the ability to expand capacity and bring in resources to care for people with serious COVID-19 illness.
Cleveland Clinic CEO Dr. Greg Rosencrance said the loosened CDC guidance has not affected hospital operations.
"The safety of our patients and caregivers remains our first priority and we continue to follow COVID-19 protocols such as masking, hand sanitizing and social distancing. Current operations remain unchanged at Cleveland Clinic Indian River Hospital, and we will continue to monitor the situation," Rosencrance said Monday.