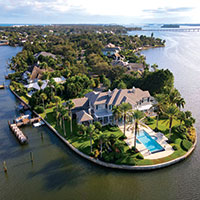 $20 million sale sets new highwater mark for a riverfront home
STORY BY STEVEN M. THOMAS (Week of May 26, 2022)

Vero Beach popped up on the luxury real estate radar screen last Tuesday – catching the attention of people from Manhattan to Miami – when a riverfront house in Riomar Bay sold for $20 million.
The selling price was a solid 60 percent more than the previous top riverfront sale here, and more than three times what the sellers paid for the property.
"Little Vero Beach continues to be more and more well known nationally, with people coming here from Palm Beach, California and Manhattan," said Dale Sorensen Real Estate agent Cathy Curley, who represented the buyer in the sale of 500 Bay Dr., a home with deep roots in the history of Vero Beach located on one of the best view lots anywhere.
"So many factors put us on the map and allow us to command the prices we are seeing," she said.
Ironically, listing agent Charlotte Terry, who runs her namesake group at AMAC Alex MacWilliam Real Estate, says the $20 million price will turn the heads of high-end real estate players not because it is so high but because "it shows how affordable our prices still are compared to luxury markets south of us."
A quick Internet search backs up Terry's analysis and makes it seem entirely possible that 32963 ultra-luxury prices still have room to run.
The only comparable riverfront house in Palm Beach on Monday was listed for $79 million and the first Miami Beach comp that popped up on Zillow.com was on the market for $43 million.
The Palm Beach place, at 854 South County Rd. on Lake Worth Lagoon, is a bit larger than the Vero house – 10,171 square feet compared to 9,300. It has one more bedroom and three more baths and sits on more land – two acres compared to 1.4 acres.
But it has less than half as much water frontage as 500 Bay Dr., is 30 years older and presumably not in as good a shape since it is being marketed on realtor.com as "a unique opportunity to own a gracious estate prime for renovation or new construction."
The Miami Beach house at 30 Palm Ave. on Biscayne Bay has been viewed 17,000 times on Zillow and saved 450 times since was listed by The Jills in late March. Exactly the same size as the Vero house, it is newer and has a couple more bedrooms and bathrooms.
But it has only 100 linear feet of water frontage – compared to 556 feet at 500 Bay Dr. – and a much more constricted view, packed in-between two adjoining homes on a narrow slot of land instead of sitting on its own peninsula wide open to the water on three sides with sweeping 300-degree views and no neighbors in sight.
The South Florida houses aren't in terrible locations, but neither are as well situated as the Vero home. The Palm Beach property is about a mile south of Worth Avenue, further than the owners likely want to walk.
The Miami house is located on Palm Island, midway between South Beach and downtown Miami. It has the cache of being a few doors down from Al Capone's old house, but it's a 2-mile drive from amenities.
The new owners at 500 Bay Dr., however, are just a short walk or quick golf cart spin away from Quail Valley River Club, Riomar Country Club and the resorts, shops and restaurants in Vero's Village by the Sea.
"That $20 million price says you can get a lot more for your money here than in other coastal areas of Florida," said Terry.
And you do get a lot at the record-setting house in Riomar Bay, including a move-in-ready, 5-bedroom, 7-bath house that Curley and Terry say is beautifully designed and decorated with the highest quality finishes.
The property features deep-water dockage for an 80-foot boat, a fabulous 50-by-20-foot resort-style pool overlooking the Indian River Lagoon, exceptional river views, with water practically surrounding the house, and that great location "between the bridges" that island brokers consider the ultimate amenity.
"A perfect combination of iconic elegance and geographic location has come together at the exquisite residence of 500 Bay Drive," according to Terry's marketing materials. "Spectacularly sited ... on nearly one and a half acres and offering a rare 556 linear feet of river frontage, this exceptional estate is like no other on the Treasure Coast of Florida."
The home's great lot and location are linked to the history of the subdivision, which was developed by the Riomar Bay Corporation.
The company was owned by Paul and Mary-Katherine Semon, who developed much of mainland Riomar and owned the Riomar Country Club for a number of years, and the couple kept the best lot for themselves.
A subdivision price sheet dated Feb. 15, 1961, that was provided by AMAC broker Buzz MacWilliam shows the Semons' $30,000 lot was already reserved at that time.
Other lots ranged from $10,000 up to $23,000 and two dozen had been sold by early 1961, including lot 15, which was listed for $16,500 and has a salesman's note penciled in beside it: "$14,000 cash," which was either an offer or a discounted price.
The Semons completed their riverfront home in 1967 in a "French Country Chateau" style, according to Marion de Vogel, a great-granddaughter of Arthur J. McKee, who co-founded McKee Jungle Gardens with Waldo Sexton.
Mary-Katherine Semon, known as Mary-Kay, was Arthur McKee's daughter and "at the time the house was built, it was one of the largest and most architecturally distinctive homes in Vero Beach," according to de Vogel. "Its panoramic location boasted spectacular views and Mary-Kay cultivated a beautiful garden along the perimeter of the house ... [which] was filled with glorious and fragrant cattleya orchids from McKee Garden and had two large, round cages of society finches on each side of the entrance to the dining room."
The finches are long gone, but the McKee family connection is memorialized in the modern house by an ornate wrought iron arch that previously was part of a gateway at Henry Flagler's Royal Poinciana Hotel in Palm Beach.
The hotel, once the center of Palm Beach Society and said by historians to be the largest wooden structure in the world, fell on hard times during the Great Depression and was torn down. Waldo Sexton salvaged the gateway and installed it as an entrance to McKee Gardens.
When that entrance was relocated, the Semons incorporated the archway into their estate, where it frames the entry to the front courtyard of the house.
After Paul Semon died, his son Arthur Semon, president of the family company and developer of Riomar Bay Yacht Club, occupied the house with his wife Jane and their children.
After Arthur's death, Jane sold the house for $1.8 million in 2000, according to county records. It was bought and sold several times after that prior to 2014 when it was purchased for $6.5 million by Neill and Linda Currie, the sellers in last week's transaction.
Terry sold the Curries the house in 2014 and they stayed loyal, listing with her when they were ready to sell late last year.
The $27 million list price was more than twice the previous riverfront record, and some people rolled their eyes.  But Terry felt it was justified by the home's quality, location in town and the state of the market.
"When we listed this, we examined riverfront properties in the luxury areas south of here. There were something like 10 properties that were on the river from here down to Miami, and they were all more expensive and none had the view and privacy you have at 500 Bay Dr.," Terry said.
"The sellers actually suggested the price and it was up to us to validate it. We knew by then that in this market, it makes sense to test the price. If it doesn't sell, you can always lower it!"
Terry held two broker opens and advertised locally in Vero Beach 32963 and other publications. She also advertised in print and social media in some of Vero's top feeder markets but said all the serious interest turned out to be local.
"There was a lot of interest among the brokers, and everybody loved the house," Terry said. "We ended up having three showings, all with people who already had homes in Vero."
The property went under contract to Curley's buyer on March 18 and closed last Tuesday.
Both agents said the deal and closing went smoothly as the $27 million ask was negotiated down to $20 million.
"Both the buyers and sellers are lovely people, and we love working with Cathy," Terry said. "She has brought us several buyers recently."
"It is so awesome when everyone is so nice," Curley told Vero Beach 32963. "Barry Segal, who was the buyers' attorney and is one of the biggest real estate attorneys in Vero, said it may have been the greatest real estate transaction he was ever part of."
Curley declined to reveal her client's name but did describe how she was referred to them.
"An acquaintance, someone I don't really know all that well, referred them to me," Curley said. "When I asked him why he gave me the referral, he said he had cut in line in front of me at Cravings [bistro and ice cream shop] one time and always felt bad about it. After the deal closed, I told him we were even!"
Brokers say the dramatic increase in riverfront values is due to the pandemic influx of luxury buyers, a shortage of ultra-luxury properties on the ocean and scarce inventory on the open river, bays and inlets, and navigable canals. Looking at limited waterfront choices in a highly competitive market, island buyers are increasingly willing to pay whatever it takes to get a home that meets their needs.
"A couple of years ago, you could get a decent house on the river for $1 or $2 million," island agent Luke Webb told Vero Beach 32963 in December when 500 Bay Dr. was listed. "You could get a really nice house for $3 million, and $5 million was pretty much the top of the market."
That all changed as the pandemic market heated up.
In May 2021, the riverfront home at 111 Stingaree Point in John's Island sold for $11 million, setting a record that was eclipsed six months later when Kay Brown at Premier Estate Properties listed the home at 1255 Little Harbour Lane for $12,500,000 in late November and sold it a month later for over the asking price.
That record was broken just five months later when 500 Bay Dr. closed for $20 million.
That number seems hard to top, but who knows? One of the 17,000 people who looked at the $79 million riverfront property in Palm Beach might shake their head at that price and decide to buy or build something in Vero for $25 million or $30 million.