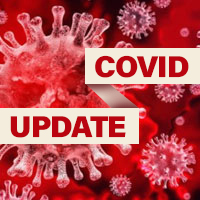 Covid-19 climbing in Florida, but slightly down here
STORY BY LISA ZAHNER (Week of May 12, 2022)

While the number of new COVID-19 infections in Florida climbed another 24 percent over the past week, they inexplicably dropped a bit locally, declining to 175 cases in Indian River County from 186 cases on the previous Florida Department of Health report.
The Florida Department of Health numbers, which are only published every two weeks leaving the data for alternate weeks unreported to the public, don't track closely with the Centers for Disease Control and Prevention's seven-day rolling averages this week.
The CDC Covid Data Tracker states that Indian River County's positivity rate was 9.37 as of May 5, but the state report cites a 7.4 percent positivity rate. Based upon the CDC's testing numbers and positivity rate, the county would have 226 cases over the past week, up from 186 – a 21.5 percent increase in cases – which corresponds with the statewide 24 percent increase more closely.
Unfortunately it will take another two weeks until the next state report is released to find out if the 11-case decline here was some sort of error, or a genuine slight downward trend.
Certain parts of the state, including Miami-Dade County in South Florida, and three counties just south of the Tampa-St. Petersburg metro area, have now moved beyond low community transmission status to the "moderate community transmission" category.
Indian River County remains in the low community transmission category for the week ending May 5.
None of the figures reported by the CDC or the Florida Department of Health include the results of at-home rapid covid antigen tests, as users of those tests typically do not report their test outcome. Only when a covid-positive patient seeks medical care or ends up in the emergency department of a hospital are those at-home case numbers documented.
The CDC reported seven new hospitalizations of people for covid here, and as of Monday afternoon, Cleveland Clinic Indian River Hospital had eight covid-positive patients – the same number as last week – and zero covid-positive patients requiring an intensive-care unit bed.
According to CDC data, covid-positive patients occupy 2 percent of staffed hospital beds in Indian River County.
The Indian River School District Covid Dashboard shows five active student cases of COVID-19 on Monday and zero staff cases, but that number only captures traditional public schools, not charter or private schools.
The BA.2 or "Stealth Omicron" variant remained the dominant strain in the United States this past week, but it's got some competition nipping at its heels around the world. Subvariants BA.4 and BA. 5 are causing a resurgence of covid infections and re-infections in South Africa, and have been detected in Canada. Northern Europe has been dealing with a different type of variant, a hybrid of Delta and Omicron, informally dubbed "Deltacron" this spring.
The BA. 2.12.1 subvariant of stealth omicron, first documented in New York, is now thought to be responsible for nearly 40 percent of cases in the United States. It's also been detected in at least 13 countries from Europe to Pakistan to Australia.
All these subvariants develop genetic adaptations that better equip the virus to survive and find a host by evading immunity attained through vaccination or prior infection.
The presence of these ever-changing, better-evolved viruses, combined with fatigue over mask-wearing, plus lax hand-washing and social distancing as the pandemic drags on into its 27th month, are causing the SARS-CoV-2 virus to persist as a factor in residents' everyday lives and travel plans – especially for those with underlying health conditions that put them at higher risk.