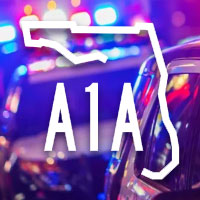 Elderly man killed, wife injured when speeding auto rear-ends their car on A1A
STORY BY LISA ZAHNER (Week of May 26, 2022)

An elderly John's Island man was killed and his wife seriously injured shortly after dark two weeks ago when a speeding auto slammed into their car from behind while they were driving home up A1A in the heart of Indian River Shores, police said.
Indian River Shores Public Safety detectives said they need anyone who witnessed the crash near Bermuda Bay on May 10 to come forward.
Few details were available at press time about the tragic incident, but officers said "the front vehicle appeared to be driving the speed limit and was rear-ended by the rear vehicle, which appeared to be driving well in excess of the posted 45 mph speed limit."
The rear vehicle, which appears in a crash-scene photograph to be a black Mercedes convertible, had one occupant who has not been identified.
Rescue crews rushed Christopher and Frances Ingraham – along with the driver of the rear vehicle – to Lawnwood Regional Trauma Center. All three had "severe injuries," according to Indian River Shores Deputy Public Safety Chief Mark Shaw.
"One of the occupants from the front vehicle later succumbed to his injuries," he said.
Christopher Ingraham, who died on May 18, is remembered by former Indian River Shores Councilman Dick Haverland as an avid golfer and a dear friend.
"He was a gentle, humble, caring man with a zest for life. He will be missed by everyone he knew," Haverland said as news of Ingraham's death spread and saddened neighbors in John's Island.
"Even at 89 he was a sharp as a tack!" he said.
"He did love to play golf, especially with his wife who he met in Vero Beach and married about 15 years ago," Haverland said.
"About six years ago, when the Riomar Country Club was opened after a major renovation, Chris had the first hole-in-one on the reconstructed course on Opening Day."
The investigation is ongoing. Anyone with information may call Indian River Shores Public Safety Department at 772-231-2451 or Treasure Coast Crime Stoppers at 800-273-8477, and reference report #22-04162.