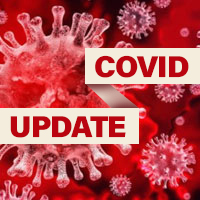 Hard to tell if COVID-19 cases rising here
STORY BY LISA ZAHNER (Week of May 19, 2022)

Are new COVID-19 infections rising or falling locally? 
That question – on the minds of many as the global pandemic continues – deserves an answer.  But government health officials had no intention last week of making that information available.
The Florida Department of Health now only publishes numbers every other week, and the Centers for Disease Control and Prevention also has no case data on the county level from the state this week, so we have no clue whether new infections are rising or falling.
Statewide, Florida's cases continue to inch upward a slight 2.7 percent, with 33,900 new infections reported across the state over the past week, according to the CDC. Most of Florida, except Broward and Miami-Dade counties, are currently considered areas of low community transmission.
The Indian River County School District's covid statistics remained flat, with five active cases reported this week and five last week.
Since the spring of 2020, a total of 655 deaths of Indian River County residents have been attributed to COVID-19 infection, 200 of those in nursing homes and assisted-living facilities. Eighty-five covid-positive people have died since Christmas, according to a May 7 report from the Florida Department of Health, including three deaths in the last three weeks.
One positive indicator is that the number of covid-positive patients at Cleveland Clinic Indian River Hospital declined by 38 percent this week.
Hospital spokesperson Arlene Allen-Mitchell said on Monday that five covid-positive patients were in the hospital and none of those five was in the Intensive Care Unit. Last week, eight covid-positive patients were in the hospital.
The CDC Covid Data Tracker says 11 people were admitted to hospitals countywide with COVID-19 in the past week.
Seventy-six percent of Indian River County adults and 95 percent of seniors age 65 and older are considered "fully vaccinated." Those numbers have not changed much in recent months.