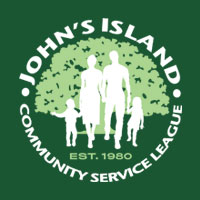 John's Island Community Service League awards $1.4 million
STORY BY MARY SCHENKEL (Week of May 5, 2022)

The John's Island Community Service League announced last week that its members had raised and awarded more than $1.4 million in grants and scholarships this year. 
The announcement followed closely on the heels of the news that the John's Island Foundation was awarding $1.1 million in grants.
The two funding groups differ in their fundraising approaches and the sorts of grants they make, but each speaks to the philanthropic generosity of John's Island residents. 
The Community Service League financed its record year through a fall solicitation letter, a series of fundraising events, sponsorships and their highly lucrative Tambourine Shop, whereas the foundation primarily derives its funding through an annual appeal letter.  League grants support agency operation and program expenses, whereas foundation grants fund capital expenditures.
Ellen Kendall, league grants co-chair, revealed that they had awarded a total of $1,463,000 in grants and scholarships this year. 
Breaking it down, she said the total included $1,186,000 in normal cycle grants to local agencies, an increase of almost $70,000 over last year. Additionally, the league provided $55,000 in college and trade certification scholarships to John's Island employees and their children.
Another $222,000 in grants were funded through the Marlynn Scully Strategic Fund.
Hope Woodhouse, chair of the Strategic Grants committee, said it was established when Marlynn and Bill Scully gifted $500,000 as seed money.  Its purpose, she said, is to enable off-cycle grants, to increase funding to existing high-quality programs, to fund new startups that are best practices in other communities, and to help agencies try new ventures. 
"Many important programs were started with this," said Woodhouse. 
Among them, a Healthy Start Coalition Doula program, where non-medical professionals assist mothers and families before, during and after birth. Another is the Tykes and Teens ALTOSS (Alternative to Out of School Suspension) program, which provides structured education to suspended middle and high school students so that they do not get left behind academically.
This year, she said, the Marlynn Scully Strategic Funds provided:
• $50,000 for year two of a three-year grant for an Intensive Outpatient Mental Health program for teens ages 13 to 17.
• $50,000 for a new education program at United Against Poverty.
• $37,500 final payment for the HEART program to help with pandemic-related evictions and foreclosures.
• $65,000 to fund the research and establishment of quality, free legal services in Indian River County.
• $13,500 to help the school district pay to implement and train teachers on a new algebra curriculum. 
• $6,000 to Miss B's Learning Bees.
"We are constantly looking for great ideas and programs," said Woodhouse. "We want our quality agencies to introduce new programs to fill the gaps in the community."
Continuing the concerted efforts of the league to address the critical need for mental health initiatives in the county, Kendall said this year's regular grants included $190,000 toward mental health programs.
Included in those grants were three mental health agencies they had not previously funded: Whole Family Health, for mental health programs for children and families; the Mental Health Collaborative for the McCabe Connection Center; and Suncoast Mental Health Center for behavior and mental health services. 
Also new this year was Ballet Vero Beach, for their Education and Engagement program, which partners with the school district. BVB dancers and staff visit elementary school classrooms and connect with children through dance and reading stories to them about the ballets. Kendall explained that although they do not generally fund arts programs, they added it due to the childhood literacy aspect. 
The two largest categories, Children's Education/After School (12 programs) and Adult Health and Wellness (eight programs), each received roughly 23 percent of funding.