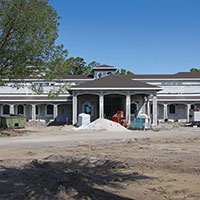 New veterinary medical center on U.S. 1 running behind schedule
STORY BY SAMANTHA ROHLFING BAITA (Week of May 12, 2022)

An impressive, albeit unfinished, building at 1833 U.S. 1 – just north of the long-empty, deteriorating former home of the Press Journal – was expected to be open by now as the Veterinary Medical Center of Indian River County.
But much remained to be done last week inside and out on the two-story structure, attractively positioned at an angle in the center of the property, that someday will be echoing with the sound of meowing and barking.
The $7 million, state-of-the-art veterinary facility was originally scheduled for a Christmas 2021  opening,  project developer, owner and veterinarian Dr. Michael Geraghty said at the time.
However, and not especially surprising given the current global supply chain woes, Geraghty is now hoping for mid- to late summer, according to his spokesperson, Stephanie Woldamott, who provided no details beyond stating, "There have been some delays. Call back in July."
Primarily serving dogs and cats, according to Geraghty, the "one-stop, full-service" Veterinary Medical Center of Indian River County will provide regular veterinary services, wellness planning, teeth cleaning, vaccinations, spay-neuter, imaging, laser therapy, urgent care, luxury boarding, grooming, a surgery center and 24/7 emergency service, with, he emphasized,  an emergency vet on site at all times, not just "on call."
Hiring has been under way to staff the facility. Last year Geraghty explained he'd likely "start slowly and increase as needed – probably 2-3 full time doctors (including me) an ER doctor;  8-ish staff; and 4-ish receptionists."
The affable Geraghty has practiced in South Florida for 25 years, owning and selling practices in Martin and Palm Beach counties, and opening his current Port St. Lucie facility, Veterinary Medical Center of St. Lucie County, nine years ago.
Adjacent across 18th Place is the long-vacant former Press-Journal building and parking lot, which Geraghty, at one point, had actually considered purchasing.  However, he says, the asking price was more than he was interested in paying, considering the additional expense of the necessary, major redo.
Geraghty, who says he will continue to maintain and operate his Port St. Lucie practice once his Vero Beach location is ready, plans an opening day celebration once the facility is completed. "We always have an open house," Geraghty  says. "Dogs allowed."