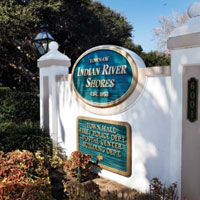 Shores watching legislature for action on condo inspections
STORY BY LISA ZAHNER (Week of May 19, 2022)

Even though none of the older condominium buildings in Indian River Shores is a high-rise like the tower that collapsed in Surfside last year, the town council is closely watching next week's special session of the Florida Legislature to see if state leaders take action on condo building inspections.
Councilman Bob Auwaerter brought the matter up after the Florida House and Senate failed during its regular session to coalesce around a program of periodic, milestone inspections at set intervals in a building's life. A number of the condos in the Shores were built in the 1970s and 1980s.
"I want to have a discussion with my fellow council members of what approaches, if any, we may wish to consider on this subject given that we live on a barrier island," Auwaerter said at the time.
"Part of that discussion might be asking staff to provide us more information on how these so-called milestone inspections might work," he added.
The council directed Town Manager Jim Harpring to do some research and come back in April with recommendations. In the meantime, a special session focusing on property insurance was announced and political pressure began mounting for legislators to tackle condo inspections, too.
The session's agenda had not been finalized as of press time, as special-interest groups lobby right up to the final minute to get their issues heard in this last-chance-until-next-spring session.
The five-day special session is set to open at 9 a.m. Monday and close by 11:59 p.m. Friday. That's not a whole lot of time, at the speed government operates, but since there was a chance of state regulation in the coming weeks,the Shores Town Council put its discussion of the matter on hold.
Florida Senate Majority Leader Debbie Mayfield, who represents Indian River County, has stated publicly that she thinks Gov. Ron DeSantis will extend the special session until the property insurance matters are addressed if legislators can't get it done in five days.
Such an extension could allow condo inspections to squeeze into the session, as the lack of statewide condo safety standards presents another risk factor for insurers of condos, and island condo owners are feeling the pain in their premiums like single-family homeowners.
The other pricey problem yet to be resolved is how condo owners will pay for needed structural repairs after buildings are inspected. Federal condo safety legislation was also introduced into Congress in April by two legislators from Florida. Called the Securing Access to Finance Exterior Repairs (SAFER) in Condos Act of 2022, the measure would allow federally backed loans to be used to finance certain building repairs.
After the 12-story beachfront Champlain Towers condominiums tumbled down on June 24, killing nearly 100 people, a state working group of engineers and builders was formed to examine the tragedy and recommend what could be done to prevent similar events in the future.
The group's two main recommendations were that Florida establish what the experts called "Mandatory Minimum Structural Inspections" and "Whole Building Safety Inspections" for buildings of a certain size. In general, with some exemptions like townhomes, buildings with more than 10 occupants would require inspection should the group's recommendations be codified.
The Surfside Working group recommended the inspections kick-in when the building reaches 30 years in age, with reinspection every 10 years. Florida has about 1.5 million condominium buildings, more than half of which are 30 years old or older.