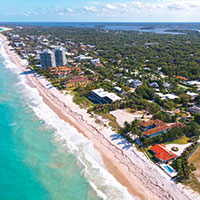 The hottest stretch of beach on our island
STORY BY STEVEN M. THOMAS (Week of May 12, 2022)

The Veromar oceanfront – a dozen single-family homes and lots stretching north from The Village Spires condominium towers to the Jaycee Park boardwalk – is the hottest stretch of beach on the barrier island.
Nine of the 12 multimillion-dollar properties have changed hands in the past three years – two of them selling twice since 2019 – making a total of 11 sales for more than $50 million in the beachside strip.
As on the rest of the island, prices have risen rapidly and people trading in the neighborhood have made or stand to make large profits in short periods of time.
The latest sale, which closed last Monday, illustrates the trend.
Sometime on May 2, the seller signed a warranty deed, transferring ownership of the 1.1-acre lot at 3640 Ocean Dr. to a new owner for a consideration of $5,179,000 – $1,749,000 more than the seller paid just a year earlier.
And the buyer is sitting pretty, too. The property went under contract last summer and prices have shot up since the deal was inked.
"I think I could sell that land today for $7 million," said Dale Sorensen agent Cathy Curley, who represented the seller in the deal. "People tried to buy out the new owner's contract before closing, but he wouldn't budge."
Curley said the neighborhood has great appeal because of its beautiful oceanside setting and its walkability. It is just a short stroll away from the restaurants, pubs and resorts in Vero's seaside village.
"Buyers want to walk to dinner, have drinks and walk home," Curley said. "Some of them have college-age kids and they want the same thing for them, so they don't have to drive after being out for the evening."
There are only two other small sections in 32963 comparable to the Veromar oceanfront, both in Riomar, where there are seven seaside estates north of the golf course and eight big oceanfront homes or lots south of the links.
Oceanfront sales in Veromar have far outpaced sales in those enclaves, where just three out of 15 properties have changed hands in the past three years.
The Veromar beachside strip is home to a number of high-powered players and intriguing properties, including one of Vero's most notable houses and several lots large enough to build the dreamiest of dream homes.
The smallest house in the section is the one at the northern end, which sits on three-quarters-of-an-acre triangular lot adjacent to the Jaycee Park boardwalk.
The 3-bedroom, 2-bath, 1,800-square-foot home was built in 1956 and rebuilt in 2004. It sold in June 2019 for $2,450,000 and then again in November 2020 for $2,400,000, making it the only house in the section to drop in price between recent sales.
Current owners Robert Holuba and Susan Furman are a Palm Beach couple who have appeared in the society pages while attending events at Mar-a-Lago and other ritzy venues.
Next door to that home is a beautiful 6-bedroom, 8-bath, 6,672-square-foot Mediterranean-style house with an interesting history. Built in 2011 by a developer who was also a preacher, it originally was adorned inside with large murals of biblical scenes.
The Tampa-based developer lost the property to a bank in 2013.
In 2014, Miami real estate investor Aurelio Fernandez bought the house and .63-acre lot from Northern Trust for $3,150,000. Four years later, in 2018, he sold it for $4,125,000, about $1 million more than he paid for it.
The buyer put the property back on the market this year, listing it for $15 million with Douglas Elliman agent Joseph O'Neill.
O'Neill declined to identify his client, but public records show the home's owner as insurance executive Rory F. Dougherty – the same person who just purchased Cathy Curley's listing four lots to the south.
Next to O'Neill's big listing, at 3750 and 3746, are two magnificent 300-foot-deep lots with a combined 200 linear feet of ocean frontage. Then at 3700 Ocean Dr. comes one of the most architecturally distinguished houses in Vero Beach, a modernist masterpiece built by businesswoman and developer Katherine McConvey in 2014 on a 1.4-acre lot with another 200 feet of ocean frontage.
After living in the 7-bedroom, 7-bath, 17,931-square-foot house for several years, McConvey sold it last June for $16,813,000 to Mark Mitchell, founder and managing partner of Lorient Capital LLC, a private equity firm headquartered in Birmingham, Michigan, that focuses on healthcare services companies.
Six months later, McConvey sold Mitchell the two adjoining lots for $4,250,000, making him the owner of 400 feet of Vero beachfront plus the Architectural Digest-caliber modernist house.
Next to the big Bauhaus-style home is the Cathy Curley listing at 3640 Ocean Dr. that sold last week for $5,179,000.
Curley said she met her client, the seller, while living abroad and has done half a dozen real estate deals with him, including multiple deals in Vero.
Last April, she represented him in the purchase of an oceanfront lot in Riomar south of the golf course where he plans to build a residence. A month later, she helped him buy the Veromar lot. He also purchased a house on Bougainvillea around the same time that recently went under contract.
Curley declined to name her client, but public records identify him as Stuart Wilson, who owns or has owned multiple houses in Palm Beach and Wisconsin, as well as Vero.
She said he bought the 150-foot-wide Veromar lot as a hedge in case he couldn't build the house he wanted on the Riomar lot, which is only 100 feet wide.
The buyer in the deal, Rory Dougherty, was represented by O'Neill, who says his client "intends to build a custom oceanfront home that takes advantage of the ocean views with today's latest finishes and design that will be his primary residence. The goal is to start construction this summer.
"In addition to my client's allure to the pristine beach and ocean views, the location was another main attraction. [It's] close to boutique shops, markets, hotels and restaurants ... and only a short drive to our Miracle Mile Plazas anchored by Publix and Fresh Market."
O'Neill said his client liked the width of the lot, too. "Having 150 feet of oceanfront allows you to capture substantially more ocean views and maximize privacy."
The remaining six lots to the south of Dougherty's homesite are all about the same size, 300 feet deep by 75 feet wide.
Five of them have long, narrow Mediterranean-style homes built on them. Most were owned at some point by Helmet House Construction, which also built several of the homes.
Four of the six have changed hands in the past three years.
Adjoining Dougherty's lot is a 5-bedroom, 9-bath, 7,841-square-foot home at 3638 Ocean Dr. that was built in 2008 and last sold for $4.5 million in 2019, according to county records.
Then comes 3636 Ocean, a 6-bedroom, 7-bath, 6,374-square-foot Mediterranean that was built in 2014 and sold most recently for $3.9 million in 2020.
Next to that house is a vacant lot at 3634 that was purchased by Vero Beach businesswoman and developer Cathy Padgett for $3.6 million in 2021.
"It is a fantastic piece of property," Padgett told Vero Beach 32963. "I haven't decided what I am going to do with it. I may develop it myself at some point. In the meantime, I am watering it and watching it grow!"
Padgett said she had an offer to buy her contract before the deal closed in October and a written offer since that would have netted her "a handsome profit."
Curley said she took Padgett an offer considerably higher than $3.6 million but was rebuffed.
Next to Padgett's property are two 75-foot-wide lots with large Mediterranean homes at 3632 and 3630 Ocean Dr that have not changed hands since 2011.
The last and southern-most lot in the section was The Village Spires side yard at one point. The condo association quit-claimed the property in the 1990s and a 4-bedroom, 7-bath, 6,507-square foot house was built on the lot by Helmet House in 2003. It last sold for $4.5 million in 2019.
Expect more action soon in this dynamic enclave, with the sale of O'Neill's $15-million listing, construction of a new, state-of-the-art oceanfront home, and who knows what else.
"We continue to see an increase in luxury buyers seeking oceanfront property in convenient locations that have good walkability," O'Neill told Vero Beach 32963.