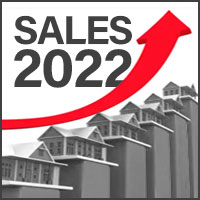 'The market is crazy': Record-breaking 32963 real estate sales roll on in 2022
STORY BY STEVEN M. THOMAS (Week of May 5, 2022)

The island real estate market continued to defy gravity in the first four months of the year.
Despite a historic shortage of homes listed for sale, many top island brokers and agents sold and put under contract a higher dollar volume of real estate than ever before. Price appreciation, private deals and intense demand for island homes drove the big numbers.
"The market is crazy," said ONE Sotheby's broker associate Michael Thorpe. "Last year was a record year for my team and this year we are beating those numbers to date."
"It's almost scary," said Matilde Sorensen, co-owner of Dale Sorensen Real Estate. "It is hard to explain what is happening. I sold $220 million in 2021 and that was my best year ever. This year, my individual closed sales and properties pending and under contract are already $155 million and we are still in April!"
The O'Dare Boga team at Premiere Estate Properties is beating its numbers, too, year to date, with the dollar volume of closed and contracted sales up from $74.1 million to $76.9 million, according to Cindy O'Dare.
A similar story was told by broker associate Sally Daley at Douglas Elliman.
"I personally have $33 million closed or under contact," Daley said in early April. "That compares to $52 million sold in all of 2021. The rest of my team is on a similar pace."
All of this is happening with fewer houses and condos listed for sale than last year – when inventory was already at record lows.
"For many years, we typically had 300 or 400 homes for sale on the island, all day long," said Daley. "Today, we have 40 detached homes listed on the island – and eight of those are under construction."
"Inventory was extremely tight last year at this time," said Buzz MacWilliam, broker at AMAC Alex MacWilliam. "In February 2021 there were 545 single-family homes for sale in the entire county. This February, there were 345, which is a 37 percent decrease.
"Condo inventory has dropped even further because many people who were unable to find a single-family were forced into condos. Last year in February, there were 278 condos listed countywide. This February there were 94, a 66 percent decline."
Despite those numbers, MacWilliam's agents had sold and put under contract 22 percent more dollar volume by the first week of April 2022 than in the same period a year ago.
"It's pretty astonishing," said Charlotte Terry, a top island agent who runs her own group within AMAC.
"Last year was a record year and we had our best month ever in the history of the company in May when we sold $43 million, closed or under contract," said MacWilliam, whose brokerage has been selling real estate here since 1949, when it was founded by his father.
"This year, in March, we set a new record with $61 million in sales and contracts." MacWilliam said 95 percent of deals his agents put under contract close.
The main factor in the high dollar volume brokers achieved in the first few months of 2022 is the astonishing jump in island home prices, which are up 48 percent year-over-year to an average of $1.1 million, according to Redfin.
"We are routinely seeing buyers ready, willing and able to pay 10 percent or more over asking price, sometimes a lot more," said MacWilliam. "At certain price points, we frequently have eight or 10 offers within 48 hours of a home going on the market."
With homes much more expensive this year than last, brokers can set dollar volume records even though they are selling fewer houses and condos due to the lack of inventory.
The increase in prices is driven in turn by continued strong demand for Vero Beach real estate. The ongoing pandemic migration – with people who have realized they can work from anywhere leaving big cities and high tax states for attractive small towns – has supercharged the island market.
"Vero Beach is really on the map, at this point," said MacWilliam. "Many people have a very strong desire to relocate here and are willing to pay what it takes.
"Our biggest feeder market probably is from around New York City and their prices are higher than ours. Houses here still seem cheap to them, even with the increases. That oceanfront condo that was worth $500,000 two years ago and is now a million looks like bargain."
Daley said the desire for island homes is more broad-based than ever. Last year saw a sudden, unprecedented surge of California buyers, who snapped up most the $20-million-plus oceanfront estates that changed hands in 32963.  But this year, Daley said she is getting inquiries from Arizona, Wisconsin and Minnesota, along with lookers from New York, South Florida and other traditional feeder markets.
"In one week, I had five inquiries from St. Louis!" Daley said.
"Florida remains ever popular for its tax benefits and its warm winters, and the quality of life here in Vero Beach sells itself," said O'Dare.
In addition, on top of the insatiable demand from buyers in New York, South Florida, California and St. Louis, a new cohort of buyers has emerged in the midst of the pandemic real estate surge.
"The millennials are finally striking an age when they want to invest," said Terry. "I am seeing a record number of younger people buying here. It is huge. They have the flexibility of working at home and many are coming back to Vero where they visited their parents or grandparents over the years.
"My son recently moved back after five years working in Hawaii and many of his friends and my daughter's friends are doing the same thing."
"Millennials are finally jumping in because rents are so exorbitant," said Daley. "They feel like they have to find a way to buy."
The big question now is what will happen during the rest of the year, and opinions are mixed.
MacWilliam said he does not think the current record-breaking pace of dollar volume is sustainable because of continually tightening inventory, and Daley said she is seeing signs of the frenzy calming down, at least a little bit.
Others are confident demand will keep pushing prices higher and believe they can put enough buyers and sellers together to have a great 2022.
"We think demand for Vero Beach real estate will remain high through 2022 and beyond," said O'Dare. "We continue to heavily market our clients' properties in Vero's most popular feeder markets, and the phone continues to ring. We have buyers waiting for oceanfront, riverfront, and everything in between."
"I see a strong market continuing for the rest of the year," said Sorensen. "Florida continues to be a big migration state and Vero remains a very desirable area to call home."