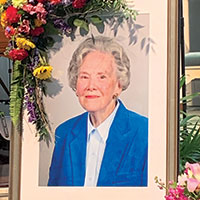 Vero memorializes Alma Lee Loy two years after death
STORY BY SAMANTHA ROHLFING BAITA (Week of May 26, 2022)

In a celebration delayed two years by the pandemic, friends, family and colleagues gathered Saturday morning at First Baptist Church of Vero Beach to honor one of the most beloved and influential individuals in the county's history, Vero Beach native Alma Lee Loy.
A dynamic businesswoman and community leader widely acknowledged as "Vero's First Lady" over decades of service, Loy died of natural causes April 10, 2020, at the age of 90.
Loy's impact on Indian River County was evidenced by the scores of people present representing virtually every aspect of the business, public service and philanthropic communities.
Loy co-owned and operated Alma Lee's children's clothing store for decades and was the first female chairman of the Indian River Board of County Commissioners, over the years receiving numerous accolades at local, state and national levels and playing a leadership role in projects for the betterment of the community.
As diverse and multi-generational as was last week's gathering, virtually every attendee had known, respected and been touched by Loy in some fashion, and each had a cherished "Alma Lee story."
Among the greeters, as guests arrived at the church where Loy had been a member since 1936, were two of Loy's "best pals since 7th grade," Ann Hamner and Eleanor Sexton. They spoke of the three schoolmates selling war bonds together in 1942, and, as a matter of fact, Loy was named Miss Victory for being tops in World War II bonds and stamps sales.
A lifetime later, when Loy could no longer drive at night, Sexton said, "I drove her. I miss her a lot."
First Baptist pastor Rev. Dr. Joe LaGuardia recalled how, upon meeting Loy for the first time, "when I shook her hand, I knew there was something different about her. She had a special spirit."
LaGuardia recalled the time, during a church budget meeting which Loy was chairing, he had requested additional funds.  Although he was denied, he had left the meeting feeling happy, he said with a smile. "She was a master negotiator."
Another quality that LaGuardia – and anyone who knew Loy – recognized:  "Alma Lee never said anything negative about anybody. The most I ever saw her do was raise her eyebrows."
The eulogy was delivered by another well-known Vero Beach native, former mayor Tony Young,  whose grandfather A.W. Young was one of the founders of Indian River County and served as Vero's first mayor.
Young struggled at first to gain composure as he spoke of his lifelong friend.  "Our family connection began before I was born. My dad taught her how to drive. She lived out by my Grandmother Daly's home. She babysat my older brother and sisters."
Young shared Loy's Vero Beach High School 1947 yearbook blurb, clearly illustrating the multifaceted young woman's already established  leadership abilities: Beta Club, Glee Club, tennis, band, War Bond chair, Class Vice President, Arrowhead staff, Blotter staff, Honor Society, Who's Who, Most Athletic.
And, Young added, "she also used to do yo-yo tricks for the little kids."
After high school, Loy attended Rochester Institute of Technology, where she was elected student body president in 1950. Then she earned her degree in Business Administration from the University of Miami in 1952.
"Newcomers," Young recalled fondly, "dismissed Alma Lee at their peril. As was said of my grandfather, she 'could talk the sweetness off a sugar cookie without breaking the crust.'"
At the reception following the service, the room was filed with laughter, and some tears, as memories and favorite Alma Lee stories were shared.
Janie Graves Hoover remembered Loy as "a friend to four generations of our family. At Christmastime, Alma Lee would have a Santa in the store and, as children, we'd go there all decked out in clothes from Alma Lee's to get pictures taken by Wally Skiscim.
"My sisters and I were friends with her nieces Laura Ann and Gwenda Lee. We campaigned for her when she ran for County Commission and I pasted her political brochure in my elementary school scrap book.
"When the City Council threatened to sell Crestlawn Cemetery, she stepped forward to speak for many local people who were worried about their family's final resting place. She was an amazing public speaker who could get her point cross in a powerful and diplomatic way."
The cemetery issue, as Young also emphasized,  was one of the many in which Loy prevailed, to the ultimate benefit of the community.
Retired Assistant State Attorney Ed Taylor was one of the kids who always got his school clothes at Alma Lee's.
"I grew up here. I remember, her shop always had this good smell.  Even when I was older, I'd always ask her 'How's my outfit?'  Once, she was on my jury. When I lost (the case), she called and apologized. She felt bad for me. She was always so kind."
Pointing out that Loy was inducted into the Florida Women's Hall of Fame the year she died, Young said that particular honor emphasized what a pioneer she was as she "broke down barriers, created new opportunities and championed issues that bettered Florida." As the award citation read: "She never said no when the community called."