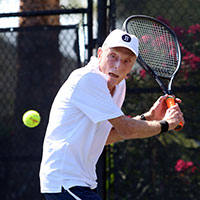 Vero resident wins record 43rd world tennis title
STORY BY PIETER VANBENNEKOM (Week of May 19, 2022)
Photo of Kingdon "King" Van Nostrand.

If someone were to ask you which male tennis player has won the most world championships, you might say Rafael Nadal, with his 21 Grand Slam titles.
You would be wrong.
The man who has won the most world tennis championships – a record 43 – is an unassuming, 87-year-old Grand Harbor resident with slightly stooped shoulders who is very hard of hearing and has had two knee replacement operations on each knee.
That physical description makes Kingdon "King" Van Nostrand sound like a pretty typical Vero Beach retiree, except that he still travels all over the world beating everyone else in his age group on a tennis court.
King, as everyone calls him, just won his record-breaking 43rd world championship at the latest title event in Boynton Beach sponsored by the International Tennis Federation (ITF), which oversees the Grand Slam tournaments as well as the senior and junior tours.
It almost didn't happen.
King was stuck on 41 world championships – garnered in all the senior age categories in five-year increments starting at 45, and super-seniors starting at age 65 – when the COVID-19 pandemic halted  tennis tournaments for almost two years. Then, in October of last year just as things were starting to open up again, King needed major surgery when a tendon in his right arm – he is right-handed – detached from the bone.  He couldn't do a thing for eight weeks after the operation.
"I really wondered if I had hit my last tennis ball," said King. "I was literally hanging by a thread." But he did get back in shape with three months of rigorous physical therapy and signed up for this year's world championships in Boynton Beach in the over-85 group. He tied the previous record of 42 world titles held by Lorne Main with a gold medal in the team event won by the U.S. and went for his 43rd by reaching the doubles final.
Partnering with Gordon Nichol of Ohio, King came up short in a close three-set match against Albert Lyle of Mississippi, who had just entered the 85-and-over age group. King had to settle for a silver medal in the doubles.
Then he had to face Lyle again in the singles final, at 1 p.m., the hottest part of the day in the South Florida sun with 95 percent humidity against a guy to whom he was giving away three years in age.
"That may not make much of a difference in your 50s or earlier," said King, "but it's huge when you're over 85. It's basically the difference between being able to run hard and fast, or shuffling around and waving at a ball as it goes by."
King has another handicap because he takes out his hearing aid when he plays – the sweat makes it too uncomfortable to wear it – so he can hardly hear the sound of the ball as an opponent hits it.  That makes it tougher to judge speed and angles. "As with any other handicap," said King, "all you can do is try and compensate for it."
In the final singles match, King eked out a 6-4 victory in the first set but got routed 1-6 in the second set, and quickly fell behind 1-6 in the deciding 10-point super-tiebreaker.
He then managed to hit clean winners on seven of the next nine points – including two totally unexpected drop shots – to win the tiebreaker 10-7 after a "completely exhausting" two-and-one-half-hour match, notching his 43rd world title to truly become the king of the heap.
"What made me do it to try those risky drop shots?" King said. "Pure desperation, I guess.
"Will I continue to do this, and is it a goal of mine to still play and win titles in the over-90 category? I honestly don't know," King said. "It's not easy. I often I ask myself, Why do I keep torturing myself like this? After the inevitable injuries, it takes longer and longer to heal. But I am sort of a masochist, I just love the game, I love doing it, and the tournaments are wonderful, even though a lot of the people I used to play with are now gone.
"Also, I have three titles to defend in Europe – in Barcelona, Spain, and two places in Germany, one of them Baden-Baden – where I get nice free housing in five-star hotels just for showing up as the defending champion," said King.
At age 87, King said he has lost a lot of upper body strength in his shoulders and he can no longer depend on a powerful service. His main asset now is his quickness. "Ironically, I can still run like a deer," King said, "and the knee replacement operations actually helped me, because nothing can hurt me there anymore."
Among his 43 titles, King says his most memorable were the first, in 1981, in Buenos Aires, in the 47-48 category – when no one had ever heard of him and he won all four matches, some of them over former professionals or Davis Cuppers from Britain, Italy and France – and his title in 2004 in 70-and-over category, when he and his wife Yvonne, known to all as "Boots," became the first husband-and-wife couple to win separate world titles in the same year.
King Van Nostrand is originally from Long Island. He studied at Cortland State, part of the New York state university system, where he met Boots when they sat next to each other in their senior year. They have been married for 67 years now.
After he spent three years in the U.S. Navy, he and Boots became teachers on Long Island.  At one point, he might have been good enough to play tennis for a living, but by the time tennis entered the so-called "Open Era" with professionals allowed to make money, King was in his mid-30s.  Too old for the tour.
Boots quit her teaching job and became a full-time homemaker after her first pregnancy. The couple went on to have four children. All of them got into tennis and obtained college scholarships for tennis, and two of them became professionals. "We never pushed them into tennis," King says. "We just tried to be a good example to them, but they all wanted to do it.
The Van Nostrands first bought a home at Grand Harbor in 1998 as an eventual retirement property.
After 9/11 they became concerned about being able to get out of New York if anything else should happen. They also became less and less enchanted with cold weather, so they sold their home in New York and moved to Vero Beach full-time – and began traveling the world in search of more tennis titles.
For a period of seven years, both King and Boots played on a German summer club tennis team that provided them with free transportation, a luxury car, a nice house and other amenities.
"They treated us very nicely over there," King recalled. "I'm kind of ashamed to admit that we didn't learn much German. It's not that we didn't want to, but everyone spoke such perfect English."