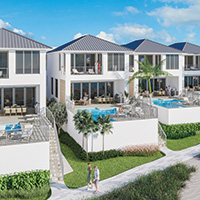 32963 luxury developers look to South (Hutchinson Island)
STORY BY STEVEN M. THOMAS (Week of November 10, 2022)

As waterfront land in 32963 gets harder to find, high-end island brokers, builders and developers are turning some of their attention to nearby South Hutchinson Island, which extends from the Fort Pierce Inlet to Jensen Beach.
Two big new projects worth a combined $300 million that will bring 102 luxury units to market are hitting inflection points this month down on "South Hutch," with a groundbreaking at one and a land purchase closing at the other.
The projects are similar in several ways – both have strong Vero connections and offer beautifully-designed and built oceanfront homes. Both will be worth about $150 million at sellout at the current asking prices.
Both also were designed by the same architect, Randell Sofft, who's well known in 32963 for designing the Vero Beach Hotel and Spa, the homes in Old Oak Lane, and Indigo, one of the luxury developments currently being built on Vero's oceanfront by Yane Zana and Coastmark Construction.
At the same time, the two projects are distinctly different, with different development, construction and sales teams and different target demographics.
"There isn't much direct competition between us for buyers," said Scott Reynolds, whose team at Compass is in charge of marketing and sales at Diamond Shores, a single-family, direct oceanfront development located 23.5 miles south of Sexton Plaza.
Plated for 43 beachfront homes with pre-construction prices of $3.45 million, Diamond Shores is being developed by Joe Rauenhorst, who was the primary developer of the Strand beach cottages in Indian River Shores, and built by Phoenix Construction, which built the Strand and Tarpon Flats.
The three-story, 5,785-square-foot, coastal contemporary residences, which come with four bedrooms, five and half baths and three-car garages, are intended for traditional snowbirds, who split their time between a residence in Florida and one up north, or even full-time residents.
There will be a small clubhouse for meetings and Reynolds said a day dock and jet-ski launch are planned, so residents will have access to the river as well as the ocean.  But the project isn't being built or billed as a resort. Instead it is a place for quiet, luxurious oceanfront living midway between the attractions of Fort Pierce and Jensen Beach/Stuart.
"Management costs and HOA fees will be low," said Reynolds.
Meanwhile, six miles south on A1A, Ouanalao, where a gala groundbreaking took place last week, is all about resort-style living.
Developed by The Heaton Companies, builders of Vero Beach Hotel and Spa, Old Oak Lane and Tarpon Flats, and sold by Douglas Elliman, the project will include 25 large, luxed-out oceanfront homes starting at $4.2 million and 34 cottages offered for $1.5 million, preconstruction.
Renderings show a fabulous beach club on the oceanfront with a glass back wall, spa, swimming pool, fine-dining restaurant, bar and beach food service, and a second clubhouse with another resort-style pool, restaurant, bar and 26-slip dock on the slightly more casual river side of the 15-acre property.
"The check at the river restaurant will be about half what it is at the oceanfront," said project developer Lee Heaton, who told Vero Beach 32963 that he had been eyeing the project site for years.
"We were always aware of the property," he said. "I called the owners a couple of years ago and found out it was available."
Heaton bought the property for $10,750,000 in June 2021, according to St. Lucie County records, and began meeting with architects and land planners to figure out the best project for the site.
He decided on luxury residential with a strong resort and rental component.
"There isn't really anything like it on the Florida coast," said Heaton. "We will have all the water activities on the river and ocean, with jet skis, paddle boards, eco-tours, sea turtle nesting tours and horseback riding on the beach. There will be a catamaran to take people out to a nearby island with box lunches and for daily sunset cruises.
"There is a kids club and an event lawn where we will show free movies every night."
The $1.5 million beach cottages will have 1,332 square feet of air-conditioned living space with two bedrooms, and two and a half bathrooms. The three-story beach houses will have 4,239 square feet of air-conditioned living space with another 1,800 square feet of outdoor living space. They come with private swimming pools, elevators, media rooms, five bedrooms, and five and a half baths.
Cottages and houses are sold fully furnished with a long list of high-end finishes and fittings. They will be built by Kast Construction, a Florida company that has built hundreds of major projects spanning the spectrum of commercial real estate, including dozens of multifamily and hospitality developments.
Heaton said his buyers will be purchasing "a second, third or fourth home."
Whether they spend a few weeks or many months in residence each year, owners will have access to a full suite of luxury hotel amenities, with daily linen and housekeeping services upon request, in-home, chef-prepared meals for parties, and in-home spa services.
"You can have as little or as much of that as you want," Heaton said.
Buyers will automatically be signed up for the rental program, which will be run by Mainsail, a management and development company with close ties to Marriott.
"Mainsail has a strong focus on food and beverage, which we wanted, and they bring a direct link to Marriott's Bonvoy loyalty rewards program, which has 150 million members," Heaton said.
More than 160 people attended the groundbreaking last Thursday, including more than two dozen agents and brokers from Vero Beach who hope to bring clients to the closing table at Ouanalao (pronounced O-wana-loo).
"Ouanalao was the original name of St. Barts, one of the most extraordinary islands in the hemisphere," Jay Parker, CEO of Douglas Elliman Florida, said at the catered event at the project site in Jensen Beach. "We will create that same lifestyle and luxury here.
"We are very excited to be working with the incredible development team at the Heaton Companies and with Mainsail – which creates a great opportunity for buyers to generate income when they aren't here in a way that is very unusual for a product of this caliber.
"I've been to quite a number of groundbreakings," Parker added. "And they didn't feel like this, look like this, or sound like this one. I think it is pretty clear this project is going to be something very special."
Ouanalao opened for sales in June and was more than 20 percent sold out prior to groundbreaking, according to the site plan at Ouanalaoresort.com, with nine houses and three cottages spoken for.
"We have hard contracts on all of those, not reservation deposits," Heaton said.
The sales team is led by agents out of Elliman's Palm Beach office but Elliman agents from Vero were prominent at the party and the company's entire Florida operation will be focused on the property.
Sales opened at Diamond Shores in August and Reynolds' team has sold four homes so far, without a model or presence at the site, in what has been a slow market.
Reynolds plans to ramp up sales in coming weeks after final entitlements are in place.
The 23-acre Diamond Shores property was purchased for $7.5 million by WBC Collections LP in 2017.
At some point Rauenhorst made a deal with WBC to prep and entitle the land for his residential development prior to closing on the sale.
"We are just a couple of weeks away from closing and don't see anything that would interfere," Reynolds said. "WBC has the land prepared and pad ready, with utilities stubbed in, so it will go fairly quickly once we begin construction. We are just waiting for the final entitlements."
"We plan to have a sales trailer open here no latter than Dec. 1, start construction in January and deliver new homes 12 to 18 months after that," said Sven Frisell, the Reynolds team member in charge of sales at Diamond Shores. "We are seeing interest from all over, especially Miami and the Northeast. So far, we have sold to people from Chicago, Tampa and a local from Hutchinson Island."
That timeframe puts Diamond Shores in sync with Ouanalao, where Heaton hopes to complete his resort project by the end of the first quarter in 2024.
"We have a lot to do," he said, adding that he is "confident of the market," despite widespread uncertainty about what will happen with real estate between now and completion.
"Cash buyers are less affected by interest rates, and so far all our buyers are cash, at least on paper," added Parker.
Reynolds, too, likes his sales prospects, noting the ongoing lack of new-home inventory, Phoenix Construction's reputation for building excellent homes, and an impressive array of standard high-end features at Diamond Shores, including elevators, 12-foot ceilings, heated, ocean-view pools, white oak flooring, Sub-Zero and Wolf appliances, quartz countertops and owners' suites with floor-to-ceiling ocean-view windows.
Both developments are offering commissions to outside agents who bring buyers.
"We will pay a 3 percent commission," Heaton said.