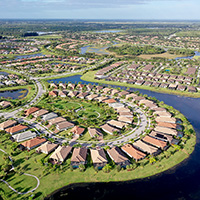 Across the lagoon, Waterway Village nearing completion
STORY BY STEVEN M. THOMAS (Week of November 3, 2022)

Across the lagoon from Indian River Shores, off to the west of Grand Harbor, bulldozers are rumbling in the final phase of what is becoming the largest residential development in Indian River County.
No one has ever built a community in the county with as many homes as DiVosta's five-subdivision planned Waterway Village.
When it is finished, the much-admired, square-mile-plus enclave will have 1,381 houses and villas, according to Brent Baker, division president for PulteGroup in South Florida, which operates DiVosta as its luxury home brand.
By comparison, Grand Harbor has a total of 1,180 dwellings, including single-family homes, condos and townhouses, according to Grand Harbor Golf and Beach Club general manager Michael Gibson, while Pointe West has fewer than 1,000 front doors.
But Waterway Village is superlative in more than just size, according to brokers who have sold many homes there over the years to island buyers. The five subdivisions were plated with sensitivity to terrain and nature, with houses laid out along curving streets and waterways. Preserve areas are integrated into the gated communities.
"They've done a beautiful job with landscaping and layout," says island broker-associate Charlotte Terry, who leads the Charlotte Terry Real Estate Group at AMAC Alex MacWilliam. "It is the furthest thing from the kind of cookie cutter layout we see so much of."
"The amenities are killer," says broker-associate Sally Daley at Douglas Elliman. "Waterway offers new homes in a resort-style complex with relatively affordable dues that includes yard work – offering near 'lock and leave' ownership for buyers who want newer, up-to-code construction and a lifestyle that allows them to spend more time at the gym or pool or pickleball court and less time mowing the lawn."
"Island residents move to Waterway for lower purchase costs, lower insurance costs and less maintenance," says Scott Reynolds, whose team, now at the Compass office on the barrier island, has sold a number of homes in the community. "They are coming from places like Seagrove and Central Beach where their homes are dated and may be in need of repairs."
Daley added that there has been "good appreciation" in the community over the years. Her estimation is backed up by property records that show many homes more than doubling in value between purchase and resale.
As an example, big four-bedroom, single-family homes went for approximately $300,000 in 2008, according to veteran Berkshire Hathaway agent Mark Seeberg, who once lived in the community and has sold "between 15 and 20 homes" there. Those same houses now sometimes sell for close to $1 million.
"They had a good plan and they stuck to it. They build a good house," Seeberg says. "They took their time but did a great job."
"We got the land entitlements from the county back in 2003 or 2004," says Baker, who was a financial analyst in those days, helping acquire acreage for the development.
The first homes were built in 2006 in The Isles. That subdivision, which took a long time to sell out because of the housing recession, was followed by The Cove, The Lakes, Magnolia and now The Preserve – a 266-home gated enclave being built in two phases. The first phase is more than 80 percent sold out and infrastructure is being installed for the second phase, which Baker says will go on sale in early 2023.
"I have been involved with Waterway Village from the beginning," Baker says. "It took longer than we expected because of the housing downturn, but it has been a very successful project for us.
"Houses sold like crazy in 2006, then slowed down for four years or so and before picking back up. We have been on a steady roll since then, selling 100 to 110 houses a year," a level of sales netting the builder $40 million or more in annual revenue.
"We have executed at a high level, in good times and bad," Baker adds. "You can't be here for this many years if you aren't doing a good job. The buyers will vote you out. I am tremendously proud of what we have accomplished."
"Some builders start with a luxury project and then go to something lower when times are hard, just to get rid of the land," says Seeberg. "But DiVosta never cheaped it out at any point. They stuck to high-quality luxury product."
Island brokers and county officials say Waterway Village has had a transformative effect on the section of the county where it is located on some 600 acres stretching from 58th Avenue to the east side of 43rd Avenue and filling the space between 53rd Street and 49th Street.
"DiVosta has been a good builder over the years," says Ryan Sweeny, chief of current planning at the county. "They built millions of dollars' worth of infrastructure, which has been good for the county."
That infrastructure includes the parkway-like stretch of 53rd Street that extends from U.S. 1 near Publix to 58th Avenue, a roadway Reynolds calls the "one of the nicest streets in the county."
DiVosta also extended 43rd Avenue as a wide, palm-lined thoroughfare with berms that shield homes from traffic noise and lowers the blood pressure of drivers who pass through its sheath of gorgeous tropical greenery. The company also did upgrades along 58th Avenue and 49th Street and built miles of landscaped streets within and between the five subdivisions.
"I can't think of another development where they did as much roadwork as DiVosta has done at Waterway," Seeberg says. "Their beautiful roads have made the area much more convenient and accessible. They also set aside a 20-acre site for a new elementary school if the school district needs one in that area at some point."
"It was a brilliant move on the part of the developers to build the 53rd Street causeway," says Daley. "It made their development much more accessible and appealing and was an accelerant for homebuilding in that part of the county, including along 58th Avenue," where a number of subdivisions have broken ground since the road went through.
"Originally, people saw the area as 'too far west,' but when 53rd was finished the development was seen as 'just off the island,' practically speaking, with travel time from 58th Avenue to U.S. 1 a mere three-to-five minutes. The causeway made that quadrant of the county more desirable and much more convenient for residents. It's now an easy drive to almost anywhere, from the island to the hospital to golf courses to I-95."
With approximately 1,200 homes sold in the Waterway Village subdivisions, fewer than 200 new homes remain for purchase, all in The Preserve.
Like earlier Waterway subdivisions, The Preserve offers both single-family homes and shared-wall Villas. There are 10 models ranging in size from two-bedroom, two-bath, 1,579-square-foot villas to 2,800-square-foot estate houses with three baths and four bedrooms. Starting prices begin at $352,990 for the smallest villa and go up to $600,000 for the largest house. But those are just starting prices.
"Most sales are in the $500s," says Baker, "but customized estate homes can go up to the $800s."
Baker says homes in the second phase of The Preserve will go on sale this season and that the community will be complete in 2024.
When the final nail is driven and a family SUV bounces into the driveway of the last house, it will have been 20 years since the land was entitled.
Baker and his associates will be able to look back with satisfaction on an epic project that provided homes for thousands of people and upgraded the county's built environment to a notable degree.
"It has been a great one, and we are moving full steam ahead to complete the final phase," Baker says.