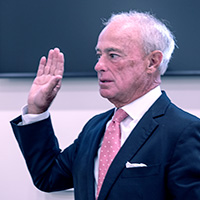 Altieri forgoes retirement after death of friend
STORY BY LISA ZAHNER (Week of November 3, 2022)
Photo of James Alteiri being sworn-in.

Indian River Shores Town Councilman James Altieri was sworn in last week and got straight to work, his first official act being a vote to settle the town's federal antitrust lawsuit with the City of Vero Beach.
Altieri, like many who move to Indian River Shores after a long and fruitful career outside Florida, planned a rather uneventful retirement, a respite from nearly 45 years of commuting to work, putting in long hours at the office, and climbing the ladder of success.
He and wife Geri bought a condo in John's Island in 2011 and a few years later, knowing they wanted to put down roots in the community, built a house there. But serving on the town council, or even on a town committee, was never part of the plan.
As a corporate litigator and managing partner of the New York office of Drinker Biddle & Reath, one of the nation's 50 largest law firms, he'd waged enough battles to last a lifetime. Something would have to go very wrong for him to become embroiled in another fight.
On May 29, 2021, something did go very wrong.
Altieri's friend, John's Island resident Carl Cutler, was struck and killed while riding his bicycle on A1A in the unincorporated barrier island just north of the Shores. The crash was investigated, but the driver was not charged with vehicular homicide, or with any criminal offense – despite a long record of traffic infractions, reckless driving citations and suspension of his driver license, plus evidence of distracted driving when he hit Cutler.
The fact that a driver could kill another human being with his vehicle, walk away free from the crash scene and never face any serious consequences was enough to motivate Altieri to get involved, privately urging the State Attorney's Office to take a harder look at the case. He kept up the pressure for months, hoping to get some justice for Cutler and his family.
Sadly, the campaign failed to gain traction with prosecutors. The driver was fined $1,000 for reckless driving and allowed to pay on a convenient installment plan.
Instead of being grateful for his freedom and staying on the straight and narrow, the driver got arrested on felony charges in April. He was released on bond and is awaiting trial on two counts of aggravated assault with a deadly weapon for an incident with his ex-girlfriend. He also failed to make the monthly payments on his reckless driving fine and had his driving privileges taken away last month.
Altieri wasn't looking to get noticed for his efforts on Cutler's behalf – he'd much rather remain behind the scenes – but friends and neighbors in John's Island saw his talent and drive and knew he could be a force for good in the Shores. So when Chris Hendricks resigned his council seat and moved away, several people encouraged Altieri to offer his energy and experience to the town council.
"I'd never done anything like that here before, anything that had a public service ring to it," Altieri said. "As a result of the work I did in terms of Carl's tragedy, people reached out to me to see if I would have an interest in doing it."
"I was really flattered to be considered, and to be chosen," Altieri said.
Town Manager Jim Harpring brought Altieri up to speed on important pending issues before his official swearing in last week so he could dive right in.
"I've lived in the area since 2010 and things seem to run like clockwork here," Altieri said. "I look forward to learning about local government."
When asked what policy areas or committee assignments he would prefer, Altieri mentioned the water-sewer utility issues with Vero – "That will get my attention right away." But in terms of other council duties, he said: "Wherever they need assistance, I'm happy to help."
Altieri was appointed to serve out the two remaining years of Hendricks' term until November 2024, at which time he'll be eligible to run for re-election to a four-year term.
On Nov. 17, the three incumbent council members who were re-elected unopposed will be re-sworn in and the council will nominate and vote on who will serve as mayor and vice mayor going forward. Mayor Brian Foley, Vice Mayor Jesse "Sam" Carroll and Councilman Bob Auwaerter have all been returned to the council for additional four-year terms.