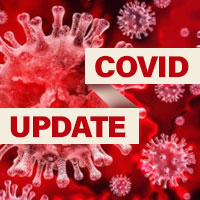 As holidays begin, COVID-19 spread locally is very low
STORY BY LISA ZAHNER (Week of November 24, 2022)

As families gather together over turkey and stuffing to celebrate Thanksgiving, and to prepare for the holiday season, it's time to be thankful that – at least right now – the spread of COVID-19 locally is very low.
The number of new infections reported to the Florida Department of Health was down 28 percent from the previous week, with fewer than nine cases per day for a total of 62 new cases during the week ending Nov. 17.
Hospitalizations remain low with only four people hospitalized for COVID-19 illness in Indian River County last week, but statewide, the virus is still making people very sick. Hospitalizations across Florida this past week were an average of 177 per day for all 67 counties, or about 1,239 for the week.
Last year on the eve of Thanksgiving, the numbers looked even better than this year, with only about 40 new weekly cases. But by New Year's Eve cases had risen to 800 per week, and by mid-January that number mushroomed to 2,200.
Public health officials are still predicting a winter surge this season with multiple highly contagious strains of the Omicron variant circulating in the United States. Influenza and respiratory syncytial virus or RSV are also posting above-average case rates for November this year, so the concern is that hospitals and emergency departments will get hit with all three viruses at once, stretching resources and staff.
As of Nov. 17, only 11.3 percent of Americans age 5 and older have received the newly formulated Pfizer or Moderna booster shots approved in September, according to the Center for Disease and Prevention's Covid Data Tracker.
Thirteen more Indian River County residents died of COVID-19 illness from mid-October to mid-November, with the total deaths since the start of the pandemic rising to 741 – 191 of those in long-term care facilities. The average age of the people who died due to covid illness is 77 years old, with 84 percent being white, and 53 percent being male.
Statewide, nearly 83,000 people have died of complications of COVID-19 since the start of the pandemic, including 81 last week, based upon CDC numbers. Nationally, the CDC says 1,073,115 people have died from covid illness since March 2020.
Most of the state sits in the "Low Covid Community Level" marked in green on the CDC's Covid Data Tracker map, but the Greater Tampa Bay-St. Petersburg area and 10 rural counties in North Florida have crept up to the "Medium Covid Community Level" category marked in yellow, based upon how much the virus is tasking the healthcare system relative to the available hospital and ICU beds.
With so many people using at-home Covid rapid test kits and not reporting their positive tests to the health department, hospitalizations have become another way to measure community spread. The downside of using hospital capacity is that, by the time hospitalizations start to rise markedly, the number of new cases has likely already been way up for two to three weeks.
But hospitalizations are an important number to watch because people who have had serious COVID-19 illness and recovered are more likely to suffer from "long covid" symptoms, which can range from bothersome or frustrating to debilitating and even life-threatening, if left untreated.
The U.S. Department of Veterans Affairs earlier this month released the non-peer reviewed results of a study of more than 56,000 veterans and what's commonly called long covid, which goes by the technical name Post-Acute Sequelae of COVID-19 or PASC. Researchers from the VA St. Louis Health Care System and Washington University School of Medicine collaborated on the project.
All 56,000-plus veterans had tested positive for COVID-19, and had at least one risk factor which could lead to severe covid disease, but were not hospitalized at the time they tested positive. Of the study group, only 9,217 had received the oral antiviral Paxlovid (nirmatrelvir) within five days of testing positive.
"Long Covid – the disease encompassing the post-acute sequelae of SARS-CoV-2 (PASC) – affects millions of people around the world. Prevention of PASC is an urgent public health priority. In this work, we aimed to examine whether treatment with nirmatrelvir in the acute phase of COVID-19 is associated with reduced risk of post- acute sequelae," the VA researchers' abstract said.
The VA researchers looked at the instance of post-covid issues including problems with heart rhythm, coronary artery disease, blood clots, deep vein thrombisis, pulmonary embolism, fatigue, liver disease, kidney disease, muscle pain, shortness of breath and neurocognitive impairment. They compared the outcomes of the veterans who were treated early with Paxlovid/nirmatrelvir with those who were not. They found that the antiviral reduced the risk of long covid complications in people who were unvaccinated, as well as people who were vaccinated and boosted. 
"In sum, our results show that in people with SARS-CoV-2 infection who had at least 1 risk factor for progression to severe COVID-19 illness, treatment with nirmatrelvir within 5 days of a positive SARS-CoV-2 test was associated with reduced risk of PASC regardless of vaccination status and history of prior infection," the researchers said. "The totality of findings suggests that treatment with nirmatrelvir during the acute phase of COVID-19 reduces the risk of post-acute adverse health outcomes."
Paxlovid, a Pfizer product, must be prescribed by a doctor, as it may not be recommended for people who take daily heart or cholesterol medications.