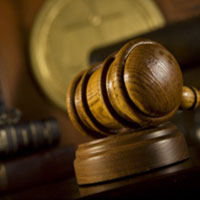 Baird will not face jail time if convicted of stalking
STORY BY RAY MCNULTY (Week of November 3, 2022)

Former county administrator Joe Baird will not face jail time if convicted of stalking a former girlfriend earlier this year.
County Judge Robyn Stone issued an "Order of No Imprisonment" last week after the girlfriend testified at a hearing she didn't want to see Baird incarcerated, even if he were found guilty of the first-degree misdemeanor.
"This was never about Joe going to jail," said the woman, who asked that her name be withheld under Florida's victim's rights law and is identified only as "C.C." in court records. "It was about me wanting him to stop following and stalking me."
If convicted – both the State Attorney's Office and Baird agreed at the hearing to a non-jury trial, which Stone scheduled for Dec. 16 – the former county administrator still could be sentenced to up to one year of probation and fined up to $1,000.
Stone did not rule on a motion filed in September by Baird's Vero Beach attorney, Andrew Metcalf, to dismiss the case against his client.
Metcalf argued in his motion that the issues that would be decided at Baird's trial were already litigated during a three-hour hearing in June, when Circuit Judge Robert Meadows denied the woman's request for a restraining order.
Meadows cited the close proximity of the island homes in which Baird and his ex-girlfriend reside and the absence of the former county executive exhibiting any threatening behavior.
"There's not one scintilla of a threat presented to this court," Meadows said at the June hearing, adding, "I see a relationship gone bad, but I don't see the malice or intent … There has to be some kind of action besides being in the same town that she's in."
Responding to Metcalf's motion, however, Assistant State Attorney Felicia Holloman argued that Meadows' decision to deny the restraining order doesn't preclude the state from prosecuting Baird for the criminal offense of stalking, and that the state is not "relitigating" the issues raised at the June hearing.
Holloman wrote that Meadows "did not hear evidence of the phone calls and voice mails" in which the ex-girlfriend asked Baird to stop contacting her, nor did he "review the videos and photographs" of Baird's activities on the two days he was observed by a private investigator the woman hired to substantiate her allegations.
"There is a difference in the quality and extensiveness" of the restraining-order hearing versus the state's prosecution of the stalking charge against Baird, Holloman continued, "in that there is evidence that was not considered" by Meadows.
Baird's ex-girlfriend said the visual evidence she was prevented from presenting during the June hearing "clearly shows stalking."
Reached by phone last week, Metcalf called his motion "novel" because it's based on the "doctrine of collateral estoppel," which is so rarely cited in criminal cases that he found no evidence the legal tactic had been previously employed locally.
Metcalf reiterated his past contention that Baird committed no crime and, other than presenting an opportunity for his client to clear his name, the case was a "colossal waste of time."  He said "both parties seem to have moved on."
Baird, 65, was arrested on June 24, after returning to Vero Beach from a rented summer home in Rhode Island and turning himself in at the County Jail, where he spent the night before posting a $2,500 bond and being released the next morning.
As a condition of his bond, Baird may not have any contact with the woman.
In a probable-cause affidavit used to obtain an arrest warrant, Vero Beach Police Detective Jennifer Brumley wrote that Baird "willfully, maliciously and repeatedly followed, harassed and cyberstalked" his former longtime girlfriend between May 1 and June 27.
Metcalf, who also represented Baird at the June hearing, disputed the allegations and dismissed them as the remnants of a "messy breakup," referring to the couple's romantic-but-tumultuous, eight-year relationship that the woman claims to have ended in February.
The couple had lived together on an on-and-off basis in Baird's Indian River Shores home since April 2019.