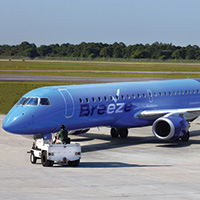 Breeze encouraged by advance sales for Vero flights
STORY BY RAY MCNULTY (Week of November 10, 2022)

Breeze Airways executives are "thrilled" with the early response to the airline's recent announcement that it will launch commercial jet service to and from Vero Beach in February, a company spokesman said last week.
"The early indications are that the flights are selling really well," said Gareth Edmondson-Jones, Breeze's head of corporate communications. "We started getting calls as soon as we announced. It's obvious Vero Beach is a very popular destination.
"Our thought is: If the demand is there, we'll add flights and even routes," he added. "Right now, there's reason to be excited."
Breeze announced last month that it will offer daily non-stop flights to and from Hartford, Conn.; and Thursday, Saturday and Sunday non-stop service to and from Westchester County.
The airline also will provide one-stop Thursday, Saturday and Sunday service to Norfolk, Va., but passengers will not need to change aircraft.
The airline is offering one-way fares as low as $79 on flights to Westchester and Hartford. The lowest one-way ticket to Norfolk is $89.
Edmondson-Jones said company policy prohibited him from providing actual ticket-sale numbers, which competitors could use to their benefit, but he claimed both the Westchester and Hartford flights "appear to be doing very well."
Currently, Breeze's lone competitor in the Vero Beach market is Elite Airways, which began offering non-stop jet service to Newark, N.J., in December 2015 and later added flights intermittently to Portland, Me.; Asheville, N.C.; and Westchester.
Elite, however, hasn't flown since June 30, and Vero Beach Airport Director Todd Scher said he doesn't know when or if the boutique airline will resume service – here or anywhere.
Scher said his most recent communications with Elite was prompted by the "demand letter" he emailed to the airline's president, John Pearsall, requesting that the company remove the inactive carrier's computer equipment from the terminal.
"He called me last week and left a voice message," Scher said. "Apparently, he misinterpreted the demand letter to mean we were done with them and they couldn't come back. So I sent him an email and corrected him, explaining that we want to do some modifications to the building and don't want to risk damaging their property."
Scher said he also "reiterated" to Pearsall the steps Elite needed to take if the carrier wants to resume service in Vero Beach.
The city has barred Elite from using the airport's passenger facilities until it pays more than $6,600 in overdue fees and provides proof of insurance. Scher said the city was notified in August that the carrier's insurance had expired.
In addition, Scher said he has requested from Pearsall "written notification on company letterhead" that Elite intends to return to Vero Beach. As last week ended, Pearsall hadn't responded.
Reached by phone Friday afternoon, Pearsall, who more than two months ago said he would make a "major announcement soon," told Vero Beach 32963 he was not yet prepared to provide an update on Elite's status.
"We're really close; within days," Pearsall said. "As soon as I have one, I'll let you know."
In a text exchange last month, Pearsall wrote that he welcomed the competition from Breeze.
"It's certainly an odd situation," Scher said. "When I talk to him, his response is always, 'Everything is in place. We're ready to restart,' and then nothing happens. So we're not sure where we stand with them. We're living in the land of what if."
As for Pearsall's planned announcement, Scher said, "We hear it's going to happen, too, but we've been waiting for a while now."
In the meantime, Scher said, he and his staff are continuing with their preparations for Breeze's arrival. The airline is scheduled to begin service here on Feb. 15.
Scher said he continues to talk to Breeze executives on a weekly basis to discuss the city's preparations, especially security, as well as marketing and signage. "Based on my conversations with them, there's a lot of excitement on their part," he added.
Still, though, Scher said the airport continues to get more phone calls from residents asking about Elite's status.
"That's probably because Breeze has been more transparent," he said. "People don't know what's happening with Elite."
If Elite does resume service here, Scher said that the airport staff and terminal can handle both airlines, as long as the two carriers don't schedule flights too closely together.
The airport's single-lane Transportation Security Administration checkpoint likely would get backed up if two flights were scheduled to depart at anywhere near the same time.
"We can do it, but we need to make sure they don't stack their flights on top of each other," Scher said. "We've never been in that situation before, but we'll work with both carriers.
"We don't know what Elite is going to do," he added, "but our preparations for Breeze are on track for a February start."
Breeze's recent decision to temporarily suspend service to some destinations next month –because of crew availability – will not impact the carrier's plans for Vero Beach, Edmondson-Jones said.
He said news of the December flight cancellations was "blown out of proportion by the media," adding, "You never want to cancel flights, but it happens. It has no effect on Vero."
Breeze announced last month it will discontinue nonstop service between San Francisco and Charleston, S.C., in January; and Nashville, Tenn., and Tulsa, Okla., later this month. Both routes were dumped because of a lack of demand.
However, the airline plans to add nonstop service between Tulsa and Orlando in March.
Launched by airline entrepreneur David Neeleman, who founded JetBlue Airways in 1998, Breeze began operations in May 2021. Fourteen months later, the carrier ranked No. 2 on Travel + Leisure magazine's "Ten Best Domestic Airlines."