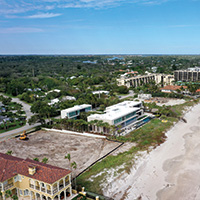 Building boom getting underway on Central Beach oceanfront
STORY BY STEVEN M. THOMAS (Week of November 24, 2022)

A minor building boom is getting underway along the Central Beach oceanfront, with three new homes totaling more than 22,000 square feet planned, permitted or under construction.
The much coveted Veromar neighborhood – which includes a dozen single-family oceanfront homes and lots stretching north from The Village Spires condominium towers to the Jaycee Park boardwalk – recently has been the hottest seaside area on the barrier island.
Nine of the 12 multimillion-dollar properties changed hands in the past three years, including three prime oceanfront lots, and two of the properties have sold twice since 2019, making a total of 11 sales worth more than $50 million in the enclave.
Now, buyers who purchased the lots, where the sand might as well be gold given the land's value, are moving ahead with construction of substantial homes with lots of bedrooms, bathrooms and swimming pools, the latest addition to 32963's built environment.
The southern-most project is an impressive single-family home with 10,500 square feet of floor space, including a detached, six-car garage and two-story carriage house.
Located at 3640 Ocean Drive on a 1.1-acre lot with 150 linear feet of ocean frontage, the compound includes a total of five bedrooms, seven bathrooms, and two swimming pools – including a 22-foot by 70-foot beauty overlooking the Atlantic that would do justice to an upscale seaside hotel.
The main house looks elegant on plans filed with the city and county, picking up Georgian architectural elements with columns, dual chimneys and oval windows in gables.
The first floor encompasses an 18-foot by 20-foot island kitchen open to a family room the same size; a laundry, pantry and butler's pantry; a huge dining room; a guest bedroom suite; and a 950-square-foot living room with a fireplace at each end and a mostly-glass back wall.
An elevator and an elaborate main staircase ascend to the second floor, where there is another 950-square-foot living room overlooking the ocean, another deluxe guest suite, and the nearly 1,200-square-foot owner's suite, which comes with a 300-square-foot, covered, oceanfront terrace for a total or about 1,500 square feet of living space.
The suite includes a sizable bedroom, elaborate bathroom and two walk-in closets, including one that is a roomy 250 square feet.
The two-bedroom, two-bath, two-story carriage house and detached garage will sit in from the main house, framing a central courtyard. The garage has three bays, each with a double-car stacker system, plus lots of storage space.
The property was in the news in May when the current owner purchased the lot for $5,179,500, which was $1.7 million more than it sold for a year before – an illustration of how the pandemic housing boom boosted Vero Beach estate.
The buyer in the deal was represented by Douglas Elliman agent Joseph O'Neill, who said at the time his client intended "to build a custom oceanfront home that takes advantage of the ocean views with today's latest finishes and design that will be his primary residence."
How desirable is this little patch of sand?
"People tried to buy out the new owner's contract before closing, but he wouldn't budge," Dale Sorensen agent Cathy Curley told Vero Beach 32963 in May.
Curley, who represented the well-satisfied seller in the transaction, said the neighborhood has great appeal because of its beautiful seaside setting and walkability.
"Buyers want to walk to dinner, have drinks and walk home," she said. "Some of them have college-age kids and they want the same thing for them, so they don't have to drive after being out for the evening."
O'Neill declined to identify his client, but public records show the buyer in the May transaction and current owner is Vero Beach insurance executive Rory Dougherty, president and CEO of Senior Life Services.
Dougherty, who also owns the Mediterrean Revival home at 3756 Ocean Drive, five doors to the north, hired Vero engineering firm Schulke, Bittle and Stoddard, Savannah-based architectural firm Ls3p, and Reilly Construction, and got busy planning and permitting.
The main building permit application was filed in July and approvals started rolling in during September and October. The lot was recently cleared and is ready for the fill needed to raise the first level floor surface 17 feet above sea level. Heavy earth-moving equipment was onsite last week.
The buildings will be built on a forest of 16-inch-diameter, steel-reinforced pilings that go down to marl and tie into heavy grade beams above ground, a construction technique that will make the concrete and concrete block structures immovable in the face of any hurricane mother nature can come up with.
Landscaping will include 70 or 80 palm and cypress trees – including coconut, royal and Canary palms – along with hundreds of other plantings.
Next to Dougherty's lot is the major modernist home built by businesswoman and developer Katherine McConvey in 2014 on a 1.4-acre lot with another 200 feet of ocean frontage. McConvey also owned  two magnificent 300-foot-deep lots adjoining her main property to the north, at 3746 and 3750 Ocean Drive.
After living in the seven-bedroom, seven-bath, 17,931-square-foot house for several years, McConvey sold it last June for $16,813,000 to Mark Mitchell, founder and managing partner of Lorient Capital LLC, a private equity firm headquartered in Birmingham, Mich., that focuses on healthcare services companies.
Six months later, in December 2021, McConvey sold Mitchell the two adjoining lots for $4,250,000, making him the owner of 400 feet of Vero beachfront plus the Architectural Digest-caliber modernist house.
Now Mitchell appears to be expanding.
Plans for a 3,800-square-foot home at 3746 Ocean, the lot closest to the big modernist house, are currently being reviewed by the city of Vero Beach.
Designed by Deerfield Beach architect Gregory Anderson, engineered by Schulke, Bittle and Stoddard, the home will be built by Water's Edge Estates construction company, according to public records.
The plans, which were filed with the city this month, show a simple, rectangular structure with a bathroom, kitchen and great room on the first floor and three bedrooms and three bathrooms on the second floor.
The house will sit on a 0.7-acre lot with 100 feet of ocean frontage and looks like it will echo the Bauhaus design of McConvey's big, modernist masterpiece, with stone facing on the first floor and a low-sloped roof.
Terraces run the length of the house, front and back, and there is a lap pool on the ocean side.
Immediately north, on the second 100-foot by 300-foot lot Mitchell bought from McConvey in 2021, construction is already underway on an 8,000-square-foot single-family pool home.
Plans for this house were not accessible prior to deadline, but public records show it is being built by Water's Edge Estates, which is owned and operated by well-know island builder Vic Lombardi.
It is not clear at the moment if Mitchell is building the house for the use of himself and his family and friends, or if it is being developed as a spec house for sale.
The burst of building activity on the Veromar oceanfront is newsworthy, in part, because with the three new houses, the luxury subdivision will be nearly built out, with just one lot remaining.
That lot, at 3634 Ocean Drive, is owned by Vero Beach businesswoman  Cathy Padgett, who purchased it for $3.6 million in 2021.
She told Vero Beach 32963 earlier this year that she had not decided what to do with the lot.
"It is a fantastic piece of property," she said. "I may develop myself at some point. In the meantime, I am watering it and watching it grow."
Padgett could not be reached for a comment on the property for this article.
As of last week, the lightly-wooded lot with a broken gate in front was empty, with no sign of development activity – the last parcel left in Veromar where a dream home can come true.