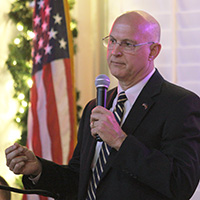 Fellsmere Police Chief Keith Touchberry to run for sheriff
STORY BY RAY MCNULTY (Week of November 24, 2022)

Fellsmere Police Chief Keith Touchberry is running for sheriff again.
Touchberry, 58, who filed the required paperwork with the Supervisor of Elections Office last week, was the runner-up to now-Sheriff Eric Flowers in the 2020 Republican primary.
He joins Deborah Cooney, who claimed no party affiliation, as the only candidates to file thus far, though Flowers has said publicly he does plan to seek re-election.
Cooney filed to run in December 2020, one month after losing to Flowers in a landslide election, but she has done nothing publicly the past two years to improve her longshot chances of unseating the incumbent sheriff.
Touchberry, though, sees himself as a stronger candidate now, having raised his stature beyond being a small-town police chief. In fact, he was inducted as president of the 1,000-member Florida Police Chiefs Association in August.
He also believes the name recognition he received during the 2020 campaign, along with his 33 years of law-enforcement experience in the county, will make him a formidable challenger in 2024 – especially if COVID isn't a factor.
"Last time, I got a late start with fundraising and getting my name out there," said Touchberry, who spent more than 24 years climbing the ranks at the Vero Beach Police Department until retiring as a captain in 2013, when he left to head the Fellsmere Police Department. "And the pandemic definitely hurt."
Most observers agreed that Touchberry clearly won the first debate in January 2020 and followed up with a strong showing in the second forum in March.
Then came the COVID-19 shutdowns.
The pandemic forced the cancellation of later debates and, with Flowers anointed by then-Sheriff Deryl Loar and endorsed by most other prominent local Republicans, it proved difficult for other candidates' campaigns to deliver their messages to voters.
When Cooney entered the race, preventing Democrats and independents from voting in the Republican primary, Flowers' election was all but guaranteed.
"There were too many candidates in the field, and the closed primary didn't help," Touchberry said. "Neither did voter apathy."
Flowers received 62 percent of the primary vote, while Touchberry garnered 24.5 percent. Of the county's 120,000 registered voters, however, only 23,447 cast ballots in that primary, and Flowers won by fewer than 9,000 votes.
In the 20 months since Flowers' swearing-in ceremony, Touchberry said, the first-term sheriff's conduct and performance have left county residents doubting his ability to lead the 500-member agency.
"We've seen evidence since the election that there's a need to improve the leadership and culture at our Sheriff's Office," he said. "As a result, I have been encouraged to run again my many people in the county who are concerned about the quality of their law enforcement."
In February, Flowers issued a public apology after Vero Beach 32963 exposed his extramarital affair, which came only 13 months after he compared – in his inaugural address to his deputies – their oath of office to a marriage vow and said he expected them to reflect his values.
Six months later, sources told this newspaper the affair was only briefly interrupted by the headlines and resumed within a month of Flowers' apology. His wife filed for divorce in July, seeking to end a 10-year marriage she claimed in her petition to the court was "irretrievably broken."
Touchberry said Flowers' affair, which shocked many of his 2020 supporters, could make the sheriff vulnerable in 2024.
"It certainly presents any candidate with an opportunity," Touchberry said. "It's up to the voters to hold him accountable for it, if they believe that conduct is contrary to how they want their sheriff to conduct himself."
Flowers also has received public criticism for defending deputies' actions in two controversial shootings – one in which a scissor-wielding, Baker Act patient was shot dead in the emergency room at Cleveland Clinic Indian River Hospital in March, and another involving a 19-year-old man who grabbed a handgun and fled a traffic stop in Gifford in June.
But will a politically weakened Flowers result in a larger field of candidates?
In addition to Flowers and Touchberry, the 2020 Republican race included Indian River Shores Public Safety Director Rich Rosell and retired Sheriff's Captain Chuck Kirby.
"It's hard to say," Touchberry said. "I've heard rumors of a few people who might be running, but nothing definite."
Touchberry said he's concerned about reports of morale problems within the Sheriff's Office, which is why he lists "employee morale and overall wellness, employee retention and employee development" among his priorities if he is elected.
Other priorities, he added, would be a new focus on crime prevention and reduction, as well as greater law enforcement intervention and community involvement, and combating false media narratives about policing.
"I have demonstrated I can lead the Sheriff's Office not only through my 33 years in law enforcement," Touchberry said, "but also through my accomplishments and initiatives with the Florida Police Chiefs Association, creating programs to combat crime and improve quality of life."
Touchberry has a master's degree in criminal justice from the University of Central Florida, and he teaches at Indian River State College in Fort Pierce and the Florida Institute of Technology in Melbourne.
At both schools, he specializes in ethics, particularly as they apply to law enforcement.
Prior to spending 18 months in the U.S. Army Reserve, Touchberry served in the Marine Corps on active duty for 6 ½ years before being hired in May 1989 by the Vero Beach Police Department, where his duties included uniform patrol, K-9 officer and SWAT team member.
He rose to the rank of detective sergeant.
Touchberry said Fellsmere's City Council and management support his decision to run for sheriff.