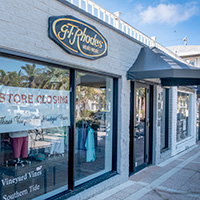 GT Rhodes closing its doors after 41 years
STORY BY SAMANTHA ROHLFING BAITA (Week of November 24, 2022)

By month's end, one of the most familiar and popular clothing shops on the island, GT Rhodes Menswear, will close its doors, ending a successful 41-year run.
Located at 1008 Beachland Blvd., just west of the Ocean Grill in historic Sexton Plaza, the shop with the iconic gold-lettered sign has always offered fine resort wear and formal attire for men.
On a recent morning, while customers browsed the remaining inventory in the open side of the shop, behind a bare counter on the other side stood Gerre Rhodes, file folders and cellular phone in hand.
Looking at the empty space where racks, shelves and displays were gone or disassembled, she reminisced about her four decades as a business owner.
"Why would you want to do that?" was the most frequent response when she announced to husband Tom, family, and friends back in 1981 that she was opening a clothing shop on the beach carrying exclusively men's clothing.
"My friends wondered why I wouldn't rather run a women's clothing shop," she said.
"Who'd ever heard of a woman running a menswear shop?  It was definitely unusual back then," she said. "But I just thought, 'Why not?' And I have never regretted it. It was the right move at the right time."
Over the years, she estimates customers have been equally men and women, each receiving her signature  warm smile and friendly  welcome.
"And, believe it or not, no one has ever complained about a woman running the shop," she said.
Early on, the Rhodes' became good friends with longtime beach retail store owners Marti and Rich Bireley, whose store The Beach Shop is at the corner, just west of Rhodes in Sexton Plaza. The two families spent time together and their children attended Beachland Elementary and played together. 
When her children were old enough, said Rhodes, Tom and Suzy "had their duties, too. They didn't get away with doing nothing. They helped unpack boxes, things like that."
She remembers those early years as a very happy time on the island, when businesses were developing, and the owners were often together to plan special events and discuss beach business issues.
Other unforgettable memories involve being a beachside business owner during hurricane season.
"When a hurricane was coming, we'd all just board up, put out sandbags and pray. Then we'd go home and count our lucky stars when the buildings were still there. (At some point) our landlords, the Sextons, put in storm shutters," she said.
Although times have changed, with original shop owners retiring, new businesses coming in, and more residents and visitors filling the town, Rhodes still sees the beach business community as "a family."
GT Rhodes has thrived over the years, as economics and the population ebb and flow. 
"The season is always good for everybody. We've been really fortunate, working here, between the bridges. And, regardless of which side of the river, we live in paradise."
Will she miss the business she has nurtured for four decades?
"Customers say they're going to miss me and ask if I'm sad to leave. I tell them they're the ones who've made this a success and I might feel a little sad.
"I've enjoyed it and it's been wonderful," Rhodes said, smiling. "But I have no free time. And it's time to move on."
"Now I'm going to enjoy my children and four grandchildren and four great-grandchildren," she said.
What will replace GT Rhodes in one of the most desirable business locations on the island has yet to be determined.