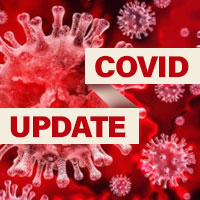 Hospitalizations for covid up, but new cases down
STORY BY LISA ZAHNER (Week of November 10, 2022)

The number of new covid infections reported to the Florida Department of Health declined slightly in Indian River County last week, though hospitalizations rose 60 percent.
Only 89 people reported testing positive for COVID-19 during the week ending Nov. 3 – down from 102 the previous week – but six more people ended up in the hospital being treated for covid illness than the week before.
"We have 16 patients with COVID in-house this morning. None in Critical Care," said Cleveland Clinic Indian River Hospital spokesperson Arlene Allen-Mitchell on Friday.
That's up from 10 the previous week, and single-digit hospitalizations in mid-October.
Statewide, the number of covid infections rose 14 percent last week. Still, all of the state except the greater Tampa area remains in the Low Covid Community Level category.
Demand for COVID-19 vaccines remains low, with only 63,000 people statewide out of more than 21.78 million people opting to get the jab last week – 56,546 of the shots given being boosters.
Pfizer-BioNTech released some hopeful data for older Americans Friday on its newly formulated booster shot, based upon a study of 900 healthy volunteers who had all received their two-dose vaccine regimen plus one booster.
Pfizer said the study showed its booster designed to protect against the Omicron sub-variants produced four times the antibody response in study subjects age 55 and older than the original Pfizer COVID-19 vaccine.
"As we head into the holiday season, we hope these updated data will encourage people to seek out a COVID-19 bivalent booster as soon as they are eligible in order to maintain high levels of protection against the widely circulating Omicron BA.4 and BA.5 sublineages," said Albert Bourla, chairman and CEO, Pfizer.
"These updated data also provide confidence in the adaptability of our mRNA platform and our ability to rapidly update the vaccine to match the most prevalent strains each season," he said.
The new booster formula produced similar results regardless of whether the person had a history of covid illness, or no history of having covid, Pfizer reported.
"These data highlight the potential benefit of the bivalent vaccine for all populations regardless of previous SARS-CoV-2 infection. The safety profile remains favorable for the bivalent vaccine and consistent with the original vaccine," Pfizer said.
Pfizer submitted the data to the U.S. Food and Drug Administration and said it would continue to monitor how the updated, Omicron-targeted booster performs against multiple new strains of the virus now circulating, which are still expected to contribute to a winter surge in cases. 
Right now the BQ.1 subvariant, which has shown to be quite resistant to protective antibodies, accounts for about 16.5 percent of cases between Oct. 30 and Nov. 5. And BQ.1 has already mutated into BQ.1.1 which accounts for 18.8 percent of the cases this week, according to the CDC.
The BA.4 subvariant has mutated into the BA.4.6 strain, which accounts for 9.5 percent of the cases. The BA.5 subvariant is still the leader of the pack with nearly 40 percent of cases. The balance is divided among four other subvariants.
Public health officials warned this week that Influenza A outbreaks are increasing, and the RSV respiratory virus is gaining steam as well, ahead of its typical seasonal patterns, creating the possibility of a "tripledemic" this winter. There is no vaccine for RSV, though several different adult and pediatric formulas are in late-stage clinical trials.
Florida was listed as an area of high influenza transmission last week, with 13 Southern states plus New Jersey, New York City and the District of Columbia being in the very high flu transmission zone.
All three of these viruses – COVID-19, influenza and RSV – can cause serious illness, death and lasting health effects in the young and old, especially to the respiratory system. Nationwide, about 14,000 people age 65 and older die from RSV each year.
Long covid is the term used to describe a variety of symptoms from brain fog to fatigue that last way beyond a patient's recovery from acute covid illness. The CDC released data from the National Center for Health Statistics reporting that an estimated 24 million Americans have suffered from long covid, and 80 percent of people with long covid surveyed said it affected their ability to carry out daily tasks.
Results of numerous studies on "long covid" were published over the past few weeks, including an Israeli study of nearly 700 people. The study found that one-third of the participants had not returned to their pre-covid illness state of health after six months. People in the Israeli study who were overweight and smokers tended to be more likely to suffer from long covid, and women were more likely than men to be afflicted with long covid.