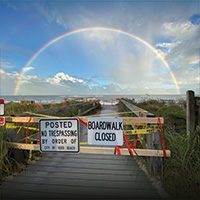 Impact of Hurricane Nicole could have been much greater
STORY BY LISA ZAHNER (Week of November 17, 2022)

Our community was in the headlines all around the world last week as the National Weather Service reported that Hurricane Nicole made landfall in Florida just south of Vero Beach.
But while the hit-and-run storm robbed precious sand from the island's storm-weary beaches, swelled the Indian River lagoon, and flooded roadways and parks, it was in the end just barely a hurricane – and the impact could have been far worse.
Damage to homes and businesses was minimal, and power outages were resolved relatively quickly, thanks to post-Hurricane Ian repairs to the Florida Power & Light system. Of the 25,000 people who lost power, more than half got their lights back on Thursday, and everyone was back in service by early Friday afternoon.
Beaches on the northern end of the barrier island, already chewed-up by Hurricane Ian, took the worst beating from Nicole. Indian River Shores building and code enforcement officials surveyed the damage on Saturday.
"There is severe erosion along the entire Town coastline," Indian River Shores Town Manager Jim Harpring said.
The town's beach access stairs were washed away or seriously damaged, and out of commission.
"Most areas lost between 10, and in some areas, up to 25-30 feet of dune with approximately 10 feet of height or more washed out," Harpring roughly estimated.
Harpring said the town plans "vigorous and close cooperation with the county to secure emergency beach repair funds through pursuit of some of the $20 million just authorized by Gov. (Ron) DeSantis for emergency beach repair."
Indian River County deployed workers to the beaches and parks "and in some cases made repairs to open facilities ASAP so citizens could enjoy the holiday weekend at their favorite location if at all possible," Indian River County spokesperson Kathy Copeland said on Monday.
"Wabasso Causeway boat ramps experienced damage. Crews were out early Friday morning to rebuilding one of the ramps and by Friday afternoon it was open."
The county announced that "substantial damage occurred at Wabasso Beach Park and Tracking Station Beach Park – these beaches will be closed until further notice" – and said "assessments of beach conditions will be conducted daily and beaches may be closed if conditions change."
Storm debris in the water posed a danger to swimmers, so as select beaches reopened, it was for walking and sunbathing only.
Heavy rains and a 3-foot storm surge inundated Vero's Veterans' Memorial Island, cancelling the city's Veterans Day ceremony last Friday, as water was still ankle deep.
Vero's stormwater system "performed as designed, before and after the storm" despite a half-foot of rain, according to Public Works Director Matthew Mitts. "No clogged pipes or culvert failures we are aware of.
"We experienced storm surge that caused flooding in low lying areas of the city including the east side of the Alma Lee Loy Bridge and portions of Indian River Drive east," Mitts said. The flooding on East Causeway Boulevard closed the eastbound span of the bridge, and at the A1A intersection, a breaker box caught fire.
Power went out at 11 city utility lift stations. Utilities Director Rob Bolton said the "Water Plant never lost power and the wastewater plant only lost power for a short time. We did not experience any wastewater spills or water line breaks."
No city buildings were damaged, but "the floating docks at the Riverside Park boat launch are damaged and that boat launch will be closed until further notice. The bottom half of the Bahia Mar Beach Access dune crossover stairs were destroyed and that beach access is closed," Mitts said.
"Jaycee, Conn Beach, and Humiston boardwalks and beaches and Sexton Plaza beach are closed until further notice due to beach erosion. South Beach is littered with debris and we are picking it up today," Mitts said Friday.
Indian River Shores Deputy Chief Mark Shaw called the storm "uneventful." The Public Safety station never lost power and town building sustained no damage. "As far as I know the cell tower was operational throughout," he said.