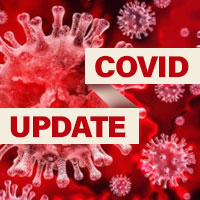 No sign locally of covid uptick seen elsewhere
STORY BY LISA ZAHNER (Week of November 17, 2022)

Hospitalizations of patients with COVID-19 locally declined by nearly one third this past week, and the number of new covid infections here reported to the Florida Department of Health remained steady in the high 80s.
With 89 new cases the week ending Nov. 3 and 87 new cases this past week, Indian River County is not seeing the uptick in community spread of the virus occurring in other parts of the country.
But a relatively small number of people got tested last week with the hubbub of Hurricane Nicole. The Centers for Disease Control and Prevention reported only 498 covid tests at local labs, so the county's positivity rate was higher than 17 percent.
Five people were admitted to the hospital with COVID-19 illness last week, according to the CDC Data Tracker, but as the week ended, the total number of covid-positive people in the hospital declined from 16 the previous week.
"Indian River Hospital has 11 Covid-positive patients in-house, none in the ICU," Cleveland Clinic Indian River Hospital spokesperson Erin Miller said on Friday afternoon.
The CDC reports that only 10.1 percent of U.S. residents age 5 and older, or about 31 million people, have received the updated Omicron-targeted COVID-19 booster shot, with Florida falling behind in uptake of the newly formulated vaccine since the Pfizer and Moderna shots were approved in early September.
By comparison, on the local level, 72 percent of Indian River County residents age 5 and older have completed either the Pfizer or Moderna two-shot COVID-19 vaccine regimen, and half of those have had at least one booster shot of the original vaccine formula.
When the new Omicron-targeted boosters were approved by the FDA and recommended by the CDC, there was much speculation about the fact that the new boosters had only been tested on mice.
Moderna on Monday released preliminary results of a study of its new booster on 511 adults age 19 to 89, announcing that in trial subjects, the new boosters was shown "to trigger a superior antibody response" when compared to yet another dose of the original formula. Moderna found the new booster, when given to previously vaccinated people, resulted in a 15-fold increase in antibodies to the BA.4 and BA.5 subvariants.
"We are pleased to see that both of our bivalent booster vaccine candidates offer superior protection against Omicron BA.4/BA.5 variants compared to our original booster, which is encouraging given COVID-19 remains a leading cause of hospitalization and death globally. In addition, the superior response against Omicron persisted for at least three months after the mRNA-1273.214 booster," said Stéphane Bancel, Moderna's chief executive officer.
Moderna says the new booster was equally as effective in test subjects age 65 and older as it was in those age 19 to 64, and that adverse reactions were observed less frequently after people got the new formulation than with the original booster. It's unclear if the study figured in that the test subjects had already been vaccinated numerous times prior to the clinical trial and were simply more accustomed to the typical post-vaccination reactions, so less likely to mention a reaction that they knew to be normal for them.
Pfizer also released positive data in October about its updated booster based upon a human clinical trial, but the initial test results were not quite as promising as the numbers Moderna announced on Monday. This new information has yet to be peer reviewed.