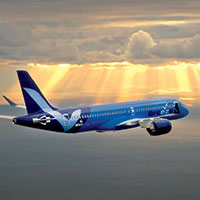 Breeze plans daily non-stop service to Hartford
STORY BY RAY MCNULTY (Week of October 20, 2022)

Breeze Airways founder and CEO David Neeleman believes Vero Beach will be a wildly successful addition to the company's route map when the carrier launches low-cost passenger jet service here on Feb. 15.
Initially, Breeze will offer non-stop daily flights to and from Hartford, Connecticut; and Thursday, Saturday and Sunday service connecting Vero Beach to Westchester County, New York, and Norfolk, Virginia.
The Norfolk flights will require one stop, but no aircraft change.
The airline will offer one-way fares as low as $79 on flights to Westchester and Hartford. The lowest one-way ticket to Norfolk is $89.
The Hartford flights will offer first-class-size seating, but without the usual first-class amenities.
"Vero Beach is one of those places that not a lot of people know about – but if you know, you know," Neeleman said in advance of Breeze's announcement this week.
"Vero is a really popular destination from the affluent areas of the Northeast, especially Fairfield County and Westchester County," he added. "Many people there have second homes in Vero Beach."
Neeleman, an airline entrepreneur who founded JetBlue Airways in 1998, said he was drawn to Vero Beach because Breeze's business plan is built around providing commercial non-stop flights to cities where scheduled air service previously wasn't available.
"Vero is an incredibly lovely place, but it hasn't been so easy to get to," he said. "You fly into either Orlando or West Palm Beach, and then have to drive for an hour-and-a-half. Now, there'll be a much faster option to get there from both White Plains (New York) and Hartford."
Neeleman said he expects Breeze's jet service into and out of Vero Beach to be in high demand, so much so that additional flights will be added to the schedule "as soon as we can."
Breeze will be the second commercial carrier operating out of the Vero Beach Regional Airport, which has been served by Elite Airways since December 2015, when the boutique airline began offering non-stop service to Newark, N.J.
Elite, however, hasn't flown since June 30, and city officials say they don't know when – or if – the carrier will resume service.
Reached via text last week, Elite president John Pearsall called Breeze's arrival in Vero Beach "great news" and said, "We welcome competition," adding that he expects to make a major announcement about his airline's plans before the end of the month.
Vero Beach City Manager Monte Falls welcomed Breeze to the community, saying, "I think it's great that we have another air carrier, especially one with a more aggressive service plan than what we've had here."
Vero Beach Airport Director Todd Scher said his conversations with Breeze began a year ago, but there was no reason to believe the airline was eager to make a move – until the past couple of months.
Breeze representatives visited Vero Beach at least twice over the past several weeks to assess the airport's terminal and other passenger facilities, including security.
Their most recent visits were on Sept. 25 and Oct. 3.
"That's when things really started happening," Scher said, "and it moved a lot faster than we thought they would."
Breeze's jets – the largest can carry up to 137 passengers – are bigger than those flown by Elite, which uses aircraft that hold up to 60 passengers. Therefore, Scher said, the city needs to expand its Transportation Security Administration facilities.
According to emails acquired by Vero Beach 32963, Breeze can be expected to pay more than $170,000 to launch its service at the airport. The fees would cover the costs of terminal use, landing fees and expanded security.
Breeze, which launched it operations in May 2021, currently serves six Florida cities: Orlando, West Palm Beach, Tampa, Jacksonville, Sarasota/Bradenton and Fort Myers.
In addition to serving major markets – such as Los Angeles, San Francisco, Las Vegas, Phoenix, New Orleans, Nashville and Pittsburgh – Breeze offers flights into and out of several mid-size cities, including Louisville, Ky.; Richmond, Va.; Providence, R.I.; Tulsa, Okla.; Savannah, Ga.; Charleston, S.C.; and Provo, Utah.
The airline also serves another New York suburban airport: Long Island MacArthur in Islip.
Breeze's website states the airline merges "technology with kindness" and offers customers "seamless booking, no change or cancellation fees, and customized flight features delivered via a sleek and simple app" that makes it "easy to fly."
The airline began operations with 30 leased Embraer 195 aircraft to serve smaller markets, but it is in the process of adding 80 new Airbus A220 jets to comfortably fly passengers to mid-size and larger cities.
In July, Breeze ranked No. 2 on Travel + Leisure magazine's "Ten Best Domestic Airlines" in 2022, behind only Hawaiian Airlines and ahead of JetBlue, Alaska, Delta, Southwest, United, Sun Country, American and Allegiant.