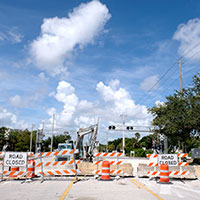 Brightline behind schedule here on railroad crossings
STORY BY GEORGE ANDREASSI (Week of October 20, 2022)

Brightline has fallen behind schedule on the reconstruction of several railroad crossings here, and while high-speed trains are creeping closer to Vero, the start date for passenger train service through Indian River County still appears many months off.
Brightline is spending $2.7 billion to improve the Florida East Coast Railway tracks from West Palm Beach to Cocoa and building new tracks along the Beachline Expressway/State Road 528 from Cocoa to Orlando.
"We are more than 83 percent complete with construction on our entire system between West Palm Beach to Orlando," said Ali Soule, vice president of Community Relations for Brightline.
"We do expect substantial completion to be met in 2023 and we will launch the service shortly thereafter," Soule said.
Brightline has fallen behind schedule on several railroad crossing improvement projects in Vero Beach and southern Indian River County, the company's construction advisories show.
While the incomplete construction work here precludes high-speed tests in Indian River County, Brightline was preparing to conduct test runs at 110 miles per hour through neighboring St. Lucie County.
Six weeks of up to 110 mph test runs along an 11-mile stretch of tracks spanning nine Treasure Coast railroad crossings were planned, according to Brightline spokesperson Katie Mitzner.
Brightline has not notified Vero Beach officials when the company plans to begin testing passenger trains at high speeds through the city, Richard Mutterback, the city's assistant public works director.