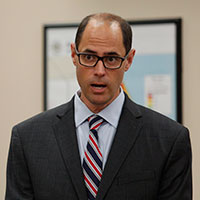 Brown stepping down as county administrator
STORY BY RAY McNULTY (Week of October 27, 2022)

Citing stress-related health issues and a desire to spend more time with his family, County Administrator Jason Brown announced last week that he was resigning, effective Dec. 31, to take a senior accountant's job in the Clerk of Court's office.
"Being the county administrator is an all-consuming job, and I felt that I couldn't make the effort needed to achieve the high level of performance the job requires for the long term – because the stress was beginning to impact my health," Brown said.
"I always want to do the best job I can for the county and, as a result, I put additional pressure on myself," he added. "The problem is, I probably don't handle the stress well. I need to take care of those issues and my family.
"This new position should allow me to do that," he said.
Brown, 48, who is married with two school-age children, has worked for the county for 25 years, mostly of that time heading up the Office of Management and Budget. He has served as administrator since 2016, when he was promoted from budget director to replace Joe Baird, who retired.
He is scheduled to begin his new job on Jan. 6, returning to the county agency he started his career with after college a quarter-century ago.
"I've been thinking about this for a couple of months," Brown said, adding that he explained his concerns to Clerk of Court Jeff Smith, who told him he had a vacancy in his finance department.
"An opportunity presented itself," Brown said, "and I made a decision that's best for me and my family."
The County Commission is expected to discuss at next week's meeting the search for Brown's successor.
Commissioner Joe Flescher said he believes there is "qualified talent in the building," but he didn't mention names. Among the likely in-house applicants are Assistant County Administrator Michael Zito and Community Development Director Phil Matson.
While Commissioner Susan Adams said she would encourage internal candidates to apply, she also wants to conduct a nationwide search.
"I want to cast a net as far and wide as we can," Adams said. "There are in-house candidates we should consider, but we owe it to the community and ourselves to go through the proper process.
"If we do," she added, "I think we'd get some great applicants."
Commission Chairman Peter O'Bryan said he, too, prefers a broad search and suggested enlisting help from the Florida Association of Counties.
Flescher described the administrator's job as a "very complicated, demanding and unique position" because whomever the commissioners hire will "answer to five bosses who answer to 165,000 bosses."