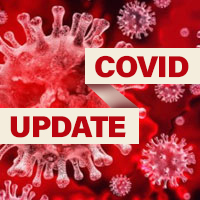 COVID infections again down; few here getting vaxxed
STORY BY LISA ZAHNER (Week of October 13, 2022)

The number of new COVID-19 infections here declined by another one-third with only 63 cases for the week ending Oct. 4, down from 96 the previous week, according to the Florida Department of Health.
But with public health officials continuing to worry about the prospect of a winter covid surge, an almost unbelievably low number of Indian River County residents opted to get a booster shot the week ending Oct. 6 – a total of 10, according to the latest state report.
While immunization demand is at an all-time low, the window of opportunity to get free COVID-19 vaccines may close by year's end, with the cost of shots to be borne by individuals or health insurance unless the federal government approves more resources to purchase vaccine doses.
Regardless of what happens in the private sector, taxpayers would still fund vaccines for Medicare recipients, and two recent studies tout that practice as a very smart investment.
Though the debate rages on about the risks-versus-benefits of COVID-19 vaccines and boosters for young, healthy people, nursing mothers, men in their teens or 20s, and people who have endured real and lasting adverse reactions to vaccine jabs, the overwhelming success of covid vaccination in seniors age 65 and older was the topic of two studies published last week.
An analysis by the U.S. Department of Health and Human Services estimates that 350,000 Medicare recipients' lives were saved in 2021 due to COVID vaccination, and that 675,000 fewer Medicare recipients were hospitalized in 2021 with covid disease due to widespread vaccination among seniors.
Aside from the precious value of those 350,000 lives saved, and the priceless advantage gained from seniors remaining healthy, avoiding 675,000 hospitalizations saved taxpayers $16.4 billion so far.
The first vaccines were developed, tested, approved, mass-produced and distributed to front-line medical personnel, senior citizens and essential workers in just nine months in 2020 through Operation Warp Speed, an ambitious Trump Administration plan which pre-purchased massive quantities of potential vaccines from seven different pharmaceutical companies to ensure the quickest rollout of a new vaccine in American history.
This was achieved through the sharing of the COVID-19 genome sequence, financial incentives for companies to produce safe, effective vaccines, and expedited regulatory track. So far, four of the seven companies' vaccines have been granted Emergency Use Authorization by the U.S. Food and Drug Administration.
The HHS study said one big motivator to get vaccinated in late 2020 and early 2021, and then to get "boosted" in 2021, was the Delta variant surge, and a separate report backed that reasoning up.
The Kaiser Family Foundation analyzed the number of deaths attributed to COVID-19 illness over the course of the pandemic, as reported by the Centers for Disease Control and Prevention, showing how senior citizens have borne the brunt of the pandemic.
"As of the week ending October 1, 2022, the United States has lost nearly 1.1 million lives to COVID-19, of which about 790,000 are people ages 65 and older. People 65 and older account for 16 percent of the total U.S. population but 75 percent of all COVID deaths to date," the Kaiser study said.
The study also drilled down into statistics from this summer when the number of covid deaths rose due to the BA.4 and BA.5 Omicron subvariants, to emphasize the importance of vaccinations for seniors whether infection levels are high, or relatively low like they are right now.
From June 1 through Sept. 30, nearly 44,000 Americans deaths were attributed to COVID-19 disease, 38,619 of those being people age 65 and older.
Locally, Cleveland Clinic spokesperson Arlene Allen-Mitchell said on Monday "there are five COVID positive patients at Cleveland Clinic Indian River Hospital in-house this morning.  One is in (the) Intensive Care Unit."
That number is up from the three hospitalized a week earlier.