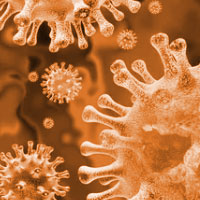 COVID infections remain low here
STORY BY LISA ZAHNER (Week of October 6, 2022)

The number of new COVID-19 infections here remained flat last week, hovering just below 100 cases, according to the Florida Department of Health, and the number of covid-positive patients remained low.
The Centers for Disease Control and Prevention's Covid Data Tracker lists seven people hospitalized here in the week ending Sept. 30. Cleveland Clinic Indian River Hospital spokesperson Arlene Allen-Mitchell confirmed on Monday that numbers were down. "There are three COVID positive patients in house currently, none are in ICU," Mitchell said.
That's a 50 percent decline in hospitalizations from the six people who had been admitted a week ago.
Fewer than 3 percent of staffed hospital beds are deployed in the care of Covid-positive patients. Based upon that low burden on the overall healthcare system, Indian River County sits safely in the "Low Covid Community Level" category as determined by the CDC.
Though local residents are not rushing out to get a fifth jab of the new Omicron-targeted booster shot, Indian River County ranks in the top 10 Florida counties in terms of fully vaccinated, boosted residents.
Sumter County, home of The Villages and Florida's grayest county with 58.2 percent of residents age 65 and older, tops the state with 59.5 percent of residents vaxxed and boosted.
Indian River County ranks ninth out of 67 counties, with 48.5 percent of residents vaxxed and boosted.
Neighboring Brevard County ranks 20th at 45.1 percent and St. Lucie County ranks 25th at 44.2 percent vaxxed and boosted.
This week both the CDC and local pharmacies began sending text messages and emails to people in their vaccination databases reminding them that booster shots are available – an indication of the weak demand here for vaccine shots.