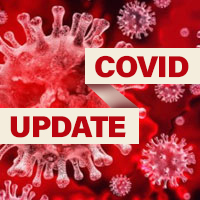 Covid again up here, and hospitalizations double
STORY BY LISA ZAHNER (Week of October 27, 2022)

New COVID-19 infections here increased 60 percent over the past two weeks, rising from 63 cases to 101 cases, according to the Florida Department of Health, and the number of covid-positive patients hospitalized at press time was nearly double that of the previous week.
"Cleveland Clinic Indian River Hospital has nine COVID-positive patients in-house today, none of which are in critical care," Cleveland Clinic spokesperson Erin Miller said Monday.
While Florida as a whole has not experienced the same uptick in new infections as Indian River County, several Omicron subvariants are gaining steam around the globe, threatening to bring new surge of COVID-19 illness to the U.S. this winter.
Even if another onslaught of covid is averted, a Centers for Disease Control and Prevention committee last week conceded that covid is "here to stay" and added the Pfizer and Moderna mRNA covid vaccines to the recommended schedule of routine child, adolescent and adult immunizations.
The move by the CDC raised concerns among parents of school-age children that adding the COVID-19 vaccines to the childhood and adolescent immunization schedules was an incremental step toward mandating children get the vaccine to attend school.
Within hours of the 15-0 vote by the CDC panel, Gov. Ron DeSantis reassured Floridians via a press conference that there would be no covid vaccine mandate for kids as long as he is governor.
But even among older folks, there are few takers of covid vaccines locally.
While the uptake of new Omicron-targeted vaccine booster shots remains dismal with fewer than 10 Indian River County residents getting the jab each week, the results of a recent study may make people who depend on daily heart and cholesterol medications want to get up to date on their shots and be extra careful not to get COVID-19.
The oral antiviral cocktail named Paxlovid – a combination of two doses of Nirmatrelvir plus one dose of Ritonavir given the abbreviation NMVr – has been widely used with great effectiveness in preventing hospitalization and death from COVID-19 illness after people do contract the virus.
But 14 researchers published a report in the Oct. 12 issue of the Journal of the American College of Cardiology outlining potentially serious drug interactions if Paxlovid is taken on top of several commonly prescribed cardiac medicines.
"Given the frequency of Drug-Drug Interaction (DDI) with NMVr, dose adjustment or temporary interruption of these medications may be required when prescribing NMVr (Paxlovid)," the study highlights said.
For those who cannot go without their daily heart medicines, "NMVr (Paxlovid) should be avoided when potentially interacting cardiovascular medications cannot be safely interrupted," the journal article said.
The American College of Cardiology published guidance on this issue back in June 24. Anyone concerned about how their medications might interact with Paxlovid should consult their doctor before they get sick from covid.
Paxlovid is being purchased directly from Pfizer by the federal government for $10.6 billion under two contracts for a total of 20 million courses of the medication at a cost of $530 for the three-dose treatment. It is free to the patient, except for the cost of an in-office or telehealth visit to get a prescription for Paxlovid.