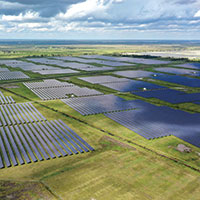 FPL solar fields here will soon be able to totally power our community
STORY BY STEVEN M. THOMAS (Week of October 20, 2022)

Almost overnight, Indian River County has gone from producing no electricity – except for a trickle from scattered rooftop solar panels – to producing hundreds of megawatts, enough juice to power tens of thousands of homes.
And the small, mostly rural county is on its way to being a net energy producer in the near future, according to Indian River County Community Development Director Phil Matson.
By 2024, Florida Power & Light's vast, eerily silent fields of blue photovoltaic panels will crank out enough electricity to meet the needs of every house, condo, apartment and mobile home in Indian River County, with a Zeus-like reserve of megawatts left over.
For most of the 20th century, sunshine poured down on endless groves here, producing golden fruit that made big growers wealthy and made Indian River County famous around the world for fine citrus, especially grapefruits.
Today, with four massive Florida Power & Light solar power plants operating and two more on the way, those same fields produce an abundant crop of clean, renewable power worth tens of millions of dollars annually.
Only one Florida County – Desoto – has more "solar energy centers" than Indian River County, with five in operation, and IRC will soon surpass that number.
Why Indian River County?
"I speculate that a lot of South Florida land is tied up, already developed or being developed," Matson told Vero Beach 32963. "I'm sure they weigh the cost and availability of land and the proximity to transmission lines."
"The best solar land is flat and features few environmentally sensitive areas," said FPL spokesperson Alyssa Ten Eyck, describing the kind of worn-out or redundant agricultural land the company has bought on a large scale in the county. "The location of existing, high voltage transmission lines is also a very important consideration. FPL has been successful in acquiring these types of property in Indian River County."
Matson said FPL's ambitious solar energy enterprise in the county has been a boon for ranchers and grove owners whose land had become unproductive.
"It has really helped some of them out," he said.
The low-impact solar fields benefit the county in other ways, too, according to Matson and Alyssa Ten Eyck
"They create good-paying, high-tech jobs during construction and some permanent jobs when they open," Matson said. "They pay property taxes but don't draw much on county services. They don't need water or sewers or police protection. And we haven't had to upgrade hardly any infrastructure for them, other than one small section of road at one location."
"During peak construction, a solar energy center generates 200-250 construction jobs that provide a boost to local businesses through the purchase of goods and services," says Alyssa Ten Eyck. "Solar energy centers require no water and create no additional traffic for the area once operational. Panels sit low to the ground and are often hidden from view behind shrubs or trees."
And of course they don't burn coal, oil or natural gas, so there is little to no pollution billowing up into Indian River County's wide blue sky.
FPL has moved with speed and efficiency since deciding to harvest sunlight in IRC as part of its Real Zero initiative aimed at "eliminating carbon emissions from its power plan fleet by 2045."
It opened two solar energy centers – the company's preferred term – in 2018, one in 2021 and another in 2022.
Patrick Murphy, a senior planner with the community development department, told Vero Beach 32963 a fifth plant is getting close to approval and construction.
"They also have a sixth solar farm site in the works that just went to pre-application," he added.
FPL solar division arrived in the county in March 2017, buying a flat 696-acre tract at 1750 122nd Ave. from Evans Properties for $5.2 million. The address is some miles west of I-95, south of Route 60.
Ten Eyck said it takes about 10 months to build a solar powerplant, and by 2018 Indian River Solar Energy Center was producing 74.5 megawatts of electricity, which is enough to power 15,000 Florida homes. (In some other states, that same flow of electrons would power as many as 20,000 but Floridians run their air conditioning a lot and the state is No. 5 in the country in household energy consumption.)
Indian River Solar Energy Center has 328,230 blue photovoltaic panels that convert light to electricity via a chemical reaction involving silicon semiconductors. It will pay about $45,000 in property taxes this year.
Next, also in 2018, came Blue Cypress Solar Energy Center, which sits on 424 acres and has 328,222 panels generating 74.5 megawatts.
Blue Cypress was followed in 2021 by Orange Blossom Solar Energy Center, with 330,300 panels on 607 acres producing another 74.5 megawatts; and Grove Solar Energy Center, which came online this year, kicking out the same amount of power with a mere 235,812 blue panels artfully arranged on 580 acres.
The fifth solar powerplant, Turnpike Solar Energy Center, is close to final approval and construction, and the sixth, Orchard Solar Energy Center, is in an early stage of development.
"FPL is capable of producing 298 megawatts with the four solar centers now operating in Indian River County," said Ten Eyck, which is enough to power 60,000 homes.
When the Turnpike and Orchard powerplants are operational in 2024, the megawattage will jump to 447, enough to power 90,000 homes, which is where the idea of little Indian River County exporting power comes in.
According to the latest U.S. Census figures, there are 84,973 housing units in the county, including houses, condos, apartments and mobile homes.
So the IRC solar fields, most named to capture the citrus past, will be able to power every dwelling in the county, with energy left over to turn on the streetlights.
Businesses, municipalities and other entities besides dwellings also consume electricity, so it may take a seventh solar farm for the county to figuratively be "energy independent."
And that additional power plant could well be on the way; FPL is expanding its solar operations at a dizzying clip – with 16 new solar energy centers under construction around the state in August – and it owns scores of parcels and properties in Indian River County.
Matson called the sudden influx of high-tech, emissions-free energy production in the county, "a feather in our cap."
"It puts us on the solar map," he said.