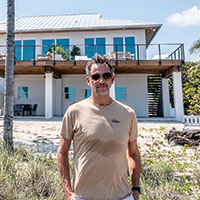 Former rocker finds his passion reimagining barrier island homes
STORY BY STEVEN M. THOMAS (Week of October 6, 2022)
Photo of Ken Cooper

How fun is real estate Vero Beach?
Fun enough that Ken Cooper, a highly successful entrepreneur and executive who has worked in finance, the music industry and healthcare, says that he has finally found his true passion renovating and reimagining beautiful homes on the barrier island.
"I don't know what it is exactly, but I love the transformation, taking a property from an ugly duckling to a swan," says Cooper, 50, who in the course of his colorful career spent three years touring as a rock musician in the late 1990s and went on to start a record label that developed multiplatinum-selling country artists.
Not a weekend dabbler, he has taken on major houses from Windsor to the estate section, bringing to his projects a distinct and much-admired mid-century modern style that interior designer David Teneralli calls "Malibu Zen."
"I lived in North Hollywood back in the music days and love Southern California, and everything we do has some of that west coast style that includes organic qualities and wellness components," Cooper says.
Along with a visionary aesthetic, associates say Cooper has great business acumen and personal qualities that have made him lots of friends on the island since he and his wife, Melissa, moved here with their three children in 2016.
"Ken is very sharp, a super-smart guy who really thinks things through," says ONE Sotheby's broker-associate Cindy O'Dare, who with her partner Richard Boga has handled many of Cooper's real estate transactions. "He's also one of the nicest people I have ever met in business, very fair and so great to work with."
"He is very detail-oriented and business-minded but also wants everyone to benefit from the deal," island real estate attorney Barry Siegal told Vero Beach 32963. "He is a bottom-line kind of guy and doesn't ever lose that focus, but at the same time everything has to work for everyone. It isn't his job to look out for the other guy but he does anyway."
"Ken is awesome, just the nicest person," says Lisa McLaughlin, who bought a riverfront house from Cooper that he renovated and infused with Malibu Zen magic. "He is kind and helpful and happy to do anything that needs to be done. Always available. I really can't say enough good things about him."
"Ken is a great person who listens carefully," says Teneralli, a lead designer at Hazel House. "He is very smart and he gets things done."
Cooper started his redevelopment career on the island with a bang, flipping the so-called "barcode lady's house" in the estate section, transforming a clunky Gothic oddity into a light, bright, Palm Beachy estate. He went on from there to "re-imagine" a beautiful but staid Windsor Georgian that was featured, when he finished, in the high-design magazine Rue.
Cooper, who grew up working class on the outskirts of Youngstown, Ohio as the industrial age was dying, has three projects going now, including a riverfront "to the studs" reno and redesign in The Moorings and his own house at the southern end of the estate section where he is doing major additions.
He says he "felt entrepreneurial" from an early age and knew "he had to rise.
"I come from a blue-collar, figure-it-out-for-yourself sort of background," he told Vero Beach 32963. "Maybe it stemmed from some hidden insecurity or maybe I just wanted to make my dad proud, but I knew I had to do something."
Not a candidate for the Ivy League due to family economics, he enrolled in Youngstown State University after high school and studied finance. A paid internship with an investment firm led to a successful stint as a stockbroker.
With the stockbroking money, Cooper started buying and fixing up run-down houses around the college and leasing or selling them as student rentals, doing well in his first foray into real estate. He also opened a coffee shop near the university that was a hangout for singer/songwriters, according to an article in vindyarchives.com.
Throughout, he continued his childhood habit of playing electric guitar and writing music in a little home studio in the evening.
A friend who worked at a rock station in Youngstown heard one of his songs and asked if he could spin it.
Cooper said sure, and within a few weeks, major record labels were on the line, asking him if they could come and see his band.
He didn't actually have a band but whipped one up and put on a show in a local tavern. Atlantic Records signed him on the spot.
That led to three years touring with his band, Sin-O-Matic, opening for acts like AC/DC and Alice Cooper on the arena rock circuit.
The band's self-titled album, released in 1999, put one song on the charts but didn't "sell through," and Atlantic decided not to release Sin-O-Matic's second album.
But record company execs had noticed Cooper was not your average long-haired lead singer. They saw him as a talented singer/songwriter and bandleader who knew the music business and also had a background in finance and as an entrepreneur.
"Long story short, they said, your band didn't connect as we hoped it would but you are good at your craft. Why don't you consider developing other artists with us?"
In response, Cooper created Rust Records, which operated as a joint venture first with Atlantic and then with Universal and Sony, in turn, as musical tastes evolved and diverged.
Rust Records – a name that pays homage to the old steel town he came from – was like a minor league baseball team, according to Cooper.
"We were a farm team beating the bushes for promising local acts," he says. "We would go out and sign an artist and write and produce with that artist and get them up to a regional level where they were performing live, attracting an audience and selling records."
Then, if the band had enough juice, Cooper would hand the group off to the major label, which had the marketing and distribution capability to take them national, while leaving him with a percentage of future profits.
Sensing commercial potential in early 2000s country and country rock, Cooper ended up in Nashville, working under Sony's umbrella, where he developed multi-platinum artists such as Aaron Tippmann, Shane Owens and Blackhawk.
But Cooper saw digitalization coming and didn't want to ride that wave. "It was obvious our product was going to go from a $17 price point to a 99-cent price point, so I decided to make a move." The hard-partying lifestyle that often goes with success in the music industry had taken a toll, too, and by 2007 it was time for a change.
Cooper, who was in his mid-30s by then, sold his catalogue to Sony and he and Melissa moved back to Ohio to "reassess" and consider other opportunities.
That next opportunity, which came quickly and purely by chance, led to his biggest success in business.
A friend asked him to do a quick consultancy for a dentist in a nearby Ohio town who was trying to figure out if he had enough money to buy out his retiring partner.
Ever entrepreneurial, Cooper looked at the dentist's books and began researching the industry, discovering that amalgamation in the $120 billion sector was just beginning, with practices being bought and rebranded by companies like Aspen Dental or supported behind the scenes by corporate entities like Heartland Dental.
"The industry had only been 5 percent aggregated," Cooper says. "So it was 95 percent green space."
Using some of his music money to help the dentist buy his practice, Cooper created an early DSO, or dental service organization, and began acquiring dental practices in other Ohio towns.
Over a decade he grew the company, North American Dental Group, to encompass 300 dental offices, making it one of the top 10 DSOs in the country, eventually expanding into 16 states.
In 2019, he sold the business to Jacobs Holding, a larger European DSO, creating a $900-million-a-year combined business according to industry press reports. Cooper retired at that time, in his late 40s, but remains invested in the company.
"People always have a hard time understanding the transition from the music industry to dental," Cooper says, laughing. "But business is business. When you get out of the weeds and put the glamor aside, the music business has the exact same departments as other industries, product or service. You have HR, IT, operations, marketing and so forth.
"Going all the way back to my time in finance and stocks and as an entrepreneur, and then developing artists and a running a record label, all of that prepared me to create a successful healthcare business. By that time, I had the skill sets to operate in most any industry" – including high-end real estate speculation.
Cooper discovered Vero Beach the way many others have, while taking a drive for fun down A1A from Melbourne where his oldest daughter was living.
It was 2015 and after stopping to check out the town, he called Melissa and told her he might have found their Florida home. The couple had been planning to move to Florida, in part to escape icy Ohio winters. They had been leaning toward Clearwater, but a family stay at the Disney Resort led to a rental condo on the island and then, in 2016, the purchase of their home at the south end of the estate section, just over the St. Lucie County line.
"St. Ed's was a big factor in the decision to settle in Vero," says Cooper, who has 13-year-old twins and an 18-year-old daughter enrolled in the barrier island's well-regarded private school.
He and Melissa bought the barcode lady's house at 2150 S. Highway A1A near their own home in 2017, paying $7.9 million, working with Cindy O'Dare and Richard Boga.
The couple fixed the house up, working together on the design, and resold it for $10,250,000 in 2019.
"What they did to that house was pure design genius," says O'Dare. "They took the property to a whole other level of sophistication, charm and whimsy."
The couple's next project was the 10,000-square-foot Georgian golf course home at 3100 Savanah Place in Windsor that was featured in Rue.
The challenge there was to apply the Malibu Zen style to a piece of historically themed architecture, integrating clean mid-mod design with traditional Georgian features like crown molding and wainscotting.
By all accounts, the effort succeeded brilliantly.
Teneralli says Cooper's style is minimal and coastal with lots of white, but not at all cold or sterile. "It is a neutral palette but with a great deal of texture and warmth that comes from wood and jute and other natural materials."
Bleached oak floors start the beachy look at the Windsor house, with teak, walnut, rosewood and various types of stone giving the family-friendly design extra pop.
"Ken has a great eye for design and a real passion for what he is doing," Tenerelli adds.
"That tension between historical and modern was a challenge but also really fun," Cooper says. "We threw out the rule book and it turned out great. It's still one of our favorite projects."
Cooper sold his business and "retired" while working on the Windsor house and has now turned more of his focus to "recapturing" tired island properties and reimagining them for fun and profit.
"I love the design and workmanship of my home," McLaughlin says of the mid-mod masterpiece at 535 Point Ln. she bought from Cooper in 2021. "It is very different from anything I've lived in before. I love the openness and all the design choices, the floors and cabinets and especially that wood-slat fence in the back that shields the pool."
"He did a lot of work on that property," says real estate attorney Siegal, who counts Cooper among his top two or three clients and who considered buying the Point Lane house himself.
"I could go in and see that it was done to the same standards as if he was going to live there with his wife and children," Siegal adds. "He has a very strong business background and never loses sight of the business transaction, but at the same time he is not a guy who cuts corners. He wants a product he can put his name on and be proud of."
"His goal is to buy great properties, enjoy the process of transformation and produce something beautiful that the buyer really loves, so both sides are happy," says O'Dare. "He has a vision that is unusual in Vero. He has great taste and good judgement and isn't afraid to spend to achieve the result he wants."
There is something paradoxical about Cooper. He is a numbers guy who started his career in finance who's also a sensitive artist; a bottom-line focused entrepreneur who manages to bring compassion and a sense of karma to his ventures.
But the different parts mesh well.
"It is hard to explain," Cooper says of his unexpected passion for island real estate. "It combines the creative energy of the music business with a lot of financial activity and expresses something about the recovery process I have gone through in my own life [after the rock and roll partying days].
"Breathing new life into these properties is cathartic for me."
Cooper nearly bought a small mid-century modern hotel on the island last month but ultimately decided not to when the business deal didn't quite pencil out – even though he saw great potential in the property.
He also branched out to the mainland recently to do his first commercial deal, where he is rehabbing a dilapidated candy factory into a wellness and addiction recovery center.
And he is always on the lookout for the next property with that special spark that attracts him, where he can transform a building and himself in the same process.