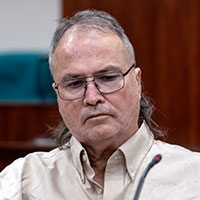 Long, tumultuous relationship at heart of island murder trial
STORY BY LISA ZAHNER | NEWS ANALYSIS (Week of October 20, 2022)

Editor's note: After press time for this week's issue, the criminal trial of Asbury Lee Perkins ended and the jury returned a unanimous verdict. Perkins was found guilty as charged of First-degree Murder with a Firearm and Attempt to Escape. He will be sentenced on Nov. 16.
With Asbury Lee Perkins' videotaped confession being played on a movie screen for the jury last week, and the murder weapon entered into evidence, it became pretty clear that the 64-year-old former South Beach resident would be convicted of killing his wife of 18 years Cynthia Betts.
What remained unclear was whether the prosecutor would get the first-degree murder conviction he sought.
Betts and Perkins had a tumultuous 30-year relationship, but it seemed they could not stay away from each other, even after divorcing in 2009.
The ebb and flow of the fights, and their severity, seemed tied to money problems. Perkins explained that, over the years, they experienced financial extremes, and when the business got rocky, so did the marriage.
Their primary source of income was selling semiconductors to defense contractors, a venture they ran together right up until Betts was killed and Perkins was jailed. Perkins told police he worked "night and day" on the business, even during the 30 hours he was in the house with Betts' dead body before Sheriff's deputies kicked in the door to the home and arrested him.
Deputies recalled responding to multiple calls at the couple's home on Seagrape Drive in the Oceanside subdivision, and even to arresting Perkins on multiple occasions, with Betts routinely bailing Perkins out of jail and not pursuing charges.
One time, Perkins stayed in jail for 67 days after a domestic violence arrest, but then Perkins said Betts recanted her allegations, sent a taxi to pick him up from jail, gave him $700 for a hotel and they reconciled within days.
Deputies said Perkins often bore the brunt of the verbal abuse when they responded to the home, recalling Betts berating him for being a drunk and for making bad decisions.
Once, sheriff's deputies were called out to cite Perkins for trespassing, but they explained that he could not be removed for trespassing on his own residence. Perkins said he and Betts had gone to couples' therapy but were kicked out of the therapists' office.
When Perkins was arrested in November 2015 for shooting Betts, detectives noted scratches on his arms that he said were from a scrap with Betts a few weeks prior. At the time of Perkins' arrest, investigators said he was sleeping in the guest bedroom, but both Perkins' and Betts' DNA were found on the fitted sheet of Betts' bed, suggesting Perkins was not always banished from the master bedroom.
About a month before Perkins is accused of shooting Betts three times with a .38 caliber revolver, Perkins said Betts cleaned out the couples' bank account of $27,000 and refused to give him any money.
"I kept trying to leave all the time, I kept saying let me go, give me $4,000 and I'll fly to Colorado," Perkins said, but that Betts told him he could not take the dog, and that he wasn't able to do daily tasks for himself. "She kept saying I can't handle the dog and going to the grocery store ... I love the dog immensely," he said.
In the days before Betts' death, Perkins said Betts wanted him to hand over his last piece of jewelry, a ring, so it could be hocked to pay Perkins' defense attorney. Perkins said he once owned a nice collection of fine jewelry but over the years, to weather the ups and downs of their business finances, Betts had sold all of it.
"She started to bust my balls," Perkins said. "Then she said she wanted my ring. It was like a magical ring. It was like my magic ring, it held significance to me. I didn't think there was any reason to take it."
Perkins also said Betts was on the verge of making major decisions about the business they ran together regarding their $1 million worth of inventory, decisions he strongly opposed, as Perkins was in the midst of expanding the business with a new product line. All of this tumult, which Perkins presented as a last-straw scenario following years of verbal abuse, loss of financial power, and false accusations resulting in costly legal problems and jail time, set the stage for what happened in early November 2015.
"She was just pushing me around. You didn't scrub that counter right, you didn't do this right, you didn't do that right. I felt the situation was hopeless, even with me starting the new company," Perkins told then-Det. Sgt. Nancy McNally in a videotaped interview. McNally has since retired from the Sheriff's Office, but testified last week as a witness for the prosecution.
Perkins told McNally he went to the safe and entered the combination to retrieve the pistol. He remembers Betts standing, though he would not say which room she was in when detectives pressed him to do so to help crime scene investigators process evidence in the house. McNally asked Perkins if Betts was aware he'd gotten the gun out of the safe. "No, she didn't know I had the gun," he said.
That's where the details of Perkins' confession start to get a little fuzzy, though Perkins did recall that Betts did not suffer long. "She died right away, she quit breathing," he said.
Perkins claims he does not remember what happened in between getting the gun and seeing Betts standing in front of him alive, and watching her die. He claims to have had something akin to an "out of body experience," something he hopes to convince the jury of with expert testimony from a hypnosis session.
Perkins, who is acting as his own attorney, with stand-by counsel for advice on procedural matters, was expected to present a defense of temporary insanity this week.
Inconsistent with his insanity defense, Perkins told McNally he does remember three shots. Four shots were fired, one missing Betts and lodging in a closet, one grazing her ear and head, then entering her upper back. The other two shots found their mark, with the bullet in Betts' upper-right chest piercing the heart, the pericardium and lower lobe of the left lung being the most deadly.
Before devising his "out of body experience" defense, Perkins initially claimed Betts committed suicide, that he heard the shots and discovered her body. Figuring he would surely get blamed for the death, he rolled Betts up in a rug, moved her to the utility room near the garage and haphazardly cleaned up the blood, though not thoroughly because very obvious bloodstains were found and tested in several rooms of the house. He was considering dumping her body in a lake, but didn't have a well-thought-out plan.
McNally pointed out to Perkins the obvious flaw in his theory. "People don't shoot themselves three times," she said.
When asked why he didn't call the police when he found Betts, Perkins said, "No, I was in a state of shock."
On Tuesday, Assistant State Attorney Bill Long was scheduled to wrap up the case for the prosecution, with Perkins set to put on his defense, followed by any rebuttal witnesses and closing statements. The jury could get the case for deliberation by week's end.
To convict Perkins of first-degree murder, the jury must find that the state proved, beyond a reasonable doubt, that Betts' death was premeditated. Then Judge Dan Vaughn would likely sentence Perkins to life in prison without possibility of parole, as the state is not pursuing the death penalty in this case.
If the jury isn't convinced that Perkins planned to kill Betts, considering the totality of the circumstances and Perkins' claims of a temporary mental break, jurors could agree that Perkins is guilty, but convict him of a lesser charge such as second-degree murder. With Perkins being 64 years old, even a second-degree murder conviction would mean he would likely live out the rest of his life in one of Florida's state prisons. But if by chance he lived an exceptionally long life despite prison conditions, he could possibly get out.
Then there's the slight chance that the jury buys Perkins' temporary insanity defense and finds him not guilty. That's what makes criminal trials so compelling, that almost anything can happen, and sometimes does. Though the gallery consists mainly of Betts' extended family and media, private defense attorneys have visited briefly to see Perkins acting as his own attorney. That element of the case has been less eventful than anticipated, as Perkins seems well-prepared and he has not done anything outlandish in the courtroom. He has cross-examined most of the state's witnesses and asked substantive questions that have seemed to help his case.
Police first encountered Perkins roughly 30 hours after the shooting, a fact Perkins will likely use to plant the seeds of doubt about his alleged mental break. He was drunk and quite disoriented when deputies took him into custody, and his memory of events was sketchy as he was interviewed overnight by two different detectives. But as he sobered up early the next morning, he seemed to recall more, but not all, of what had happened.
Deputies read Perkins' Miranda rights to him twice – once as he was placed in the patrol car and again at the Sheriff's Office after he sobered up. At no time did Perkins ask for an attorney to be present during his lengthy questioning.
During the trial Perkins has been asked repeatedly by Judge Dan Vaughn if he wanted to continue to defend himself and each time he affirmed his decision. With his obvious knowledge of the events, of the crime scene and all of the people involved in the case, Perkins' pro se defense so far has been more than adequate, and definitely not off-putting.
The thing that may alienate the jury most is that, even if he did not plan to kill Betts, he's not sorry she's dead.
"I don't have remorse for anything because she brought me down, turned me out. She was continually trying to abuse me, kick me, be violent with me," Perkins told McNally at the Sheriff's Office.
Perkins' primary focus in the police interview was on the punishment he would face – including the loss of substantial material possessions to Betts' family, including the South Beach home east of A1A, which eventually sold in 2016 for $735,000.
"I have $1 million in product sitting in a warehouse and they're going to get it. That's the saddest part of the f-ing case, them getting their paws on that kind of money," Perkins told McNally after his arrest.
Perkins repeatedly asked detectives about the whereabouts and well-being of his dog, seemingly more concerned about the beloved Dachshund than about his dead ex-wife.
"If you had it to do over again, what would you do different?" McNally asked Perkins.
"Not shoot her," he replied, finally confessing to the crime.