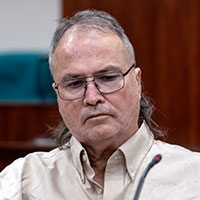 Perkins goes on trial for 2015 island murder
STORY BY LISA ZAHNER (Week of October 13, 2022)
Photo: Asbury Lee Perkins in court.

Nearly seven years after the shooting death of his business partner and estranged wife Cynthia Betts in the South Beach home they once shared, Asbury Lee Perkins finally faces trial on first-degree murder charges this week.  If he does not prevail, Perkins will only have himself to blame.
A 14-person panel of 12 jurors plus two alternates was chosen and sworn-in Monday afternoon in preparation for a five-to-six-day trial with Perkins defending himself.
Prior to bringing potential jurors into the courtroom, Judge Dan Vaughn questioned Perkins extensively to make sure he was competent to act as his own attorney.
Perkins stated that he had 16 years of education and affirmed that he had a good grasp of the English language – something that's been apparent in his thoughtful, hand-written pleadings filed from his jail cell. After dismissing his defense counsel, Perkins – who was held without bond – has conducted his defense and orchestrated the services of a host of forensic and psychological experts from behind bars.
Perkins addressed the jury from a lectern, wearing a rumpled, beige long-sleeved shirt and khaki pants. Balding on top, the former semiconductor wholesaler sported a mullet of salt-and-pepper hair, and black-rimmed eyeglasses. He wore no tie or belt, but an electronic ankle cuff was hidden under the leg of his trousers, just in case he tried to make a run for it.
In addition to first-degree murder, Perkins was charged with an attempt to escape from the Indian River County Sheriff's Office investigations bureau where he was left unattended during a break in his questioning by police.
After more than two hours of being questioned by Assistant State Attorney Bill Long, who took over prosecuting the case in December from Assistant State Attorney Chris Taylor, curious potential jurors finally heard from Perkins, who queried several of them for only 12 minutes.
Perkins introduced himself and told them he was defending himself "due to the complexity of my case and the amount of time it's taken."
Though the burden to prove premeditated murder lies solely on the shoulders of the prosecution, Perkins explained, "With the insanity defense, the burden shifts somewhat to determine whether there was insanity at the time of the offense."
Perkins claims in court documents that he snapped after many years of false accusations and intense nagging by Betts, something he will need to convince the jury of by wearing multiple hats in court.
"If you were hearing the conversations go back and forth between third person and first person, would you be able to follow the course of the testimony?" Perkins asked numerous jurors, because sometimes he will be referring to himself as 'the defendant,' and other times he will say 'me,' depending upon the context.
Perkins also asked jury candidates if the fact that he was handling his own case would cause them to be less than objective in determining his guilt or innocence.
Long described the case as "a conundrum" and described it as so complex that it could be used for instruction in law school. He told the 50-person jury pool that Perkins would be representing himself and very likely presenting an insanity defense – a combination that several potential jurors had a tough time entertaining.
Vero being small-town Vero, some members of the jury pool knew one or more of the witnesses and had to be questioned about whether or not they could view those witnesses and their testimony as a "blank slate," as Long described it. One potential juror could not in all honesty do that because the witness set to testify was his mother.
Six jury candidates had plane tickets and were set to leave town during the trial. Three had childcare responsibilities, two had close relatives in the hospital and several would have suffered serious financial hardship from missing work for the duration of the trial. A handful of people said they had religious reasons for not being able to stand in judgment of another person in a murder trial.
Other jurors admitted they would not be able to objectively view graphic images from the autopsy and the November 2015 crime scene, and said those kinds of pictures would cloud their judgment. Police say Perkins shot Betts in her bed, then bound her with duct tape, wrapped her body in a rug and dragged her into the utility room. Though Betts and Perkins were divorced and Perkins had moved out, they still had contact because they ran a business together selling electronic components to defense contractors.
When police discovered Perkins in the home after Betts' father called in a welfare check from out of state, they say Perkins was figuring out what to do with Betts' body.
Throughout the proceedings, Perkins will be aided by "stand-by counsel" Valerie Masters, who helps the pro se defendant navigate procedural matters. Masters tells Perkins what he's permitted to do and say, and when to do that, but she is not arguing the case for him. During jury selection, she helped Perkins determine, from his notes, which candidates to move to strike for cause, or when to use one of his pre-emptory challenges to jettison a potential juror who wasn't a good fit.
When Judge Vaughn whittled down the pool based upon the state and defense challenges, what remained was an all-white jury of nine men and five women. The jury panel skews older with nine of the 14 jurors being over the age of 50 and one third of the group appearing to be 65-plus years old, making it truly a jury of 64-year-old Perkins' peers.
The State Attorney's Office has decided not to pursue the death penalty in this case, so the maximum sentence Vaughn could hand down is life in prison with no possibility of parole.