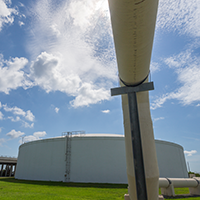 Vero and Shores agree to settle antitrust lawsuit
STORY BY LISA ZAHNER (Week of October 27, 2022)

Vero has approved a settlement agreement with Indian River Shores, and the Shores Town Council was set to vote this past Tuesday on a three-page document designed to end a federal antitrust dispute filed by the town against the city over Vero's claim to a permanent water-sewer service territory.
The Shores claimed that a 1989 contract agreement assigning one portion of Indian River County exclusively to Vero Beach Utilities, and designating another part for Indian River County Utilities to serve exclusively, was unenforceable because it violates federal antitrust law.
When Vero asked U.S. Circuit Court Judge Eileen Cannon to dismiss the case, Cannon not only declined, but also shot down all of Vero's chief arguments, meaning the city would need to reimagine its entire case prior to the January trial.
Expert witnesses chimed in with their analyses, and both parties began deposing a list of elected and appointed officials compelled by subpoena.
Then three weeks ago, the beginnings of a proposed settlement began to circulate back and forth among staff attorneys and the outside law firms both the town and city had hired. Those negotiations resulted in a joint stipulation to end the lawsuit.
Vero agreed not to assert any rights under the 1989 agreement, now or in the future, that might prevent the Town of Indian River Shores from obtaining water, sewer and reuse irrigation water service from Indian River County. The city also agreed not to seek any fees or damages should the Shores obtain utility service from the county after the Shores' franchise agreement with Vero expires on Oct. 1, 2027.
"We got every bit of relief that we sought from the lawsuit in this settlement," Shores Mayor Brian Foley said on Monday, calling the whole matter "a colossal waste of time and money."
Vero Mayor Robbie Brackett seemed equally pleased about the settlement last week when the council voted unanimously to accept it, saying he's happy "to get this off our plate." Brackett, who is the GOP candidate for Florida House of Representatives and is favored to win in the November election, has wanted to find a solution to the neighbor-against-neighbor dispute before he leaves the city council.
"They want options and as a business owner we all want options and that's what we're going to give them," Brackett said. "I think the options are limited. It's a very expensive decision but it's their decision to make."
Vero is banking on the Shores discovering that the infrastructure costs that must be borne by town taxpayers to run county water and sewer lines under the Indian River Lagoon to the barrier island would be an insurmountable burden, making even Vero's huge planned rate hikes look like a good deal.
In exchange for the agreed-to concessions by Vero giving the Shores the freedom to strike a deal with Indian River County Utilities, Indian River Shores will allow the 1989 territorial agreement to remain untouched.
"The parties agree that the city's stipulation to the terms above does not constitute any admission of guilt or liability for the conduct alleged in this action. The City maintains that the 1989 Agreement remains or is otherwise unaffected and is in full force and effect," the document states.
This is an important point to Vero because the 1989 agreement covers its utility customers in the unincorporated South Beach part of the barrier Island. The formal utility market allocation also maintains a balance of power between Vero and Indian River County, without which Vero has speculated that the utilities might be permitted to try to randomly poach each others' water-sewer customers.
Now Indian River Shores is free to negotiate with the Board of County Commissioners, with County Administrator Jason Brown and his successor to determine what it will take to join the town to the county's water-sewer utility system, without interference or threats of legal action from Vero.
Vero had taken issue with Indian River County allowing staffers to assist the Shores' utility consultant with a feasibility study.
At some point in the near future, Shores officials will need to weigh the benefits of low, predictable county utility rates against the unknown costs and technical challenges of hooking up to the county water-sewer system.
Vero agreed to give Indian River Shores six additional months to determine how the town wishes to proceed with utility service from 2027 on, extending the non-renewal notification deadline from Oct. 1, 2023 to April 1, 2024.
In return for these concessions, "The Town takes no position on the validity of any portion of the 1989 Agreement not addressed by this Stipulation," the agreement states.
South Beach customers are once again left out in the cold as Vero and the Shores come to an amicable resolution of the lawsuit. Vero will continue to serve the unincorporated south island without a franchise agreement, but Vero City Manager Monte Falls said a contract is in the works. Unfortunately, that proposal offers no protection for South Beach residents, who are set to transition to Vero's proposed "One Rate" plan designed to pay off at least $158 million in debt Vero will incur to move its sewer plant off the riverfront.
Vero intends to switch all of its utility customers to the single-rate plan in January, including Indian River Shores. Meanwhile, a state circuit court appeal of a breach of contract lawsuit is still pending in Florida's Fourth District Court of Appeals over Vero's alleged breach of the Shores' water-sewer franchise agreement. That dispute is over rates charged and promises made in the 2012 contract.