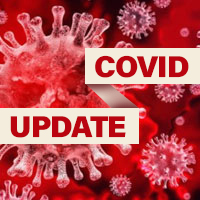 COVID-19 cases hold steady; hospitalizations down
STORY BY LISA ZAHNER (Week of September 1, 2022)

The weekly number of new COVID-19 infections here remained steady last week at 256 cases countywide, and hospitalizations were down slightly, but the number of deaths locally continues to rise as at least 21 more Covid-positive people died in August, according to the Florida Department of Health.
Indian River County remained in the "Low Covid Community Level" category at press time Monday, according to the Centers for Disease Control and Prevention, but the level of community transmission based upon the raw case count is still considered high.
The CDC reported 13 people were newly hospitalized with COVID-19 illness over the past week, a number in line with what the county's largest hospital is seeing. Cleveland Clinic Indian River Hospital spokesperson Arlene Allen-Mitchell said on Monday, "There are 12 patients with COVID in-house this morning, one patient is in the ICU."
That's down 29 percent from the 17 Covid-positive people in the hospital one week prior. The CDC estimates that 5 percent to 6 percent of the county's staffed hospital beds are being used to care for Covid-positive patients.
The U.S. Food and Drug Administration's vaccine panel is expected to take up requests from Pfizer BioNTech and Moderna early this month to consider the emergency use authorization of booster shots formulated to combat the latest Omicron BA.4 and BA.5 subvariants, but some controversy arose after the Wall Street Journal reported on Sunday that neither company's reformulated vaccines had been tested on humans.
The data presented to the FDA for the new boosters is based upon clinical trials on laboratory mice, rather than in people, but FDA officials say the mRNA technology is the same that's proven to be safe in the original COVID-19 vaccine shots given emergency use authorization in December 2020.
As of Monday no date had been set for a public hearing of either Pfizer or Moderna's booster applications, but the White House had hoped to roll out the new vaccine around Labor Day. Once the FDA vets the vaccine boosters, they must also be scrutinized by the CDC before a rollout of the new shots can begin.