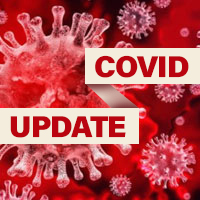 COVID infections up, but no sign of predicted fall surge
STORY BY LISA ZAHNER (Week of September 15, 2022)

The number of local residents hospitalized with COVID-19 declined sharply this past week, but the number of new infections rose somewhat – though not enough to indicate the beginning of the predicted fall surge from ultra-contagious Omicron variants.
New cases reported to the Florida Department of Health rose from 127 for the week ending Sept. 1 to 178 for the week ending Sept. 8, an increase of 40 percent. New infections typically see a bump after three-day holiday weekends when people tend to gather in groups and travel, so it's not surprising that the numbers edged up after Labor Day.
School has also been in session for a month, increasing opportunities for the virus to be passed around.
The good news is that the county's case positivity rate fell to 10.1 percent from 14.5 percent two weeks earlier on the last statewide report. Statewide, Floridians are testing positive at about 17 percent, with several pockets in North Florida, West Florida and South Florida inching back into the High Covid Community Level category, according to the Centers for Disease Control and Prevention.
Indian River County is now a Medium Covid Community Level county.
Hospitalizations of covid-positive patients fell 50 percent week over week at the county's largest hospital. "We have 10 patients in-house with COVID, one of which is in Critical Care," said Cleveland Clinic Indian River Hospital spokesperson Arlene Allen-Mitchell.
As of Monday, Cleveland Clinic had no plans to offer new COVID booster shots.
Several local pharmacies do have the updated Omicron-targeted booster shots available.
• Publix pharmacies on Miracle Mile and at Harbor Point have the updated boosters, with appointments at publix.com/covid-vaccine.
• Five CVS Pharmacies in the Vero Beach area have the updated Pfizer booster shot, but not the Indian River Shores location, according to the vaccine scheduler on cvs.com. Appointments must be scheduled online and as of Monday, same-day appointments were available at several locations.
• Walgreens at 13613 U.S. 1 in Sebastian has the updated Moderna booster, with same-day appointments available at walgreens.com. Five Vero Beach area Walgreens pharmacies are offering the updated Pfizer booster.
The next frontier in COViD-19 vaccination may be an intranasal spray vaccine similar to the influenza vaccine administered in the nose. The results of a study published this month in Nature magazine suggest that vaccine shots produced more protective antibodies in the nasal mucus of people who had a history of COVID-19 illness than in trial subjects who have never contracted the covid virus. The research indicates that an intranasal vaccine formula might be more protective than a shot.
An Indian pharmaceutical company has purchased a nasal vaccine developed at the University of Washington in St. Louis, and that vaccine got emergency use approval from the Indian government on Sept. 6, so people in India now have an alternative to the jab. The nasal vaccine rollout in India will provide public health officials with a wider data set to further the research.
As of early September, a total of 712 Indian River County residents have died of COVID-19 related illness since the start of the pandemic in 2020. One quarter of the deaths have been in residents of nursing homes and assisted-living facilities. Fifty-four percent of the people who died were male, and 92 percent were white and non-Hispanic. The age range of those who perished locally is 24 years to 105 years old.
The demographic that has turned up positive for COVID-19 most frequently in Indian River County is people age 55 to 64, accounting for nearly 15 percent of the county's 39,883 cases.
This coming week, Indian River County is expected to surpass the 40,000 case mark, but that only counts people who tested through a lab that reports its data to the Florida Department of Health. With increasingly easy access to at-home COVID-19 test kits, the actual number of people who have been infected likely is significantly higher.