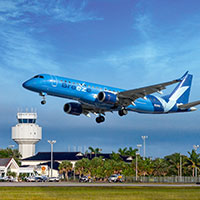 Could a welcome Breeze be headed our way?
STORY BY RAY MCNULTY (Week of September 29, 2022)

Breeze Airways – a rapidly-expanding, year-old carrier that already serves more than 30 U.S. destinations from coast to coast – is planning to send representatives to Vero Beach Regional Airport on Oct. 10 to check out the passenger terminal and other facilities available to a commercial airline.
News of the visit comes after Elite Airways, which has provided passenger jet service at the city's airport since December 2015, removed all October flights from its website.
The boutique airline hasn't flown since June 30, and Elite president John Pearsall said earlier this month the airline would be making a major announcement, prompting speculation it would be sold.  When asked via text message last week when the announcement would be made, Pearsall responded: "Soon."
He did not elaborate.
"It would be nice to know what's going on with Elite, but I've reached out to Mr. Pearsall and gotten no response," Vero Beach Airport Director Todd Scher said last week. "Nor do I know if there's any correlation between Elite not flying and Breeze showing interest.
"Most airlines have people dedicated to keeping track of what's going on in the industry," he added, "so it's possible."
Scher said Breeze representatives have contacted him "several times over the past few months" and that the Utah-based airline offers service out of both major and smaller, under-utilized airports.
But he doesn't know the extent of the carrier's interest in Vero Beach.
"All I know right now is that they're going to pop in and look over our facilities – the terminal, baggage check, boarding area – and go through the entire passenger experience," Scher said.
"I have no idea who's coming or how much time they'll spend here, but I'm sure they do this with a lot of places, trying to gauge if there's mutual interest," he added. "I'm curious to find out whether they're just looking around or they're serious about coming here."
Breeze media-relations director Gareth Edmondson-Jones did not return a message left at his office last week.
Breeze, which launched its operations in May 2021, currently serves six Florida markets: Orlando, West Palm Beach, Tampa, Jacksonville, Sarasota/Bradenton and Fort Myers.
In addition to serving major markets – such as Los Angeles, San Francisco, Las Vegas, Phoenix, New Orleans, Nashville and Pittsburgh – Breeze offers flights into and out of several mid-size cities, including: Louisville, Ky.; Richmond, Va.; Hartford, Conn.; Providence, R.I.; Tulsa, Ok.; Savannah, Ga.; Charleston, S.C.; and Provo, Utah.
The airline also serves two New York suburban airports: Long Island MacArthur in Islip and Westchester County in White Plains.
Breeze is the fifth airline founded by David Neeleman, who previously launched JetBlue, Morris Air, WestJet and Azul Brazilian Airlines.
In a 2021 press release announcing Breeze's entry into the market, Neeleman said his newest airline would "fly non-stop between places currently without meaningful or affordable service."
He went on to add: "We brought humanity back to the airline industry with JetBlue. Today, we're excited to introduce plans for 'The World's Nicest Airline.'"
Breeze's website states the airline merges "technology with kindness" and offers customers "seamless booking, no change or cancellation fees, and customized flight features delivered via a sleek and simple app" that makes it "easy to fly."
Breeze, which began operations with 30 leased Embraer 195 aircraft to serve smaller markets, is in the process of adding 80 new Airbus A220 jets to comfortably fly passengers to mid-size and larger cities.
Apparently, the low-cost airline is off to a rousing start.
In July, Breeze ranked No. 2 on Travel + Leisure magazine's "Ten Best Domestic Airlines" in 2022, behind only Hawaiian Airlines and ahead of JetBlue, Alaska, Delta, Southwest, United, Sun Country, American and Allegiant.
"I personally have had little experience with Breeze," Scher said, "but everything I've heard about the airline throughout the industry has been extremely positive."
Elite, meanwhile, has done nothing recently to enhance its stature in Vero Beach, which Pearsall has long touted as the airline's most successful market.
After Elite's summer no-show in Vero Beach, when it canceled 27 of its 35 scheduled flights into and out of the city's airport, it then scrapped all service here in July, August, September and now October.
Elite was the first commercial carrier to serve Vero Beach since American Eagle in the mid-1990s.