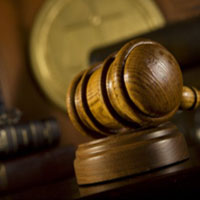 Court backlog leaves major cases unresolved
STORY BY LISA ZAHNER | NEWS ANALYSIS(Week of September 8, 2022)

Summer here typically brings at least one intriguing criminal trial, resolving a languishing case that barrier island residents have been following, and potentially bringing justice or closure to victims' families
But not this year.
The felony case backlog, made worse by COVID-19 court closures and pandemic restrictions, has yet to be resolved.
Several months ago, one case that Vero Beach 32963 had been following for four years was finally set for trial. We contacted the prosecutor on the case to get last-minute details – how many days the trial would be expected to last, how many witnesses might be called – and the prosecutor cautioned there were upwards of 100 cases set for trial that same day in Judge Dan Vaughn's courtroom.
Though it seems unbelievable that defense attorneys and prosecutors could be asked to be "ready for trial" with more than 100 cases scheduled for the same day, that is indeed what is happening.
Defendants are transported, witnesses are put on notice to travel or take off work, and victims' families are notified to ready themselves for an emotional trial – potentially.
What actually happens when all these parties gather in the courtroom is a review of the status of the oldest cases, resolution of a few by plea deals, and one or two cases actually go to trial.
The remaining cases are loaded back on the ever-growing pile, and the whole process starts over again on a different day.
Attorneys are understandably reluctant to criticize the judges' procedures on the record, but off-the-record, they are frustrated and extremely stressed-out over this repeated fire-drill approach, requiring them to have witnesses, evidence and arguments ready for potentially dozens of trials on the same day, knowing that none of their cases is likely to proceed to jury selection.
It's exhausting for everyone involved in the case, with some defendants – either due to financial constraints or the severity of their charged crimes – unable to get out on bail while awaiting trial, and others under "community control" at home with an ankle bracelet.
Still other defendants are circulating freely. For victims and their families, waiting on justice or financial restitution, it's heartbreaking.
The trial we were expecting to occur that day, unsurprisingly, did not make the cut and was canceled. It has yet to be rescheduled.
Sophia Monae Shepherd, 34, a Certified Nursing Assistant who was in the employ of elderly John's Island couple Alfred and Michelina Martinelli in 2017 when police say she stole nearly $200,000 fraudulently using her clients' credit card on luxury items and trips, saw her sister and co-defendant Chiquita Lashae McGee sentenced to 12 years in prison back in March. Shepherd, who goes by the alias Sophia Brown, changed defense attorneys in February and her case has been continued four times since then.
Shepherd (aka Brown) has been free on bail since her arrest in 2018. Victim Alfred Martinelli is deceased and Michelina Martinelli is now 90 years old and living in a skilled-nursing facility.
Asbury Lee Perkins, 64, has been awaiting trial since 2015 on first-degree murder for the shooting death of his business partner and estranged wife Cynthia Betts in their South Barrier Island home. Perkins has fired several attorneys and is handling his own defense from the Indian River County jail.
On March 10, Assistant State Attorney Bill Long asked Judge Vaughn for a scheduling order putting the case on a timeline with a trial date certain and last week Vaughn finally set the case for trial on Oct. 10.
As of Monday, 38 other felony cases were set for trial at the same time, 8:45 a.m. on October 10. It seems the trial date may simply be a placeholder, or an effort to temporarily appease the prosecutor. If Perkins presents some valid reason to delay, with this being a potential death-penalty case and the defendant representing himself and working with multiple forensic experts, the trial might not even happen until 2023.
Last month Vaughn signed an order on a May 27 motion authorizing Perkins to spend funds on ballistics, digital crime-scene, DNA, computer forensic and bloodstain pattern experts to prepare for trial. Perkins has been working on hiring these experts for two years, and has unsuccessfully appealed to the Fourth District Court of Appeals to have Vaughn removed from his case for what Perkins claims is a failure to issue timely orders.
Jamie Jarvontae Williams, 29, of Fort Pierce has been charged with second-degree felony vehicular homicide for the Memorial Day 2021 death of South Barrier Island resident Michael Gianfrancesco, who was walking his dog along A1A when struck by Williams' vehicle, which police estimate had been traveling in excess of 100 miles per hour.
Williams was on probation for felony charges at the time of the crash.  Nevertheless, he was released by police that night at the crash scene.  He was arrested about a month later, however, and charged with violation of probation in St. Lucie County, where he is now in custody at the county jail pending trial on that charge.
The vehicular homicide charge was filed in Indian River County two and a half months later after the Florida Highway Patrol concluded its investigation.
John Joseph Rampp, 50, was cleared of any wrongdoing as the driver of the vehicle in a deadly crash on A1A which struck and killed John's Island resident Carl Cutler, who was riding his bicycle on the Memorial Day weekend in 2021.
But Rampp was arrested in March on two felony counts of aggravated assault with a firearm for threatening his ex-girlfriend and another person. Rampp, a Brevard County resident, posted $12,000 bond and was released from the Indian River County Jail on April 12 while he awaits trial.
Rampp seemed to be without an attorney at press time, as two defense attorneys recently withdrew from his case, one citing "irreconcilable differences" with his client, and the newest attorney being removed for not filing a notice of appearance. Rampp has been trying to get the court to declare him indigent so he can be represented by Public Defender Diamond Litty's office, but in August the court evaluated Rampp's finances and said he did not meet the financial need criteria.