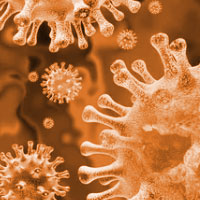 Covid cases here down; new vaccine available in Vero
STORY BY LISA ZAHNER (Week of September 8, 2022)

The weekly count of new COVID-19 infections was way down to start the month of September, as a new vaccine booster formula got federal approval ahead of an expected Omicron surge this fall or winter.
Cases reported to the Florida Department of Health from Aug. 26 through Sept. 2 were down 52 percent from the previous week, with an average of 18 positive cases per day reported, according to the Centers for Disease Control and Prevention. That's down from the summer's high of 65 cases per day in June.
Hospitalization trends tend to lag a few weeks behind major changes in case numbers and last week the number of Covid-positive people admitted to local hospitals was 15, up from 13 the previous week.
Going into the Labor Day weekend, the county's largest hospital, Cleveland Clinic Indian River, said: "As of today, Cleveland Clinic Indian River Hospital has 15 COVID-19 patients in-house. None in critical care," according to spokesperson Erin Miller.
Miller did not know as of Friday whether or when Cleveland Clinic Indian River Hospital would be distributing the new reformulated covid booster vaccine shots. The Indian River County Health Department has no immediate plans to offer the new boosters at its Vero clinic.
"At this time, we have placed an order for the new COVID-19 booster vaccine with the state. The health department will transfer vaccine to providers in the community from this order as we receive requests. There are minimum quantities to order for Pfizer (300) and Moderna (100) and smaller providers do not require such large quantities. The health department distributes vaccine to smaller providers as this provides more opportunities for vaccination," said spokesperson Stacy Brock.
"We anticipate there will be a number of locations in the community where the booster is available. If the health department sees that the demand for the booster is greater than what the existing vaccine providers are able to offer, the department would ensure the vaccine was available in the community. This would either be through the health department or bringing in an additional contracted provider," Brock said.
Guidance issued by the CDC last week allows people to "mix and match" vaccine brands when it comes to the new booster, as long as they completed their two-shot regimen or received their most recent booster at least two months ago. So people who have received two Moderna shots plus boosters can get the new Pfizer booster, and people who received two Pfizer shots plus boosters can get the new Moderna booster.
Over the weekend, Walgreens was offering appointments for the reformulated Pfizer booster beginning this past Wednesday at five Vero pharmacy locations and two Sebastian locations. Walgreens had appointments for the Moderna booster as well, but only in Sebastian and Fort Pierce.
People aged 12 to 17 who completed their two-dose regimen of either Pfizer or Moderna at least two months ago will need to get the Pfizer shot if they want the new booster. The CDC no longer recommends the original boosters for this age group. The CDC suggests males in the 12 to 39 age group wait longer than two months to get the new booster, to minimize potential side effects, including myocarditis.
In other virus news, Indian River County posted its first confirmed Monkeypox case last week, a person between the ages of 20 and 24 who claims not to know how or from whom he caught the virus. Roughly 10 percent of the 2,050 people who have tested positive for Monkeypox in Florida since mid-May have no travel history and say they do not know how they contracted the disease.
Researchers say Monkeypox has an incubation period of three to 17 days and is contagious from the time the first flu-like symptoms appear, long before skin lesions develop, so it is possible to catch Monkeypox through skin-on-skin or other close contact from someone without visible symptoms. Some infected people only get skin lesions in areas normally covered by clothes and do not develop them on hands and arms.
Though the most affected age group in Florida is 30 to 39 years old, Brevard, Martin and Monroe counties have documented cases in children younger than 5 years old, and Broward and Pinellas counties have seen people age 80 and older with Monkeypox.
The United States has nearly half of the world's Monkeypox cases, and Florida has about 10 percent of the nation's Monkeypox cases, with 35 to 50 additional Floridians being diagnosed each day across the state.
Thirty-eight of Florida's 67 counties are now affected, with the vast majority of cases in Broward and Miami-Dade counties. Of the state's 2,050 cases, 67 people acquired the disease outside the United States. Only New York and California have more cases than Florida.
Worldwide, Brazil, Spain, France, Germany and the United Kingdom have all reported thousands of cases of the virus, which is closely related to the smallpox virus. Monkeypox has even reached rather remote countries such as Greenland (2 cases) and Iceland (12 cases).
Smallpox vaccines are being administered to at-risk groups under an Investigational New Drug approval from the CDC, but since the U.S. stockpiles of smallpox vaccine are limited and do not meet the current demand, medical professionals have switched to injecting a smaller dose of the virus in-between dermal layers instead of the typical jab in the arm to conserve the supply of vaccine. The CDC says the smallpox vaccine ACAM2000 is 85 percent effective in preventing Monkeypox.