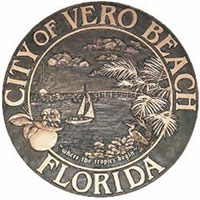 Eight candidates, including two incumbents, seek Vero Council seats
STORY BY RAY MCNULTY (Week of September 8, 2022)

Incumbents Honey Minuse and Bob McCabe are among the eight candidates who have qualified to run in the November election for three seats on the Vero Beach City Council.
The third seat currently belongs to Mayor Robbie Brackett, who last month won the Republican primary to represent District 34 in the Florida House of Representatives and is favored against Sebastian Democrat Karen Greb.
The other candidates for Vero Beach City Council are:
• Linda Moore, Kilted Mermaid co-owner who served as a member of the city's Three Corners Steering Committee.
• Brooke Steinkamp, a beachside boutique owner who serves as chairman of the city's recreation commission.
• Taylor Dingle, a John's Island golf pro who co-founded the Vero Beach Young Republicans Club.
• Tracey Zudans, who was an elected trustee on the Indian River County Hospital District and serves on the board of the Veteran's Council of Indian River County.  She is the wife of former Vero Mayor Val Zudans.
• John Carroll Jr., a certified general contractor and structural engineer who has served as chairman of the city's code enforcement and planning & zoning boards.
• Ken Daige, who served on the City Council from 2006 to 2008, and fiercely opposed the city's decision to sell its electric utility to Florida Power & Light.
McCabe, a General Motors executive for more than 30 years and a city representative on the county's economic development council and Treasure Coast Council of Local Governments, was elected two years ago after unsuccessful runs in 2018 and 2019.
He previously served on the city's Utilities Commission.
Minuse, who served on the city's Planning & Zoning Board for 10 years and became locally famous for leadership in the Indian River Neighborhood Association, also was elected in 2020 in her first City Council campaign.
Conspicuous by his absence from the ballot is former City Council member Brian Heady, who said he has attempted to run every year since 1992 – except in 2010, after his election in 2009.
"I'm not going to participate in rigged elections," Heady said. "It's happening at every level – national, state and local – and I'm tired of it. I'm tired of the BS."
Asked if he'll ever run again, Heady replied, "I'm not good at predicting the future."