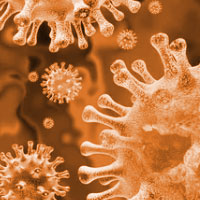 Few local residents getting latest Covid booster
STORY BY LISA ZAHNER (Week of September 29, 2022)

With the number of new infections way down as September comes to a close, fewer than two dozen local residents per week are opting to get the latest COVID-19 booster shot designed to protect against the Omicron subvariants.
More than 30,000 people here age 50 and older are eligible for the new Omicron booster now or will be soon, depending upon when they got their second booster. But Florida Department of Health reports showed only a couple of people a day stepping up to get the newly formulated jab in Indian River County.
Fortunately, the number of people testing positive here fell by one fourth this past week, with 95 people – fewer than 14 per day – testing positive at a lab that reports to reported to the Florida Department of Health. Again this week, Indian River County lies in the CDC's green zone for Low Covid Community Level.
The case positivity rate for lab-performed COVID-19 tests fell to 7.6 percent, and hospitalizations were down, too.
According to the Centers for Disease Control's Covid Data Tracker, 10 people were newly hospitalized here last week with COVID-19 illness. Cleveland Clinic Indian River Hospital spokesperson Arlene Allen-Mitchell also reported a 25 percent decline in local hospitalizations. "We have 6 COVID positive patients in house. None are in critical care," Mitchell said.
Though a winter virus surge is still predicted by public health officials, COVID-19 pandemic restrictions are easing up, even in locales that have been the most strict. Canada on Monday eliminated its vaccination and quarantine requirements for people entering the country, and also dropped indoor masking rules.  
Locally, 41 percent of seniors age 65 and older are now fully vaccinated and double-boosted against Covid.
Across Florida, 37.7 percent of people age 65 and older have received a two-shot regimen plus two booster shots, making 1 million seniors eligible now or soon for the new Pfizer or Moderna booster. With Floridians age 50 to 64 added into the mix, the number of people age 50 and older eligible for the new Omicron booster rises to 1.4 million.