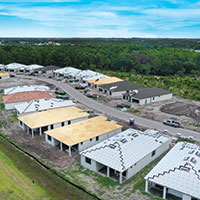 National housing recession? Not here! Demand is strong'
STORY BY STEVEN M. THOMAS (Week of September 29, 2022)

National news reports about the homebuilding industry have been gloomy lately, with talk of "a housing recession" and falling builder sentiment, but major homebuilders in Indian River County have a more upbeat take on the market.
"We are optimistic about 2023," said Bill Handler, president of GHO homes, the most active builder on the barrier island and in the county. "We have five new projects opening or getting ready to open, so it is kind of a good time in the cycle for us."
"Demand in our part of Florida remains strong," said Brent Baker, Division President for PulteGroup in Southeast Florida, which is gearing up to launch a big, 270-home subdivision at U.S. 1 and Route 510. "We have a lot of tail winds that remain in place. Buyers who are less interest rate sensitive will still go out and buy the home of their dreams."
Part of the national unhappiness among homebuilders comes by way of contrast between the market now and during the pandemic boom. From late 2020 until early 2022, interest rates were at historic lows, buyers were ravenous for new homes and model prices climbed steadily.
Now that interest rates and the market have moved back toward normal, the homebuilding industry is having a bit of a morning-after hangover, feeling weepy because the band has stopped playing and there is confetti to sweep up.
"Buyer traffic is weak in many markets as more consumers remain on the sidelines due to high mortgage rates and home prices that are putting a new home purchase out of financial reach for many households," National Association of Homebuilders Chairman Jerry Konter said in a statement last week. "In another indicator of a weakening market, 24 percent of builders reported reducing home prices, up from 19 percent last month."
NAHB Chief Economist Robert Dietz added this cheery addendum: "Tighter monetary policy from the Federal Reserve and persistently elevated construction costs have brought on a housing recession."
Builders here feel the effect of the national trends and are making strategic adjustments, offering incentives to move inventory homes and bring in new buyers, but they are taking the changes in stride.
Having been in the business for decades, seeing ups and downs and adjustments, Baker and Handler both view the current slowdown as a natural part of the homebuilding cycle.
"The market was completely out of balance," Handler told Vero Beach 32963. "Now demand is normalizing aggressively and as a result the summer felt much seasonal than it did that past few years. I think we had all forgotten what that was like to have a normal, slow summer.
"We haven't had the interest rate conversation with very many of our buyers, but rates still affect us in a lagging way because of the food chain we are at the top of," Handler said. "It is not my buyers who have those concerns most of the time. It's the people buying their house in New Jersey where they lived for 30 years, and the buyer upstream from there.
"Aggressive interest rate hikes freak out some people, but we think the market will adjust and work things out over the next few months," Handler added. "Interest rates are still low by historical standards." 
Indeed, mortgage rates in the 1970s bounced between 7.29 and 12.90 and hit 18 percent in the 1980s. They ranged between 7 percent and 9 percent in the 1990s and mostly between 6 percent and 8 percent in the 2000s.
It is only in the past 10 years or so that rates have hovered around 5 percent. The pandemic rates that hit lows around 2.8 percent and lingered for a year or more between 3 percent and 4 percent were anomalies, the lowest rates ever seen.
So, again, it's more the contrast with boom conditions than the actual current interest rate of 6 percent that is giving buyers pause.
"The change just has to work its way through the system the way it always does," Handler said. "We are fine with it."
"Sales and prices in 2021 were abnormal, almost like fiction," said Berkshire Hathaway agent Chip Landers, who works with builders selling new homes as part of his business. "Now we are seeing pretty much a normal market. Demand is still out there for new homes; it just isn't as wild as it was."
"Many new home buyers are interest rate sensitive and that's no doubt played a role in the slowdown over the past months," said Karen Kicinski, an executive with LifeStyle Homes, which builds in IRC, adding that a slowdown in demand "isn't necessarily a terrible thing given how wild it's been over the past couple years.
"At LifeStyle, we're focusing more on the semi-custom and custom home market for local buyers looking to move up, or out-of-town buyers looking to plant roots here," Kicinski continued. "A good percentage of our new sales tend to be cash buyers who aren't affected by the interest rate hikes."
Two main things give area builders confidence even as the homebuilding industry nationwide wants its mommy.
The first is demand. The whole state of Florida is a magnet for homebuyers, especially retiring Baby Boomers from the north who want to warm their bones in the southern sunshine and well-to-do remote workers cashing out of more expensive markets in the northeast and west, trading urban intensity for relaxed beach living.
No one expects that to fundamentally change, and pretty coastal towns like Vero Beach where costs are still low compared to Miami and Palm Beach have the strongest pull.
In an illustration of Florida's inherent popularity, the state had the second-highest rate of new housing units approved in 2021, after Texas, with developers planning 213,494 houses, condos and apartments to try and keep up with demand. That is more units than the entire Pacific region, including California, Oregon, Washington and Hawaii, and nearly as many as the New England and Middle Atlantic regions combined, according to the U.S. Census.
For some, the number of new homes green-lighted in Florida last year might conjure up a fear of the irrational exuberance that often characterizes building booms, evoking visions of the overbuilt market that crashed in 2008, or even the Florida land boom and bust in the 1920s – but there is a big difference this time.
The state is not overbuilt. On the contrary, low inventory is the second main pillar of homebuilder confidence here.
Overall inventory is still at or near historic lows statewide and in Indian River County.
"We have about 750 [new and existing] single-family homes listed in the MLS this week," said Landers. "That is up from a low of about 350 this spring but still well below a normal number, which would be around 1,200, countywide."
"Strong demand and a severe undersupply should support new home prices in our area going forward," said Baker, whose DiVosta brand has dozens of new homes under construction at The Preserve on 43rd Street, where the first phase is nearly sold out not long after opening.
At Harbour Isles, the 270-home DiVosta subdivision at U.S. 1 and Route 510, 3,000 buyers have signed onto the interest list.
"We will have model homes done and be open for sales at Harbour Isles in early 2023," Baker added. "We are super excited. Builders who build high-quality homes that are priced appropriately will continue to do well."
That sentiment is widespread in the sunny Southeast. While builder sentiment has dipped below 50 percent nationwide, dropping to 46 in this month, sentiment in the Southeast, where Florida is the big dog, is holding fairly strong at 56 percent.
Builder sentiment is a metric tracked by the National Association of Homebuilders. A number above 50 indicates a positive outlook on future sales while anything below 50 reflects negative expectations.
"There is still fundamentally strong demand from retirees and others who want to come to Florida for the tax advantages, warm weather and lifestyle. That trend isn't going to change," said Handler, who is pushing ahead confidently with multiple new projects, including his Seaglass subdivision on the island near the Disney Resort where building will begin soon and at The Strand in Indian River Shores where GHO is close to completing a model home.
"We are getting ready for the Superbowl," Handler said, which is the traditional start of the busiest time for new homes sales on the Treasure Coast. "Things should be evened out by then."
Bottom line, even though rising interest rates and home prices pushed to record heights during the boom are squeezing buyers and putting a damper on the new home market, a fundamentally strong demand for houses in Florida at a time when houses are in short supply puts smart builders in a secure position.
Gross revenue and profits may decline but the business model seems solid as a block of steel-reinforced concrete – both of which materials have become a little easier to get as the boom subsides.