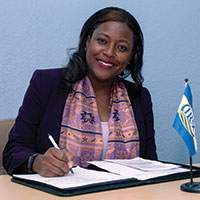 New college leader here seeks 'collaborative vision of education'
STORY BY STEVEN M. THOMAS (Week of September 22, 2022)
Photo: Dr. Terri A. Graham

Dr. Terri Graham, the new president of Vero's only college campus, arrived here this summer with four college degrees and an impressive resume of ascending academic leadership positions – but she doesn't think she knows everything.
Instead, her goal at Indian River State College's Mueller Campus is to develop what she calls a "collaborate vision of education" shaped by student aspirations, faculty expertise, community needs and – especially – detailed input from area industries about how to equip the employee of the future.
"I may have my little vision of what the college should be, what we should teach, but if the community doesn't buy into it, what are we going to do?" said Graham, who started as campus president on Aug. 1. "We need to build the vision together,"
Graham does not see input from industry as a one-off – meeting and greeting business leaders, listening to their ideas and then going back to run a traditional college with a bit of a business twist.
Instead she plans on a continuing cycle of communication and innovation, zeroing in on industry trends and changing technology to shape an evolving curriculum and college structure that provides businesses with top-notch workers and propels students into successful careers.
"We want to create targeted apprenticeships and hear back from industry about how our graduates are doing so we can make adjustments and give them the precise training they need," Graham added.
Besides graduating students with traditional two-year and four-year degrees, she wants to create better "on-ramps and off-ramps" for students to enter the college, gain specific skills and return empowered to the workforce.
"We want to develop pathways for certifications that can build up into a degree later," she said. "Some students are ready to do the full degree now but others may need an incremental approach. They have goals and dreams but have to support their families.
"We want them to be able to come in and get the certificate they need to get a better job or a raise or whatever and head back out the door. But we keep in touch and when they are ready they can come back and add an additional certificate or finish a degree. We build that relationship with them."
One of five children from a blue-collar family in Jacksonville, Graham said she is "passionate about workforce education" and wants the Mueller Campus to be "a major piston of economic development."
But she also values classical educational ideas and intentions. Familiar with what she calls the "great educational theorists of the past," she wants to give students more than just technical skills.
"There are critical skills that transcend time and technological change," Graham said. "Things like critical thinking and problem-solving, learning how to work on a team and how to communicate verbally and in writing. Our students need those soft skills, too."
Graham's career in higher education has taken her through nearly the entire spectrum of academia, from a historically Black college where she got her first two degrees to a major research university where she earned her Ed.D; from a highly-ranked private liberal arts college where she got an MBA to a large community college system similar to IRSC where she served most recently as interim campus president for two campuses that collectively enroll more than 35,000 students annually.
But her inspiring story begins on the north side of Jacksonville, where her mother ran a beauty salon and her father was an inspector at the port, making sure outgoing trucks had the right cargo and were headed for the correct destination.
In her parents' view, bad grades were not an option so she grew up getting good grades, reading Encyclopedia Brown adventures and books by Judy Bloom for fun and hanging out at the beach with her siblings and friends.
"We were beach bunnies," she said.
After high school, where Shakespeare and Ralph Ellison got on her reading list, she went away to Florida A&M, a historically Black land-grant university in Tallahassee, where she earned bachelor's and master's degrees in elementary education.
"I thought I would teach school for the rest of my life," she said.
Her first job was teaching fourth graders at a brand new elementary school in Atlanta.
"It was very exciting," she said, "but Atlanta was too cold! Florida spoils you. I lasted one year before I came running back."
Next came a gig teaching math in a middle school in Orlando. Graham said that was "a wonderful experience" – even though "the little lovelies and their parents were very different from the way I was raised."
After five years, she was ready to shift gears and enrolled in Rollins College in Winter Park, the top-ranked private liberal arts college in the south. There she earned an MBA that led to a job as market analyst in the housing industry.
She found the work interesting but still heard the siren song of academia. Shifting again, she went to work as an adult education specialist at Florida Community College at Jacksonville, working her way up to become director of the program over a 10-year period.
"At that point, I knew I wanted to stay in education and grow and build a career, and in order to grow the way I wanted, I needed another degree."
Graham was married, raising two children and working as a college administrator, so it wasn't an easy decision. But she had a vision for herself and enrolled in a doctoral program at the University of Florida, making the 120-mile roundtrip commute to Gainesville several times a week to take classes.
"I know what it is like to be an 'at risk student' with lots of distractions," Graham said. "I know what it is like to ask myself, 'What in the world am I doing? Why am I doing this?' That contributes greatly to how I engage with students and help them learn what I had to learn about staying laser-focused and reminding yourself of your goals and the future."
After earning her Doctor of Education degree in 2011, she put herself "on the interview circuit," and landed a job as Dean of Academic Foundations at Seminole State College.
"I have always looked for opportunities to stretch my own capabilities and knowledge while serving the mission of the school and community," she says.
After five years at Seminole State, that search led to a job as Executive Dean at Valencia College, which has eight campuses in and around Orlando.
Starting in 2016, Graham led the academic, fiscal and operational areas of the Winter Park campus in close partnership with the campus president. In 2020, she was named interim campus president for the College's West and Downtown Campus, adding roles as chief academic and operating officer for two sites.
With COVID-19 descending on campuses, Graham got a crash course in crisis leadership at the same time as she learned the ins and outs of leading two large campuses.
Looking to grow again and become a permanent, not interim, campus leader, Graham went back on the interview circuit after covid died down.
When she interviewed with Dr. Timothy Moore, who views Indian River State College as "an economic flywheel," sparks flew.
"Of all the interviews, Dr. Moore clearly led the pack in terms of figuring out how education can best move forward to meet the times," Graham said. "He was so focused on how we interact and engage with our communities in a way that truly serves them. He wanted to know how we can help the working class of our communities and assist industry at the same time."
The positive impression was mutual.
"Dr. Graham knocked everyone out of their socks," Moore told Vero Beach 32963. "I was captivated. I am not a patient man and she understood the velocity and tempo of my expectations."
"Technology, industry and society are changing at the speed of light," Graham said. "The question for us is how we can deliver really good, accredited education and how fast can we deliver it. We are blurring the lines between education and industry to get people into good-paying jobs that will continue into the future and benefit the community."
Prior Mueller Campus president Casey Lunceford saw education in the same light as Moore and Graham. During his eight years leading the campus, he created a synergistic network of academic, business and nonprofit links extending from Gifford Youth Achievement Center to Quail Valley River Club, from John's Island to Cleveland Clinic, and from Piper Aircraft to universities around the state where IRSC grads continue upward trajectories launched from IRSC.
"The college has tremendous support on the island," says Julia Keenan, director of development for the IRSC Foundation. "John's Island, Orchid, Grand Harbor, Quail Valley Charities – each of them have all kinds of scholarships to support IRSC students. Individuals in those communities also fund scholarships. They see the value of IRSC for their employees and themselves."
Lunceford stayed on for a month to familiarize Graham with campus life and get her plugged into his network of supporters and collaborators, giving her a solid platform to build on.
"It was a whirlwind," Graham said of her lightning round of meetings with city, county, nonprofit and business leaders. "It really helped me get off to flying start."
Post-covid enrollment is up at the Mueller Campus with 1,500 students attending classes in person, which are taught by 35 full-time and part-time faculty.
Collegewide, 215 full-time and 600 part-time faculty teach around 25,000 students.
"I am loving it," Graham said of her new job and Vero sojourn so far.
She was able to find a house she loves near the campus where she lives with her 14-year-old daughter, who is a freshman at Sebastian River High School. Her son, who just turned 21, is finishing his senior year of college in Louisiana.
Graham is excited to be living close to the beach again and looking forward to getting to know Vero's restaurant and live music scene, about which she "has been hearing wonderful things."
But her single most favorite thing about her new town is the traffic – or lack of it.
"It was rough in Orlando," Graham said. "That I-4 changes you into another person, Doctor Jekyll and Mr. Hyde. I had to play meditative music just to maintain on the highway up there, but here it is much more relaxed. People let you in and don't cut you off!"